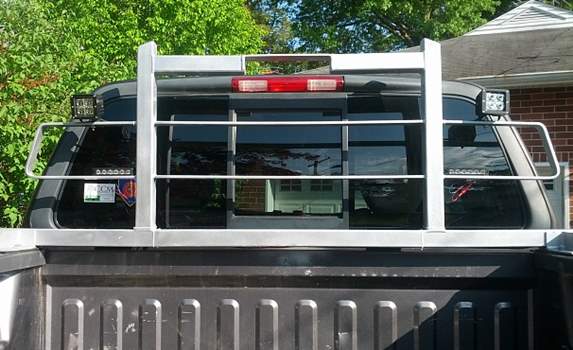 Headache racks are specialized racks designed for pickups. These racks are covered with either a metal grid or a mesh to keep the cab area and bed area separate. According to pickup owners, headache racks are an important piece of accessory for pickups. The reason is that they keep your vehicle's cab and the back window safe. 
Now, in this guide, I will be providing you with every detail you need to know about pickup racks, along with some of the best headache racks in the market. 
Why are Truck Racks called Headache Racks?
Truck racks got their name headache racks because they were designed to keep the tools and materials from breaking into the cab through the rear window.
By preventing the items from coming through, they protect the passengers sitting in the cab from being struck in the back of the head that would have caused a massive headache.
Reasons Why Headache Rack is Important?
A headache rack is an extremely important accessory for pickup trucks. Several reasons explain the importance of a headache rack for your pickup.
Keeps the Rear Window Safe
Offers Maximum Protection and Rear Visibility
Allows You to Carry Longer Loads
Best for Mounting Lights
Increases the Truck's Safety
Increases the Appearance and Looks of your Truck
Aluminum vs. Steel Headache Racks
Now, the new pickup owners question that which type of headache rack they should purchase. The one made of aluminum or the one made out of steel. So, let's discuss this in detail.
The one made of steel is comparatively cheaper but heavier, which costs fuel economy. Also, the steel headache racks can rust quickly.
On the other hand, aluminum headache racks for pickup are lightweight yet expensive. With robust and light construction, it gives better fuel economy. The best thing about aluminum headache racks is their low maintenance costs because they won't rust.
As you are now aware of the differences between the two, you will select the one according to your preference.
How to Choose Which Headache Rack Suits You?
Now selecting the perfect aluminum headache rack for pickup depends on certain situations. Let's suppose your pickup has a rear window; then, an opening rack would be a perfect option. It may be quite expensive, but it would look nice as it won't hide the rear window.
Similarly, you can go for full bars to keep the window safe, and also it will allow airflow. Also, if your pickup doesn't have any windows, you can still go for full bars. The below table contains the best aluminum headache racks for pickup trucks.
Best Aluminum Headache Rack for Pickup
| | | | |
| --- | --- | --- | --- |
| | | | |
| | | Apex AHAR Adjustable Aluminum Headache Rack | |
| | | Dee Zee DZ95050RB Gloss Black Aluminum Mesh Cab Rack | |
| | | Westin 57-81095 Black Headache Rack | |
| | | ARIES Switchback Black Aluminum Truck Headache Rack Cab Protector | |
| | | ARIES AdvantEDGE Chrome Aluminum Truck Headache Rack Cab Protector | |
Apex AHAR Adjustable Aluminum Headache Rack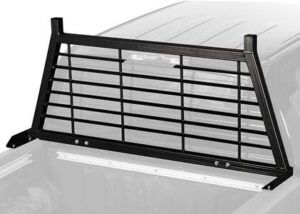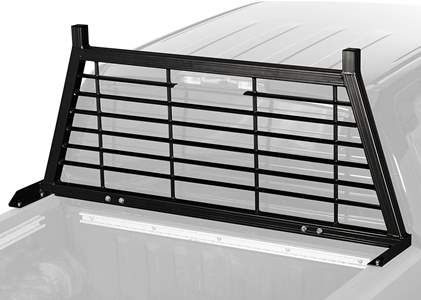 Apex AHAR is considered the best headache rack in the market. Having the ability to hold 200lbs of weight, it is one of the heavy duty headache racks. It has powder-coated steel mounting brackets that provide maximum support. This rack's mounting bar and side brackets are only steel, while the rest are aluminum.
The top of this rack is capped with a plastic cap that prevents the water from entering in. An advantage for you is that the sidebars are extendable and are locked in place with bolts. So you can slide them in or out laterally to fit any standard pickup bed. 
A couple of problems with this rack are that it is not compatible with the canopy, and the cut-out for the 3rd brake light is low, so you can't see the brake light. See the latest price here.
Dee Zee Gloss Black Aluminum Mesh Cab Rack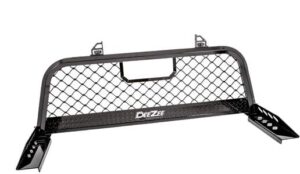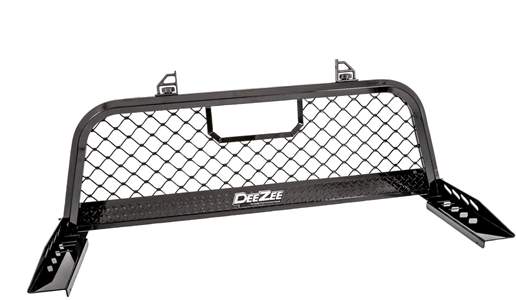 Weighing around 30lbs, this is a sturdy and heavy-duty aluminum-made rack. Installation of this rack is extremely easy, and it will always protect your cab from damage. Unlike a back-rack, it doesn't block your window.  
Apart from some high-end features, this rack has some downsides as well. Firstly, this rack doesn't work with the tonneau cover. Lastly, the cut-out for the center light is too big and looks odd as the top tube blocks the lights. See the latest price here.
Westin Black Headache Rack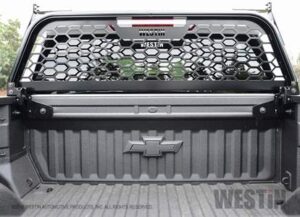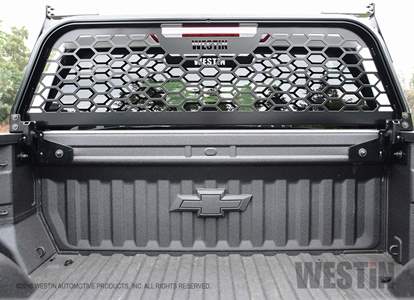 This headache rack is super light in weight compared to others. This lightweight aluminum headache rack is a combination of safety, style, visibility, and durability.
The installation process of this headache rack is super easy and takes only a couple of minutes.
When mounted on trucks, it is just a hair taller than the roofline so that it won't hurt your truck's fuel economy. Having an extruded aluminum frame, this rack will protect the rear window without blocking the view. See the latest price here.
ARIES Switchback Black Aluminum Truck Headache Rack


There is no such aluminum headache rack with led lights but this rack features an LED-compatible top edge where you can easily install lights. This headache rack is a modern accessory for your modern pickup truck.
It has an angular design, custom contours for each application paired with a stamped grid center section. It keeps your rear window safe from any damage from cargo. This rack is tough and has a great finish. On the downside, it is super expensive, and also it is not flexible. See the latest price here.
ARIES AdvantEDGE Chrome Aluminum Truck Headache Rack Cab Protector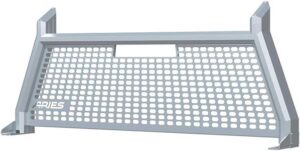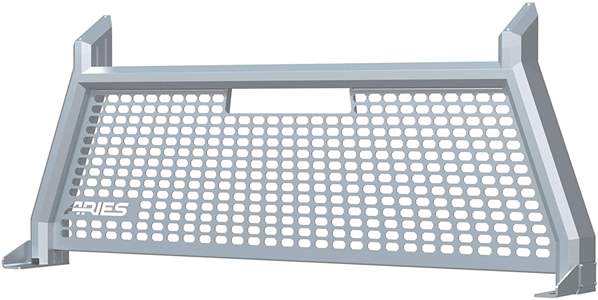 ARIES AdvantEDGE Chrome Aluminum Headache Rack has two main features: an eight-sided tube profile and all-aluminum construction. Unlike common round and square tube frames of most headache racks, it features an octagonal tube profile.
While installing this rack, you won't need any drilling. Best of all, it is lightweight and resistant to rust. Lastly, it has a slotted top edge for installing LED lights and tie-down anchors. See the latest price here.
How to Install a Headache Rack?
Lastly, I would like to explain the installation process of your headache rack so that if you are a new user, you can easily get along.
Before beginning the installation process, you will have to gather the following accessories:
Rachet
Knife
Flathead screwdriver
Extension
Drill Machine (optional)
After you have gathered these accessories, you should follow the below steps to install the headache rack:
Start from the driver's side and locate and cut the plastic stake pocket cover
Repeat this for the passenger side using a flathead screwdriver
Push in the tab on the plug inside the stake pocket
Place the headache rack onto a flat work surface with slotted ends hanging off the sides of the table
Insert a hex bolt with locking a flat washer through the slot of the headache rack
Attach it to the stake pocket clamp
Lift the advantage headache rack into place
Align the stake pocket clamps over the stake pockets 
Shut and insert into the stake pockets
Adjust the headache rack into your desired location
Once satisfied with the placement, tighten the hardware until there is no movement of the headache rack
Be careful while tightening because over-tightening may damage your vehicle
Read More About Best Aluminum Ramps for Pickups: Click Here
Conclusion
You have got a heavy payload, cargo stacked high, and a crazy man pulls out right in front of you. Surely, you will slam the brake, but the cargo you are carrying won't stop quickly.
This will result in a busted rear window, scratched cab, or worse. Therefore to keep you safe from headaches, equip your pickup truck with a headache rack.