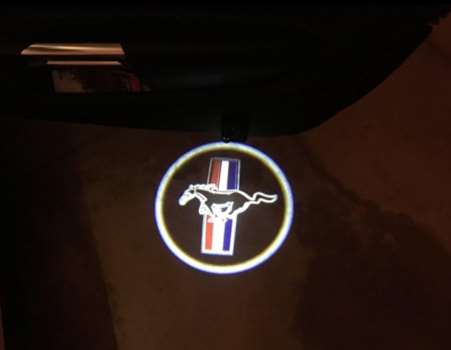 What are Car Door Projector Lights?
Door logo light/Car door projector light is a small-scale projector made of LED lights that are usually used for welcoming the passenger with a customized photograph or logo.
You can find them on the door panel; they are installed there, so the image is projected right under the door when you open the door. The light works automatically, and no extra connection is needed. 
Wondering what the "automatic" part means?
A magnetic stripe (sensor) is used for automation. When the logo lights come close to it (closing the door), the lights turn off, and they light up on opening the door,
These lights may surprise the passenger at night, so they are sometimes called ghost shadow lights or car door ghost lights.
Types of Car Door Projector Lights
There are three types of car door projector lights. They are affordable and work with almost any car or model.
Car Door Panel LED Projector Lights with Wires
These are the typical ones you'll find almost everywhere. As they include wires, you have to take off the door panel and drill a little hole for the light; you'll have to do some wiring too.
The light goes behind the panel. You have to create a connection of the bulb to the dome light of the car. Light will turn on when you open the door and go off when you close it.
Don't forget to switch the dome light setting to automatic or door mode. Come on, you don't want them to pick up your pal from the airport and NOT surprise him with a Rick and Morty themed inter-galactic-themed lights… unless he is not a fan.
If you ask me, I won't recommend getting this one. The wiring is hard to handle especially if you are new at this, and it is a lot time-taking to get the whole thing done. 
Wireless Car Door LED Projector Light
These logo lights are more advance with a better projection lens and are usually used for the welcome logo lights due to its sharp result. 
These are very easy to install as all you need is the light and a magnetic sensor. Stick the light to the door panel, and sensor to the chassis just under the light, and every time the door will open, the lights will turn on. 
As these lights work on small batteries, the only problem you'll have is changing the battery after regular intervals to ensure sharp and bright image quality. 
However, it is customizable, which means you can pick the image of your choice, so if the battery change isn't a big deal for you, they'll work the best for you.
Courtesy Led Car Door Logo Projector Lights
This type of door projector light is installed in place of already present courtesy lights in the car. 
All you need to do is take off the original light and connect the projection light instead. 
However, before you make your purchase for these projection lights, check the size of your car's courtesy light shape and size. It differs from vehicle to vehicle.
What is the Best Car Door Projector Light?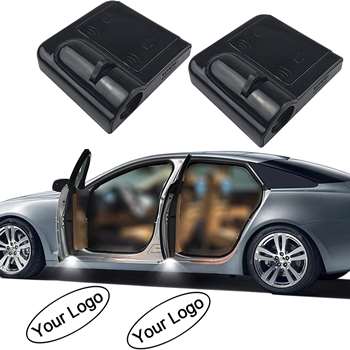 When it comes to custom car door projector lights, amazon is where you'll find your choice as they have customizable ones, which are obviously way cooler than the regular ones.
Fangfei is a renowned brand for custom car door projection lights. It provides features like wireless lights with sharp projection and customizable logo/image at a very affordable price. 
They offer all kinds of customization, including logos, images, and patterns. You can get these lights for bikes as well. See Latest Price Here.
How to Install Car Door Projector Lights?
Here is a simple guide on how to install welcome projector lights in your car door:
What you will be needing?
A projector housing 
Wire
Retaining ring
Drill bit
Philip and flat screwdrivers
Pliers
What you have to do?
For starters, remove the door panel but removing the lock panel first and unscrewing all the screws. Once all the screws are out, you'll be easily able to pull out the panel.
 It's time to drill! Mark the place on the door panel and drill a hole. Pass the projector housing along with the wires through that hole.
Now take the retaining ring and pass the wire through it until you can screw it on the back of the light on in inner side of the door panel.
To make a connection, trace the car's dome light wire and take the projector light wire there. For this, remove the inner panels of the door.
Now connect the door wire to the dome light wire in the center console to complete the connection. Reinstall everything in its place, and you're done.
How to Install Wireless Car Door Projector Lights?
Installing wireless car door projector lights is very easy. It'll hardly take you five minutes and the results will be totally worth it.
Procedure
These lights do not require any tedious installation process. First, locate the area on the lower side of your car door where you want to fix the light. This is for the cars that do not have courtesy lights (they have reflectors). If your car has courtesy lights, install these lights there. 
Next, peel the plastic off the sticker and stick it on the light. Make sure of the area on the door panel and fix the light. Use some tape to attach the magnet sensor to the chassis in alignment with the light (exactly under the light), and voila! Enjoy.
How to Install Courtesy Door Light?
If you want to replace your car's courtesy lights with some awesome projector courtesy lights, the following guide is for you.
Before purchasing one, make sure to check the design of your door panel.
Procedure
Use a flat screwdriver to remove the built-in courtesy light and disconnect the cord at the back of it.
Plugin your new LED projector courtesy light. Push the light back in its position, and your courtesy-light-replacement job is done. You may sell the old ones on eBay to recoup the cost of the new ones.
Let's talk about the car door projector lights for different model of cars
Dodge Challenger Car Door Projector Lights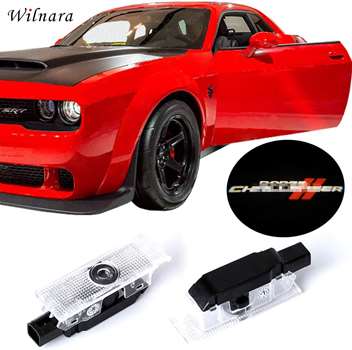 For dodge challenger, puddle lights work the best as you can fix them in the place of your car's original door lights. 
Wilnara is known the best for dodge challenger car door projector lights.
It is compatible with almost all dodge challengers and has some awesome patterns with sharp and bright light projection. They are easy to install, so you don't have to worry about that matter. Remove the built-in door lights and fix the new projector lights. See Latest Price Here.
Chevy Door Projector Lights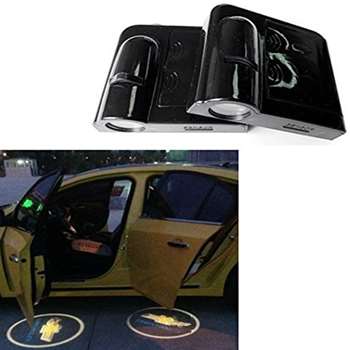 If you have a Chevrolet and want some cool projector lights to brighten the lookup, here's what you need: 
Wireless LED projector door shadow light is mostly compatible with Chevies. You can install them on either side door of the car and let the driver/passenger have some fun.
These lights work with a magnet. Make sure you align the magnet correctly with the lights. There is only one drawback, the lights are bright in dark only. During the day, they would be pretty dim. See Latest Price Here.
BMW Car Door Projector Lights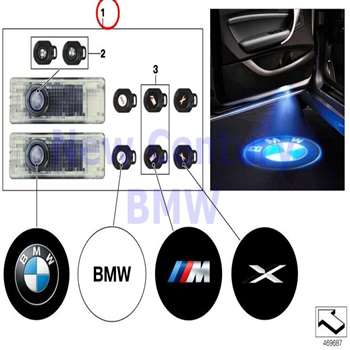 BMWs mostly have puddle lights. BMW Genuine and Retrofitting's Led Door Projector. These lights work perfectly for BMW cars.  As a part of accessories and retrofitting, these lights take your car's aesthetics high up in the sky.
The performance is great as they deliver bright and crisp lights. You can easily install them in your car and change whenever you like. The best part, it comes with a 2-year warranty so it is a pretty good deal. See Latest Price Here.
Lexus Car Door Projector Lights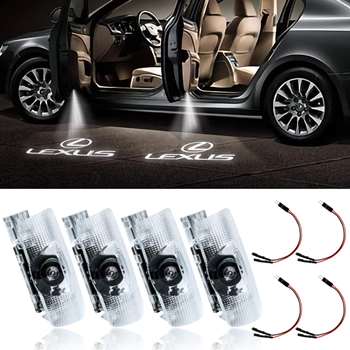 Lexus also uses puddle lights. Eogifee is well-known for its puddle lights for Lexus.
These high-definition projector lights turn on and display a sharp logo on the ground when you open the door and go off when the door closes. There is no drilling or extra effort required to install these; hence there is no chance of any damage.
Another feature that ensures quality and high-performance is the nano-superconducting aluminum heat sink, which efficiently dissipates heat. See Latest Price Here.
Toyota Car Door Projector Lights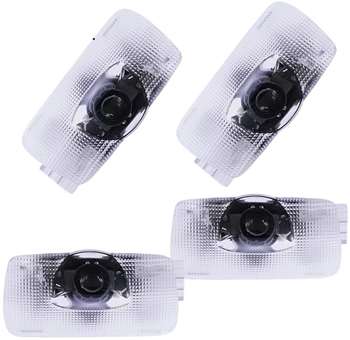 For Toyota cars, puddle lights would work just perfectly.
Bright lights and clear logos with low energy consumption makes these lights a great deal. As puddle lights, the installation is effortless; no wiring or drilling is needed.
All you need to do is replace your vehicle's built-in lights with the new puddle projector lights. With efficient heat dissipation and a better life, you get quality as well as performance. See Latest Price Here.
Ford Car Door Projector Lights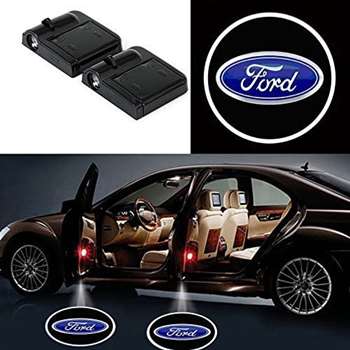 Soondar wireless LED Projector Door lights are a popular choice for Ford.
These lights are super easy to install; install the lights on the door panel, so they'll light up when you open the door. Despite being wireless, they provide dazzling images and bright lights. Get your hands on these auto modifications fancier lights and add an artistic touch to your vehicle. See Latest Price Here.
Will the Car Door Projector Light Stay On?
Projector lights work with a magnetic stripe that acts as a sensor. You have to make sure the lights are correctly aligned with it. Once it's all done right, the light will turn on once you open the door and turn off when you close it.  They remain off until you open the door again.
Can You Change the Bulb of the Car Door Projector Light for a Different Color?
No, you can't change the bulb of the light only. If you intend to do so then you have to change the whole light set up.
Does Car Door Projector Light Come in a Pair?
Yes, projector lights come in a pair. Some brands give a pack of four lights for all the doors of your car.