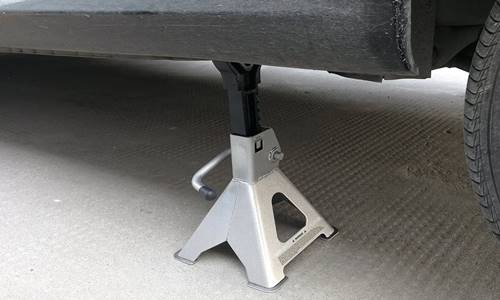 Jack stands are tower or tripod shaped, are designed to support the raised vehicle. They should be placed under the vehicle axle or frame to provide additional support for an elevated car. Jack stands are available in different types and are categorized by maximum height and capacity. In most cases, the height of the jack stand is expressed in inches and weight capacity in tons.
No matter what you're looking to do to your vehicle, having a set of jack stands is crucial to your safety. Just like taking precautions when it comes to eyewear and nonconductive gloves when working on electrical components, having a reputable set of jack stands that can hold up your car, truck, SUV or van will prove to be one of the best investments you'll make. There are typically different weight capacities like 1 ton, 2 ton, 3 ton, 4 ton, 5 ton, and 6 ton, etc.
Still, you need to make sure that the jack stand you got is properly rated for the vehicle you intend to lift and hold. A jack stand will be necessary mostly for large vehicles, which are often light enough to be lifted by the jack alone. However, there is some detailed description of best jack stands for cars, available in the market with their pros and cons.
Top 10 Jack Stands
| | | | |
| --- | --- | --- | --- |
| | | | |
| | | Pro-LifT T-6906D Double Pin Jack Stands - 6 Ton | |
| | | Torin Big Red Aluminum Jack Stands: 3 Ton (6,000 lb) Capacity | |
| | | Torin Big Red Steel Jack Stands: Double Locking, 6 Ton Capacity | |
| | | EAZ LIFT Telescopic RV Jack | |
| | | CARTMAN 3 Ton Jack Stands | |
| | | TONDA Steel Jack Stands, 2 Ton Capacity | |
| | | Performance Tool W41022 3 Ton (6,000 lbs) Tool | |
| | | OTC (5372) Stinger 3 Ton Jack Stands | |
| | | Hein-Werner HW93506 Blue/Yellow Jack Stands, 6 Ton Capacity | |
| | | ESCO 10498 Jack Stand, 3 Ton Capacity | |
1. Pro-Lift T-6906D Double Pin Jack Stand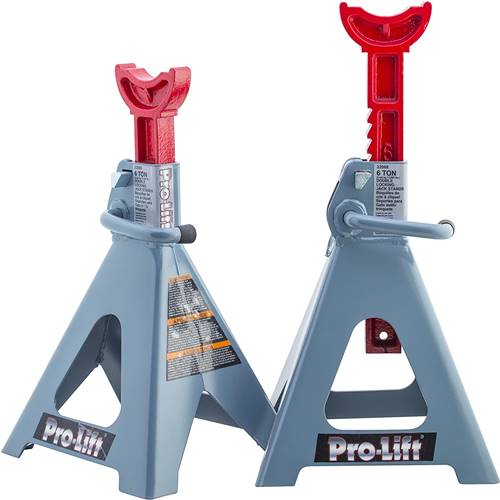 This is the professional model of best jack stand for cars that can be used for various needs while you can reach the underside of the car. It has double locks mechanism with double handle and mobility pins. Its height adjustment mechanism allows smooth upward movement while release handle lock and mobility pin. This is a 6-Ton jack stand, featuring a high-grade cast ductile iron ratchet bar. It has a sturdy stamped steel base for its prolonged durability. The Pro-Lift T-6906D meets the ANSI/PALD standards. It is ideal for home use, farm use and shop use and truck services.
2. Torin Big Red Aluminum Jack Stand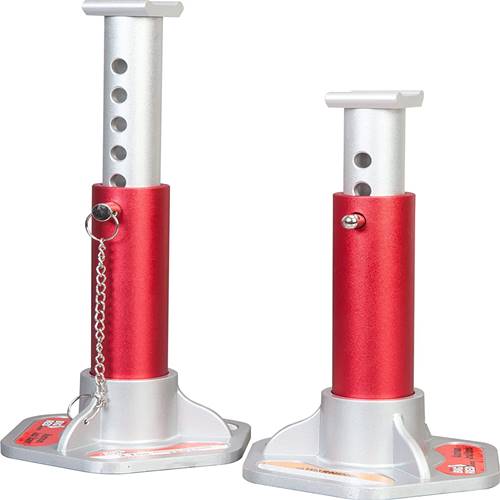 These jack stands are lightweight, made of high-grade aluminum, which is built for durability and quality. These stands can handle vehicles such as small cars, UTVs, and jeeps. They can handle 3 Ton and 6000-pound weight of the vehicle. They have a large foot base measuring 7.48 x 6.81 inches size. These jack stands are easy to use and compact for easy storage. Its saddle has a large surface area that provides better contact with the load being supported.
3. Torin Big Red Steel Jack Stands: Double Locking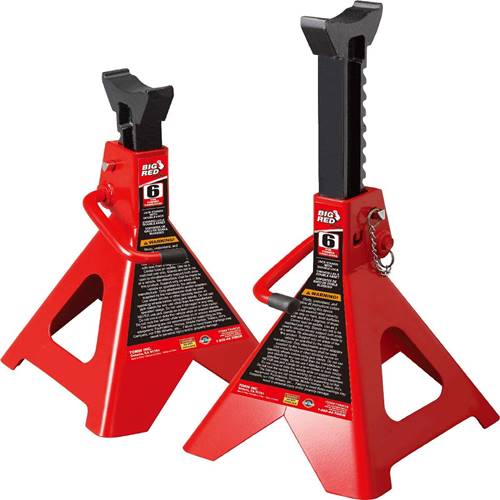 This jack is equipped with a double lock protection feature, increasing safety by 200%. It has a height range of about 15-3/8" to 23-13/16". This Torin steel jack stand has a huge capacity of 6 Tons to work with almost every type of vehicle. This jack has a large foot base of 10-13/16" by 9-7/16" and saddle having large surface area provides better contact with the load being supported.
4. EAZ LIFT Telescopic RV Jack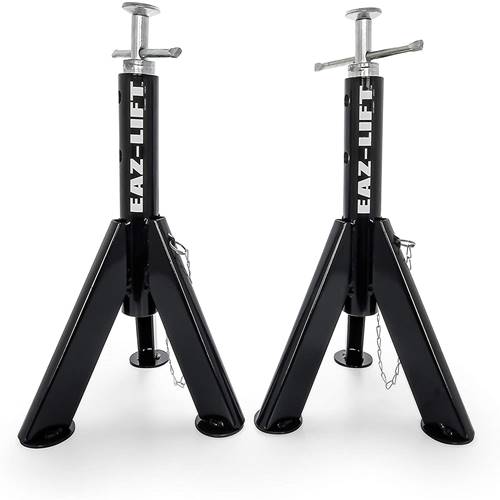 The telescopic EAZ lift has a zinc-plated inner tube and screw assembly. It is adjustable from 16 inches to 30 inches. Its sturdy steel construction and powder coat for maximum rust protection have 6000 lbs load capacity. It comes in a set of two. It functions much better with grease, including a small bead under the top support pad so the jack pot can spin freely under the support pad.
5. CARTMAN 3 Ton Jack Stands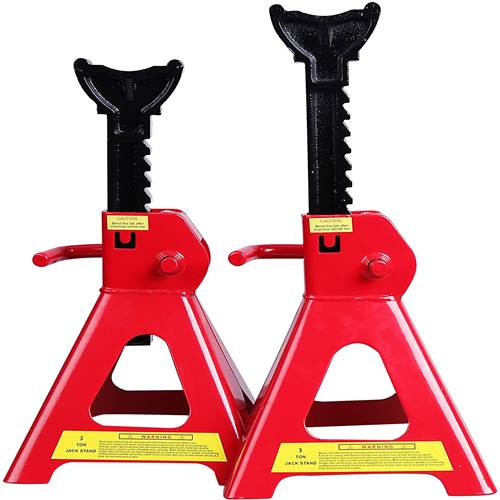 These jack stands are great for most applications because of their stability and three-ton capability. These jack stands have a tooth design and double locking pawl with extra protection. The one-piece multi positioned ductile ratchet bar has great durability and strength. The quick adjustment mechanism can be securely locked into your desired location, thus providing you extra safety.
6. TONDA Steel Jack Stands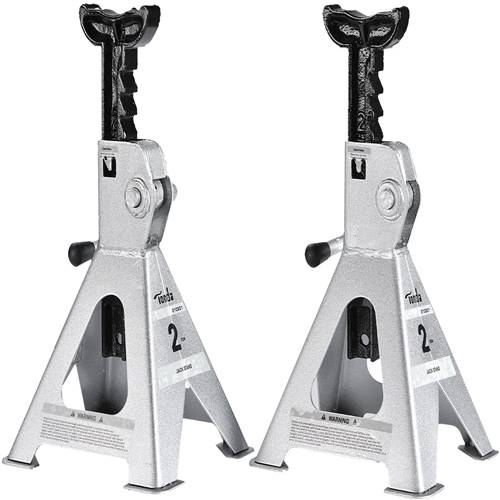 The pair of jack stands come with the benefit of oversized saddles which in turn helps you in having positive contact with the load and enhances the stability of rising. It has a self-locking design with a forged iron ratchet bar. It has a large foot base provides strength and stability under load. Footpads enable jack stand can be used even on soft ground. It has durable rustproof coating prolongs the jack stands service life. It is also the best jack stand for Porsche.
7. Performance Tool W41022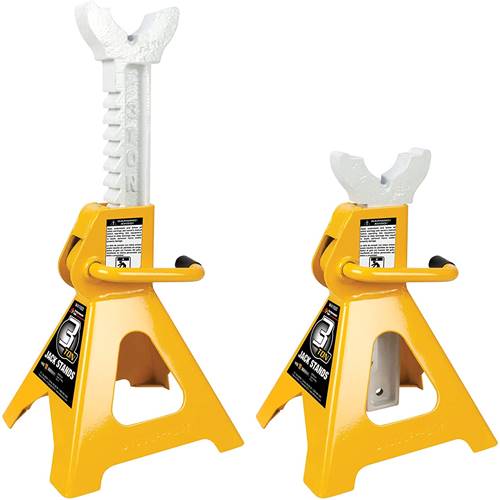 This jack stand has a heavy-duty steel construction with a sturdy/durable steel frame and a wide base to provide strength and stability under load. This is a just well-constructed, very simple stand with no bells or whistles and no obvious faults either.
8. OTC (5372) Stinger 3 Ton Jack Stands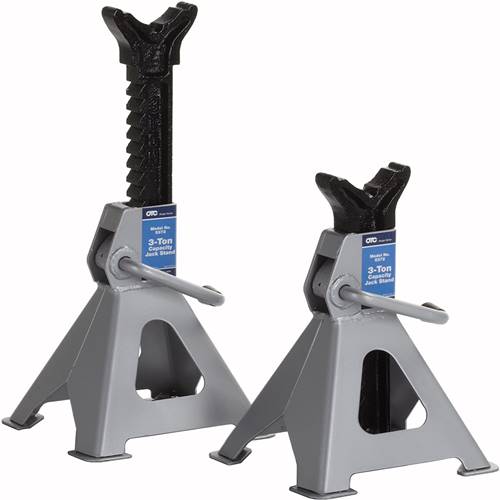 OTC stinger jack has a self-locking ratchet handle and a durable baked enamel finish to resists corrosion. These stands have welded foot pads that resist sinking into soft ground or asphalt. This jack is made of formed and welded steel base for strength. 
9. Hein-Werner HW93506 Jack Stands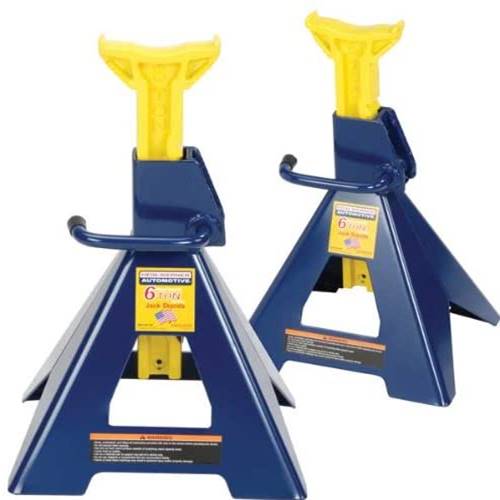 This jack stand is made of high-quality steel that is strong and durable. A wide saddle is an excellent feature for a jack stand. It allows for great stability and grip and will ensure that your vehicle's undercarriage is not damaged. This jack stand has a sturdy design which helps to lift to 3 Tons. It has a dual purpose handle that serves as a carry handle and saddle column release. The stand has a high degree of stability due to its shaped feet. It has a ratcheting handle for lowering your vehicle. The formed base adds stability and reduces sinking into the pavement, while the wide saddle is very secure.
10. ESCO 10498 Jack Stand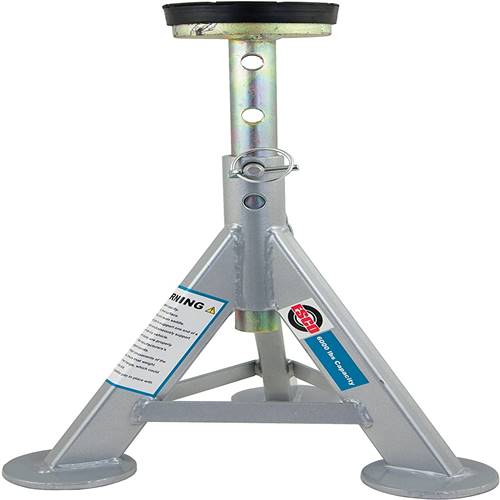 When it comes to flexibility and height range, the ESCO 10498 is hard to beat and is the best jack stand for BWM. This model has an excellent height range of 13 to 21 inches, making it one of the versatile models among the jack stand review. Despite being made from high-grade aluminum, it does not sacrifice durability as it is still solidity built, this model is made to lift vehicles of up to 3-ton weight. The circular base at its bottom makes this model very stable and prevents it from slipping, thus making it safer to use. The jack point of this stand has a rubber pad that will make it safer to use.
Let's talk about the Importance of jack stand, How is Jack Stand important for your safety?
A jack stand is a safety device which is very important when working under your vehicle. It plays a major role in supporting your vehicle after it has been lifted. This makes sure your vehicle will not fall even when you jack fails.

An accident such as a vehicle falling on you can even cause death. This is the ultimate reason why you must have jack stands. You can as well suffer minor injuries such as pinched fingers or your vehicle might as well get damaged.
Types of Jack Stand
The type of jack stand you buy should be based on the type or specifications of your vehicle. There are various types of jack stands which are categorized either by the type of construction material, maximum height or weight capacity. The height is measured in inches while weight is measured in tons.
So, you want to know about different types of jack stand!
The stands are usually sold in pairs. They range from 2 to 25 tons' capacity and 13-25 inches' maximum height. Based on stand material, they can either be made of aluminum or steel. Some heavy-duty stands are made of cast iron. Back to the types based on height, some have fixed height while others have an adjustable height. Fixed height stands are strong, reliable and durable although they are not versatile. Adjustable height stands are the most common types and their height can be changed in regards to the user needs. High-quality ones come with a safety pin.

Now that you know what a jack stand is, their different types and importance, let's look at the points where you should place your jack underneath a car.
Below are the Jack points on a car where you place jack stands safely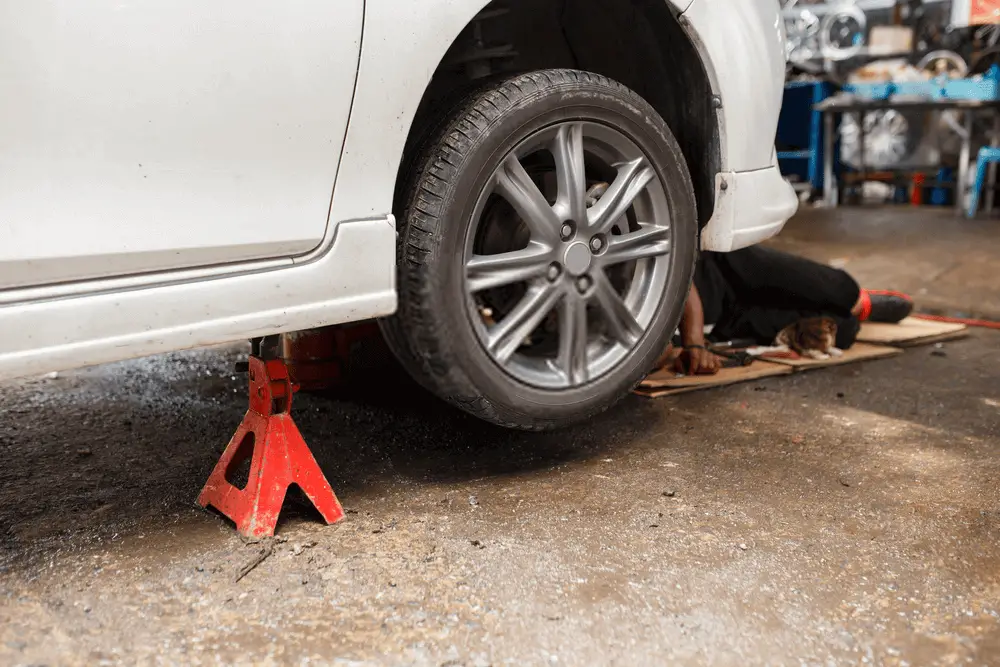 The most accurate and precise way to find the jack points of the car is by reading the factory approved points that are written on the owner's manual. Usually, the jack points on a car are located on the frame rail on each side of the car. In other words, every car has four points just next to each wheel. Additionally, for RWD (Rear Wheel Drive) vehicles and trucks the front and rear cross members are regarded as jack points. In other words, the differentials are jack points.

At times cars have manufacturers jacking points at the near front central part and rear far central point just next to the bumpers. These points usually lift either the whole front part or the whole rear side.
Do You want to learn how to use Jack stands?
Below are the simple steps to use jack stands:
| | |
| --- | --- |
| 1 | Make sure your car is on firm, level surfaces such as concrete and first gear engaged for manual or parking for automatic cars |
| 2 | Chock the wheels opposite to the side you wish to lift to prevent rolling |
| 3 | Locate the jack point |
| 4 | Slide the jack underneath making sure the release valve is locked, adjust the position of the jack and make sure it is in contact with the jack point |
| 5 | Pump the jack handle repeatedly until the wheel or wheels are at least an inch from the ground or the desired height |
| 6 | Slide your jack stands into place near the jack right on the vehicle's frame |
| 7 | Open the release valve slowly lowering the vehicle until it rests on the jack stand, now you can remove the jack |
| 8 | After finishing your maintenance, again use the jack to lift the vehicle, remove the jack stand and lower your vehicle |
How do you jack up your car from the front?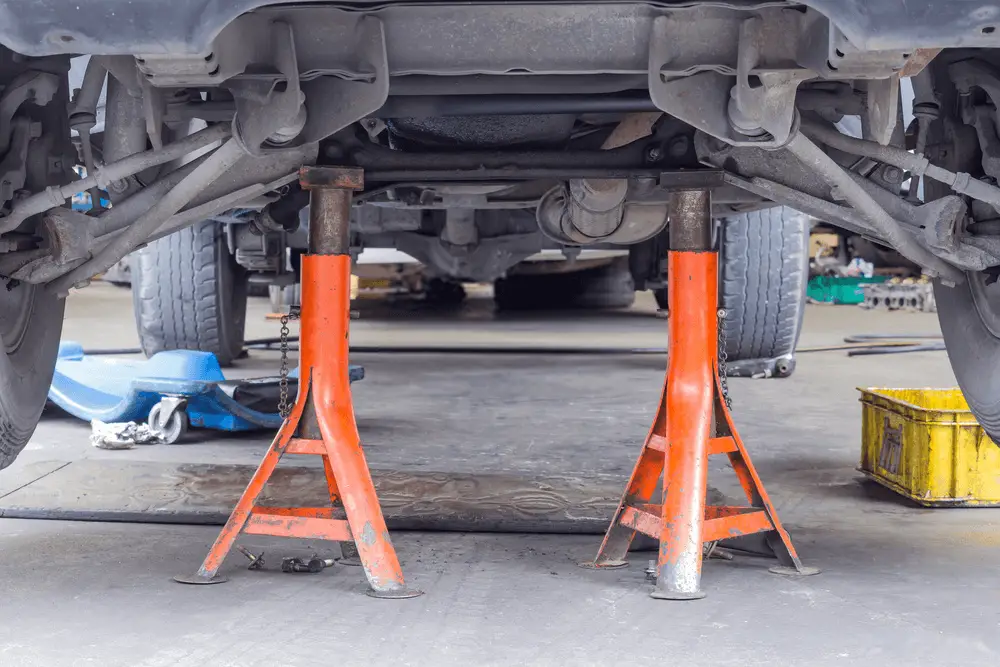 Here are a few steps to follow:

For this task to be successful you will need to have a jack, jack stand, and tire chocks. Ensure the emergency brake or hand brake is on. Chock the rear wheels to prevent rolling after lifting.

Go underneath the vehicle and identify the vehicle's frame which is the strongest part. you should not jack on the pinch welds. Slide down the jack underneath the vehicle and ensure the jack pad is in good contact with the frame itself. Now you can start jacking up the car.

When the car is at least an inch above the ground or provides enough space, slide in the jack stand under your car. The stand should be placed under the frame and most importantly in front of the jack.

Lower your car on to the jack stand slowly. now your car is jacked up and you can start working. When bringing it down jack the vehicle up, remove the jack stand and lower your vehicle to the ground.
Now take a look at how to put a car on 4 jack stands?
The process of jacking up the front of a vehicle only that in this case the whole vehicle is raised. The most important thing is, the car must be on a hard and level surface remember we are lifting all the four wheels. Make sure the steering wheel is straight, the parking brake is on, and engage on first gear for manual transmission cars.

Take a quick routine check on the jack stands and the jack itself. Identify the jacking points or refer to the user manual. Most cars have these jacking points in the very front part and the very rear end just below the bumpers which makes lifting easy.

After this set the jack on the pinch weld and lift it. Now you can set your stand on the rear part. Put some rag cloth on the stand to protect the pinch weld finishing. Set it and move to the front to do the same. Put the stand on the sub-frame just behind the control arm if possible for the front side. Lower the vehicle onto the jack stands and remove the jack.

Repeat the same process for the other side of the vehicle. Start by setting the jack stand on the rear than on the front. Make sure the jack stands are adjusted the same height as the other side.

Now you have successfully lifted your car on four jack stands. You might want to leave the jack in place just in case something happens. After removing the wheels slide them underneath the vehicle as well just as a precaution.

For an illustrative video Click Here
Here a question comes in your mind which one is safe, using 2 stands or 4 stands? Let's Compare 2 vs 4 Jack Stands.
We all agree that using Jack stands makes lifted vehicles most safer to work on rather than on a jack. The main advantage of lifting a vehicle of 4 stands is that you will have enough clearance underneath to work comfortably. It is also ideal when working on transmissions and the whole brake system of your car.

Note to mention if you are working on a busy garage other workers can use the jack without the need of borrowing it now and then. There are no chances of wheels rolling but it seems so dangerous. What if something shakes your car? It might end up being damaged or even hurting you. In case a single stand breaks or skid the whole car will rollover.

On the other hand, 2 jack stands give you the required allowance to work on either part of your car. These seem a bit stable compared to lifting your car on all four stands. Two wheels still give firm support and it's a bit strong. In this case, if the wheels are not properly chocked the car may roll over you.
And now you are confused, ask yourself which one is safe?
Well, we might recommend the 2 stands which are a bit safer if you follow all the precautions. And again why 2 jack stands? If the car falls on 2 stands there will be minimal damage compared to the casualties of falling on 4 stands.
However, based on the type of task at hand any of the two can work. We can conclude that on the 2 vs 4 jack stands lifting dilemma is a win for both. Just follow the safety precautions.
That's All We Concluded
We hope this article has exhausted all the questions you had about jack stands and their use. You can now confidently go to the market and buy the best jack stands for your car as well as use it perfectly. Jack stands are expensive therefore, you should be very careful when buying.