The low-profile floor jack is special equipment designed particularly for lifting low profile vehicles during mechanical repairs, checks or maintenance. This jack comes in handy in situations where the car is a few inches to the ground such as sports cars. The jack can slide in as little as 3 to 4 inches clearance under a car.

The jack comes in different designs, sizes, and capacities. The 2-ton low profile floor jack has a capability of lifting vehicles not exceeding 2 tons. A 3-ton low profile floor jack on the other side has a bigger capacity and can lift vehicles weighing up to 3 tons.
Both jacks are low profile, with the only difference coming on the amount of load each can lift. Unlike the 3-ton floor jack which smoothly handles 3 tons, the 2-ton jack cannot lift weight exceeding 2 tons.
After going through this article, you will be able to choose a good low-profile floor jack based on your needs and budget.
List of Best 2 Ton Low-Profile Jacks
1.Arcan XL2T Black Low-Profile Steel Service Jack – 2-ton capacity
 Powerful Features: 
 dual pump, 32-inch extra-long chassis, 2-ton capacity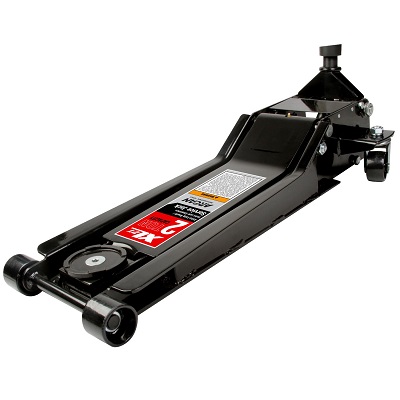 Unique features
Has a height range of 2.75 inches to 24 inches
The capacity of 2 tons
Compliant to the ASME PALD 2009 standard
Universal joint release mechanism which gives precision in controlling.
Made of steel
The Arcan XL2T weighing only 97 pounds with a minimum height of 2.75 inches stands as the best low-profile racing jack. This extra low-profile model can easily slide underneath low-profile sports cars. The jack is fitted with casters on the rear and rollers on the front which eases its maneuverability and handling.
It has an effective hydraulic system which allows the jack to swiftly lift 2 tons of load. With just less than 10 strokes, the dual pump rapidly rises and moves the equipment to its maximum height. Technically the jack is more durable and long lasting compared to the other jacks because it is made of high-quality steel.
One more important thing about this jack is its safety standards. Not only because it is made of steel but also complies with the 2009 ASME PALD standards of safety. The jack gives you the best experience in lifting heavy objects.
Pros
Rapid lifting speed
Extra-low profile of 2.75 inches
Amazing lift height of 24 inches
Strong and durable
Secure – Meets the ASME standards
Easily portable with rear casters
Cons
Limited weight capacity
Heavy
2.Pro-Lift F- 767 Grey Low-Profile Floor Jack
 Powerful Features: 
Safety valve, made of heavy-duty steel, patent bypass device.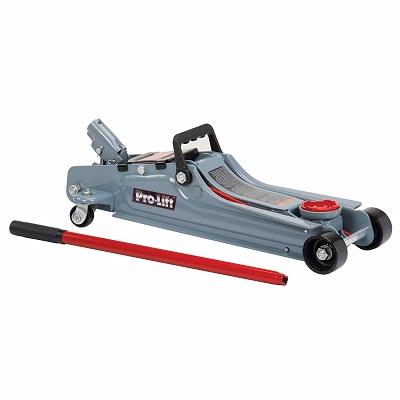 Unique features
Made of heavy-duty steel
Safety valve prevents overloading
Patent bypass device which prevents over pumping during safe operations
Extra- low profile
Lifting range of 3.5 inches to 14 inches
The pro lift F-767 is the best budget low profile jack in the market today. Its price gives you the best value for your money. Despite the competitive prices the jack also has amazing features.
Although the lifting range of 3.5 to 14 inches is not so impressive, the jack has a rapid lifting technology which allows it to easily lift vehicles in seconds. This lift range is best suited for lifting vehicles during casual repairs such as tire changing rather than workshop uses. Its extra low profile makes it suitable for low profile SUVs and cars.
Pros
Affordable
Durable and long-lasting
Portable
Very secure
Cons
Low lift range
Low capacity of 2 ton
3.Sunex 660LP 2ton, Low Rider Service Jack
 Powerful Features: 
ultra-low height, rapid rise technology,2-ton capacity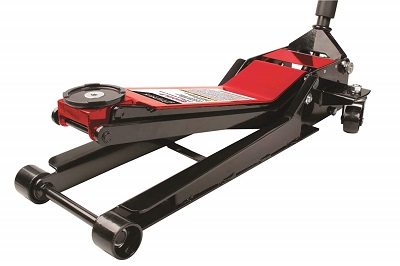 Unique features
Lift range of 2.75 inches to 24 inches
Rapid rise technology
Quick release handle
Low profile design
2-ton capacity
18-inch jack throw
1-year warranty
This jack has an exceptional lift range of 2.75 inches to 24 inches. This makes it so flexible and able to lift different types of vehicles ranging from low profile sports cars to tall SUVs and pickups.
The Sunex 6602LP has an ultra-low profile which makes it the ideal low-profile racing jack. Racing cars need fast change for tires to save time. This jack has rapid rise technology enabled by the dual pump which enables the jack to reach its maximum height in only 6.5 pumps.
Pros
Suitable for low profile sports cars
Dual pump system and rapid rise technology
Long 18-inch throw
Extra-low
Cons
Very expensive
Low capacity
List of Best 3 Ton Low Profile Floor Jack
1.Pittsburgh Automotive 3 Ton Heavy Duty Ultra Low-Profile Steel Floor Jack
 Powerful Features: 
 Rapid pump quick lift, 3-ton capacity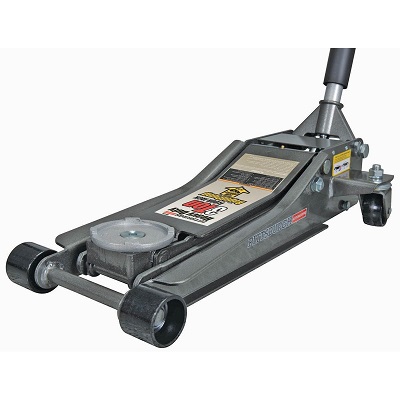 Unique features
Made of steel
3-ton capacity
Rapid pump
Weighs 79 pounds
This is the best budget low profile jack with amazing features you will find in the market today. The Pittsburg floor jack is reliable and affordable. The jack can be used for heavy-duty operations in the workshop with its capacity of 3 tons. It can lift different types of vehicles including SUVs and sports cars with its generous capacity rating.
Best of all, the jack is designed with a rapid pump system that enables you to quickly lift your vehicle without using much effort. Moreover, it has a decent lift range of 2.88 inches to 19.75 inches.
The equipment is made of steel therefore very durable and secure.
Pros
Affordable
Easy to use
Good lift range
Rapid pump system
Durable
3-ton capacity
2.Sunex 6603ASJPK Aluminum 3ton Jack Pack
 Powerful Features: 
very light, a pair of jack stands, rapid rise technology.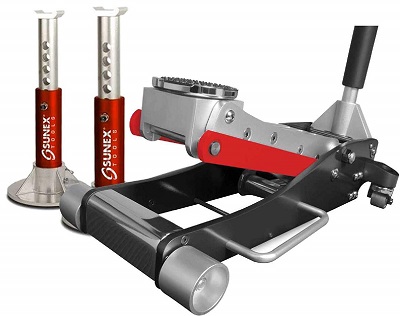 Unique features
Very light aluminum body
3-ton capacity
Low profile
Rapid rise technology
Maximum height of 19.3 inches
The sunex 6603ASJPK is purely made of aluminum which makes it very light weighing only 68 pounds. This feature makes the jack is easy to carry and work with. Despite being made of aluminum the jack smoothly handles the 3-ton load. The aluminum body is resistant to rust which makes the jack long lasting and durable.
Additionally, the jack can reach its maximum height of 19.3 inches in a matter of seconds. The rapid rise technology enables the jack to lift a vehicle fast and swift with a few pumps. When the jack is no loaded it reaches its maximum height with only 7 strokes.
Another important feature is the jack stands. The jack pack comes with a pair of aluminum jack stands to support the vehicle after lifting. This provides extra strength and security if you are working underneath the vehicle.
Pros
Very light
Rapid rise technology
Resistant to rust and corrosion
Durable
3. Alltrade 647580 Jack 3 Ton Low Profile Jack
 Powerful Features: 
 12 mm thick side frame, exceeds ANSI standards, 360-degree swivel rear casters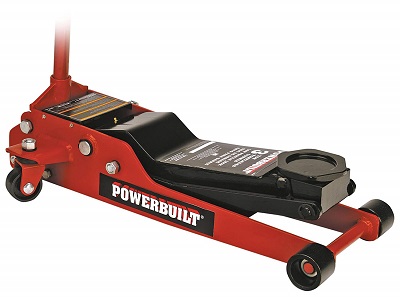 Unique features
lift range of 4 inches to 21.25 inches
low profile design
suitable for both cars and trucks
meets ANSI standards
Heavy duty 360-degree rotating rear swivel casters
Knurled handle
The Alltrade 647580 is the best 3-ton low profile floor jack designed to work effectively on lowered vehicles like cars and as well trucks. This makes the jack multipurpose equipment because of its ability to serve diverse types and models of vehicles.
It has an incredible lift range of 3.5 Inch to 21.25 inches with a 3-ton capacity. With this capacity and lifting range, the jack can almost rise anything from a regular car to a truck. In addition, it is fitted with heavy-duty swivel casters on the rear side. The casters can rotate 360 degrees making it easy to position the jack. The knurled handle also comes in handy during the positioning.
On the safety features, the jack can be said to meet or exceed ANSI standards of safety. Its frame is made of steel with a thickness of 12 mm. This makes it the safest and secure jack to use for heavy-duty tasks.
Pros
Meets ANSI standards
Extra strengthened
Versatile
Cushion handle and steel saddle
Durable and Long-lasting
CONCLUSION
We recommend the Pittsburgh floor jack or the Pro-Lift F-767 floor jack for the most affordable and money-saving jacks you can by. For racers, the Sunex 660LP will come in handy. Remember to always consider the minimum height if you want to buy a good low-profile floor jack.