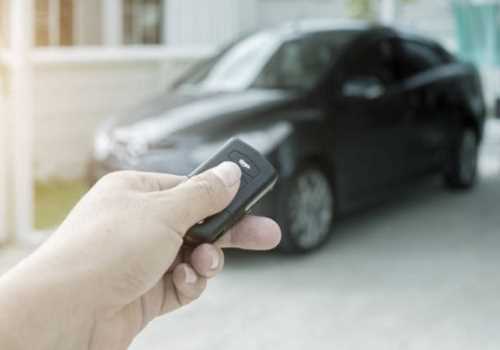 In the current era, manual keys are becoming part of the past. Indeed, the ancient use of mechanical keys is still in use. However, people prefer to enjoy modern methods, while keeping along with the moving trends. Locking and unlocking a car is not a trouble anymore.
RFID keys are one such progress that has come to override the use of mechanical keys. Ever since the introduction of wireless keys, the demand to access modern technology is consistently increasing. These wireless keys serve as a part of the RFID system.
RFID stands for Radio Frequency Identification. It is known as a system that performs the task of locking and unlocking the car by using powerful electromagnetic waves.
This system consists of two parts. For a better understanding, let's move through the categorization given blow:
RFID key fob, which serves the purpose almost similar to those of physical keys. The only difference lies in wireless functioning.
However, the RFID key fob is further divided into two components. It includes a microchip that is encoded with a unique ID. Secondly, it consists of an antenna in the form of a coiled wire that helps in transmitting the data.
RFID key fob reader, which is set up in your car to read the electromagnetic signal from the key fob.
What to look for in the Best RFID Key Fob Protector?
Imagine that you have bought a new car. You wish to make it function without the use of the traditional method. Keyless entry and starting of the car mesmerize a large amount of audience. Although it sounds like a more convenient and user-friendly method.
The use of an RFID key is a unique way to establish communication with your car. Unfortunately, if your key fob frequencies are replicated, it becomes fairly easier to open the car.
To avoid all such inconveniences, tech saviors have come up with key fob protectors. These protectors limit the transmission of frequencies so that they can neither be replicated nor copied.
There are certain noticeable features to get hands over the best RFID key fob protectors. Take a look at the guide of features of best faraday bags for key fobs to make the best purchase:
Inner Material
The key fob might be in your pocket, but it would still unlock your car to some distance. Use an RFID pouch for the key fob to protect it from automatically being scanned by the car.
The inner material for the key fob protector must be something that blocks frequencies. Most people temporarily prefer to use aluminum foil as a protector. Although it does block frequencies, it is not highly reliable.
For a better shielding of magnetic waves, use highly reflecting materials including silver, copper pouches. These materials are used in the form of layering.
Additionally, these materials reduce the transmission either by reflecting or absorbing the waves to control the external flow of frequencies.
Outer Material
Most people rely on inner shielding while looking for the key fob protector. However, the external made up plays a greater role in determining quality. You may never want your key fob protector to rip apart.
Hence, for durable usage, prefer protective cases with thick and waterproof material. Leather, wool, and oxford cloth layering are highly desirable in this regard.
Size
Portable sizes are always convenient to carry along. Thus, a key fob protector should always make up a size that is easy to carry along.
Wherever you go, the size must be small enough to keep inside a pocket. The tiny size is convenient for carrying along and coincides with the modern trends of the day.
Design
Despite the functionality, the design of the protector is also an important characteristic to notice. It should be easy to use (open and close).
Standing near to your car and not being able to open the protector, is a big annoyance. Therefore, while making a purchase keep in mind the ease and outlook of the pouch, which matches with the modern trends.
Best RFID Key Fob Protector
In times, where car thieves have the technology to replicate the signals, it's important to get prepared for it. You should get your hands over the best RFID pouch for the key fob, to avoid your key fobs to be hacked,
Are you concerned about the cost? Well, depending upon the features, the prices may vary. Most of the key fobs offer single-layered protection. These are relatively affordable.
At the same time, there are many others with double protection. Hence, the prices vary depending upon the extent of security. Let's have a look through our preferred and highly rated RFID key fob protectors.
1. Ticcon Faraday Bag for Key Fob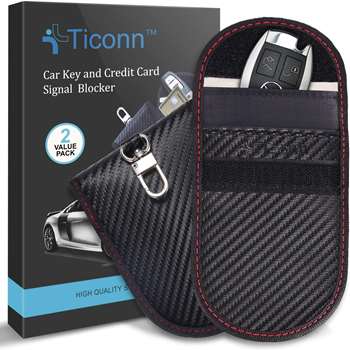 A big hit about this faraday bag is that it does more than just protecting a key fob. This protector comes with two spacious pockets. These pockets serve as reliable protection for your credit cards and key fob.
This bag is built with a double layer of protection. It means that the shielding material is powerful enough to block almost all types of frequencies.
Moreover, this faraday bag comes with a flap closing. This enclosed structure signifies the strongest protection to avoid all possible risks.
This protective bag is easy to carry around by being smaller in size. The textured outlook provides a fashionable and modern outlook to take wherever you go.
Click Here to See the Latest Price of Ticcon Key Fob Protector
2. Wisdompro RFID Key Fob Protector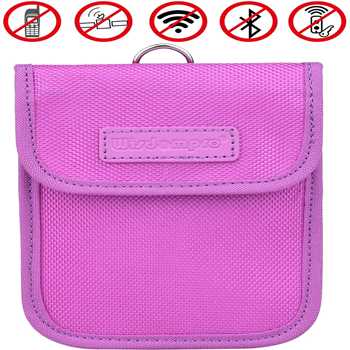 This key fob protector is a perfect choice for somebody looking to keep keys in one place. This bag is spacious enough to hold all your keys, credit cards, and whatnot. But if you are somebody with a small set of keys, this might get extra for you.
Apart from being spacious, this protector comes with a double layer of protection. The bag is internally lined with silver to block the external flow of signals.
Additionally, this protective bag comes with a silver ring. It signifies that it's both practical and convenient to carry along. You can simply tug it to any handbag or belt. Moreover, its travel-friendly size is easy to carry all-around places.
Along with its fascinating features, the trendy and fashionable outlook makes it twice more appealing. Hence, it helps in adding durable protection to your car.
Click Here to See the Latest Price of Wisdompro RFID key fob protector
If you already own a protector, it's time to conduct a quick review. Now that you understand specifications undergo your key fob protector review. It can help you in better understanding the extent of reliability it offers.
Can You Steal a Push Start Car without the Key?
The answer is, yes! But before you presume anything else, just know that the process demands technical knowledge and an RFID copier to make it happened. Read ahead to understand how it can happen!
The process to steal a push start car begin with a thief trying to access your unique tag. He simply needs to have access to your RFID unique tag. This tag includes a set of numbers that are distinctive thus are difficult to replicate.
Once a connection is successfully set up, he can hack or copy your unique tag by using an RFID copier (or RFID duplicator). This duplicator is a device that is used to copy data from one RFID tag and imprint it onto another. Therefore, he can also make multiple copies of the tag by using an RFID copier.
These multiple copies enable a thief to have access to your car. But wait! You need not worry because only an IT expert can steal your car. The entire process is technical enough that every other layman is not able to carry it out.
For other Car Modification Posts Click Here