Like any other jack, an aluminum floor jack is used to lift vehicles during repairs, checks and maintenance routines. Aluminum floor jack has gained more acceptability because its light compared to other steel jacks. Despite being light, the jack equally has the same capacities to those of steel jacks.
Why Choose Aluminum Floor Jack?
Most substances found in garages such as oil, fluids, and grease have no effect on aluminum. The aluminum floor jack is rust resistant, heavy duty and durable. The jack can be used on different types of vehicles ranging from small cars to medium size trucks.
Aluminum jacks are best suited for individuals because of their portability. Their lightweight nature enables them to be easily handled by one person. For sports racers, they are the best choice.
If you looking for the best 3 ton aluminum floor jacks in the market, read along, this is exactly what you need.
1.Sunex 6603ASJPK Aluminum 3 Ton Jack Pack
 Powerful Features: 
rapid rise in technology and very light.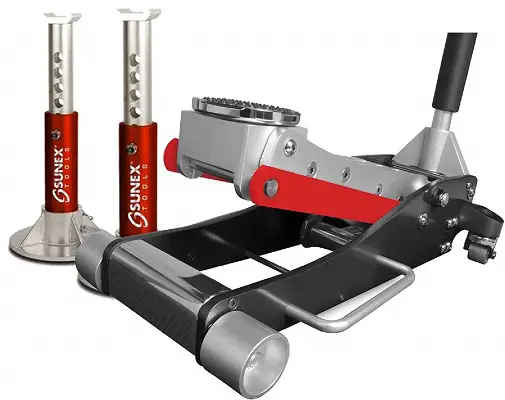 Unique Features
Weighs 68 pounds
1 aluminum jack and 2 aluminum jack stands
Does not require batteries
Maximum height of 19.3 inches
Capacity of 3 tons
The Sunex 6603ASPJK is among the best 3 ton aluminum jacks to buy in the market today. The package comes with the 3-ton jack and a pair of 3-ton jack stands. Each jack performs the main duty of the lifting while the stands offer extra support to the vehicle. Before you crawl underneath the car make sure you have the jack stands which can support the vehicle weight in place for security purposes.
This jack weighs 68 pounds and it measures 37.7 x 15 x 7.9 inches. It has a reinforced arm which enables it to raise up to 3 tons. The full aluminum body makes the jack so light, easy to carry and handle during use. Additionally, the jack has side handles which makes it easy to carry manually.
Additionally, this tool rapidly rises to reach a maximum height of 19.3 inches in just a few pumps. Without load, it reaches the maximum height in only 7 pumps which are extraordinary. This amazing trait ensures you use little strength and save more time when raising your vehicle. Long gone are the days of full body pumping to raise a part of a vehicle. With this jack, a small cab will only need a few pumps with one arm and the vehicle is up.
Pros
Rapid rise technology
Light
Rust resistant
Long-lasting
Maximum height of 19.3 inches
Low profile
Easy to set up
Cons
Expensive
Not suited for high profile
2. NOS NSJ0302 3-Ton Aluminum Service Jack Pro Style
 Powerful Features: 
safety overload valve, ultra-lightweight and pumper pad.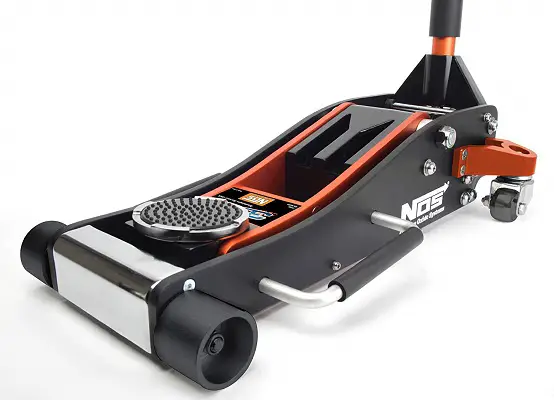 Unique features
Lift capacity of 6000 pounds
Maximum height of 19 inches and 3.75 inches minimum
Has a safety valve to prevent overloading
Extremely light weighing 0.48 ounces
Has a bumper pad
The NOS NSJ0302 is made of aircraft grade aluminum making it very durable not to mention its amazing ultra-lightweight feature. The jack only weighs 58 pounds which are relatively small compared to the other jacks. The jack's dimensions are 28.4 x 13.8 x 6.3 inches and a capacity of 3 tons equivalent to 6000 pounds.
If you intentionally or unintentionally, attempt to lift vehicles weighing more than 6000 pounds the jack will not work. It has been installed with a safety valve which prevents overloading. This minimizes accidents like crumbling which occur due to overloading. A mechanic will feel secure sliding underneath a vehicle being sure the jack can handle its weight.
The dual pump ensures rapid lifting of your vehicle. In just several pumps, the jack lifts your vehicle to its' maximum height. Just as simple the lifting is, so is controlling. It has a universal joint release mechanism which precisely controls everything. Note that it is always important to confirm whether the jack is properly positioned when supporting a vehicle.
Pros
Safety overload valve
Modern design
Bumper Pad
Very light
Made of high-quality aluminum
3. Neiko Pro 20272B Premium Low-Profile Floor Jack
 Powerful Features: 
dual pump design, constructed from industrial grade aluminum alloy, swivel rear casters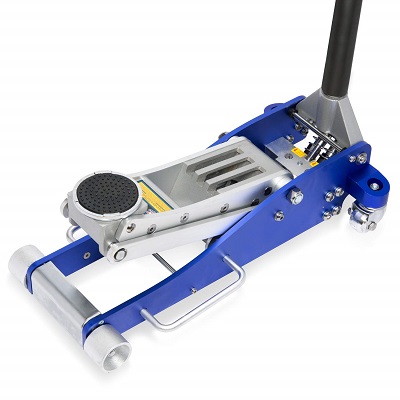 Unique features
3-ton capacity
Weighs 57 pounds
Maximum height of 19 ¼ inches and a minimum height of 3 ¾ inches
Rubber dotted saddle
Swivel rear casters
Dual plunger design for rapid lifting
Neiko pro 20272 B unique features make it fall among the best 3 ton aluminum floor jacks. This is one of the most powerful jacks with the ability to lift 3 tons with its extra light weight of 57 pounds only. The main constituent of the material used to make it is industrial grade aluminum alloy which is characterized by durability and lightweight.
This jack is versatile and ideal for different occasions and places. This includes use in garages, car shops, and general repair services such as tire changes in sedans and SUV's. Its light weight allows it to be carried along for road trips, journeys, and car sport racing events.
Compared to the other floor jacks, it has simpler handling and usage. The jack is fitted with swivel casters on the rear which improves its ability to move in different situations. The easy maneuvering ensures easy and precise positioning under vehicles without struggles. Still, on its handling abilities, the jack also has handles on both sides which makes it easily portable.
Pros
Durable
Impressing lift range of 3.75 to 19.25 inches
Able to work with diverse vehicle designs
Safety valve which prevents overloading
Rapid lifting speed
Conclusion
The versatile nature of aluminum floor jacks provides a diverse functionality. Therefore, these are the best 3-ton aluminum floor jacks you can buy for any type of lifting. You should always remember to consider the capacity of the jack and the type of vehicle before buying.