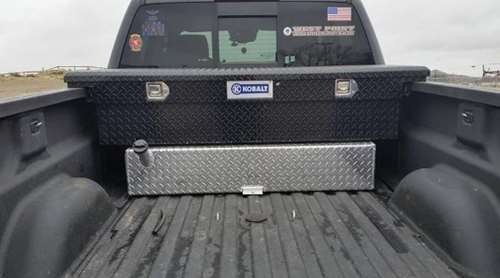 The auxiliary fuel tank is an additional fuel tank attached to the actual fuel tank of a vehicle. It comes quite in handy especially for people like me who have to travel long distances now and again. An auxiliary fuel tank doubles the fuel capacity which is quite useful. I have to, frequently travel to remote areas where fuel is not quite easily available, auxiliary fuel tank has made it so much easier for me.
Do Under Bed Auxiliary Fuel Tanks for Pickup Trucks Exist?
Yes, they exist Titan is the automobile company that has brought the first polyethylene made auxiliary fuel tanks for pickup trucks. The Titan fuel tanks have a capacity of 30-gallons. There is a transfer control unit placed right under the bed in the storage cavity (spare tire). That's why it is also known as a spare tire fuel tank or spare tire fuel cell.
As for the specifications of the tank, it weighs 30 lbs. Installing it is a one-man job. Use a kit for this purpose which includes mounting hardware, the cap, and filler neck along with the electrical-fuel transfer unit so one can operate it from inside the truck. For more details about the price and features of Titan under bed auxiliary fuel tank Click Here.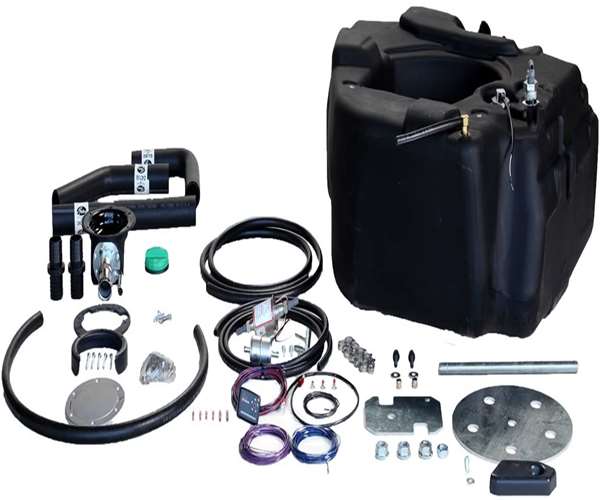 Types of In-Bed Auxiliary Fuel Tanks
There are two types of auxiliary fuel tanks. Here is a guide on, what each type has to offer and what would suit you the best.
Truck Bed Fuel Tank with Pump
In such auxiliary fuel tanks, there is an electrical pump that transfers fuel to the main tank. This is controlled by a switch that can be operated from within the vehicle.  When you flip the switch on, the main tank starts to fill up from the fuel which is coming from the auxiliary tank via a fuel line. Hitting off will stop this.
However, a common problem with these electric pumps is a simple human error. People forget to turn off the switch and the main tank keeps on receiving fuel from the auxiliary fuel tank which might lead overfilling. To prevent this, there is a return line that is installed to push back the excess of the fuel.
Gravity Flow Fuel Tank
As for a gravity flow fuel tank, it is clear from the name, the system is quite simple; it makes a refill with the help of gravity when your main tank shows a decrease in the level of fuel. The amount of fuel consumed in the main tank one is being replaced by the fuel from the aux tank, you would barely notice any difference until the auxiliary fuel tank goes empty. This is the time when your main tank starts to run out of fuel.
Benefits of Auxiliary Fuel Tanks
Having extra fuel always comes in handy when you are a traveler or encounter long-distance traveling daily. Nonetheless, there are many more benefits that an auxiliary tank serves and makes your life easier.
Most obviously, you can travel far more miles than before.
When you have sufficient fuel, you can avoid expensive and low-quality fuel for random gas stations and afforded to wait for a good one as you know good fuel makes a difference for your vehicle. Hence, safety and convenience.
Some auxiliary fuel tanks are designed to have extra space for keeping tools in there.
Heavy vehicles or high load in a vehicle can lead to high fuel consumption but you do not have to worry when your auxiliary fuel tank is full.
It saves time for refilling.
They can be added to ATVs, boats, motorbikes, and all kinds of recreational vehicles.
What is the Best In-Bed Auxiliary Fuel Tanks for Trucks?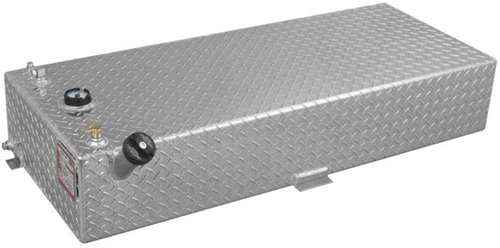 Having trouble in getting good quality and reliable fuel tank? Then it makes you relieve that RDS MFG INC Auxiliary Fuel Tank, is the best in bed auxiliary fuel tank out there. It comes in a wide range of sizes, types, and dimensions to match your fuel consumption needs. This tank weighs 77 lbs. and the most commonly available dimensions are 50x20x9" which would work for almost any truck.
How to Plumb Auxiliary Fuel Tank?
Installing auxiliary fuel tank is not that hard. All you will be needing the right equipment and instructions and your installation maneuver would be smooth and convenient. Here is my complete guide to how you can install an auxiliary fuel tank. It took me two hours to get the job done.
Cleaning the truck bed and your working area is important
I used an RDS 32-gallon auxiliary fuel tank which has an installation kit including the necessary bolts. I highly recommend using the kit (on/off gauge included in the kit)
The mounting tabs will be on the edge or bottom. Mark place on the bed where it will be installed.
To insert the fuel line, remove the (factory) rubber plugs or punch a hole in them.
Connect the two tanks with pipes and a tee between them.
Now fasten the tank with bolts and nut along with the washers that came with the kit.
What is the Auxiliary Fuel Tank Toolbox Combo?
Auxiliary fuel tanks serve the basic purpose of extra fuel storage but some types offer more than that. A type of auxiliary fuel tanks come with extra storage space where you can keep your tools and necessary equipment without taking up extra space is known as the auxiliary fuel tank toolbox combo. The innovative design does not only carry extra fuel but also keeps your tools safe.
What is the Best Aftermarket Fuel Tank for Ford Trucks?
Replacement fuel tanks pickup trucks are not that easy to find especially when you are looking for a Ford Truck as there is always something that is not according to your requirement.
To meet your fuel consumption, the innovative and durable design of Spectra Premium F1G Fuel Tank will be met all of your fuel consumption and storage needs. It is made from a reliable and corrosion resistant O.E.M. which is approved by Ni Terne steel. The tank is tested for 100% leak-proofing (water-based). The lock ring is inclusive. All the specs are great for Ford trucks so if you want to purchase one as a replacement, you are on the right spot.
What are Truck Bed Fuel Tank Regulations?
Under the section 174.430 of USDOT (Department of transportation) portable fuel tank regulations are that a tank must have:
An Aluminum or steel made 18 gauge.
Durable fastening with a truck bed or frame is essential so it will not come off even in case of a collision.
Permanent mounting with the fuel tank (applicable USDOT regulation)
Prevention against sudden baffling of fuel cause of the vehicle's movement.
Electrically connected with the vehicle.
Leakage protection on turnover
What Car has the Biggest Gas Tank?
The car with the biggest fuel tank to this date is the 2018 Jaguar XF 20d with a fuel capacity of 17.4 gallons.
What Size is My Gas Tank?
I often come across people who are curious to know the size of the fuel tank of their truck. There are three ways you can use to measure the size of a gas tank.
Use the formula
I use this method more often as it is the easiest one. Know the dimensions and use the formula LxWxH and divide the total by 231(number of cubic inches in a gallon). 231 is the number of cubic inches in one gallon of gasoline. In this way, you will get the capacity of your tank in gallons.
2. Refilling the empty tank
Refill your completely empty tank can also tell you about the exact size of your fuel tank. Just check the meter before paying the bill. You can also consult your car owner manual for the gas tank size.