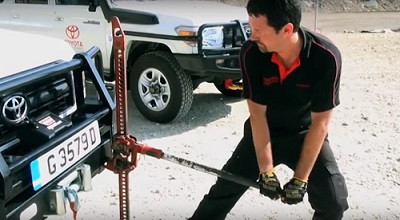 The Hi-Lift jack is a durable, highly versatile jack that is helpful in lifting, moving, dragging, winching and clamping. Even though the Hi-Lift jack is lightweight and simple to manoeuvre, it provides a rated capacity of 4660 lbs (2114 kg) and a tested capacity of 7000 lbs (3,175 kg).
Even Hi-Lift jacks are made with a two-piece handle and socket configuration that is built to last longer. Cheaper imitations use a one-piece design that easily bends when lateral pressure is applied while a load is raised. In the most challenging conditions, Hi-lift jacks are designed to help you survive. For any vehicle on any ground, Hi-Lift jack is an irreplaceable piece of equipment. These jacks lift the chassis up, which can be useful if you are bellied out on a stump in a rock or tree.
If you don't have a winch, this may be one of your single most important pieces of recovery gear. This jack is particularly useful in river crossings on rocks and pits, or to break mud suction before winching. This jack can be used to lift the vehicle's front or rear and rock the vehicle off the jack to make it fall on firmer ground. The primary role of Hi-Lift jack is to lift vehicles over obstacles.
List of Top 10 Hi-lift Jacks
| | | | |
| --- | --- | --- | --- |
| | | | |
| | | | |
| | | | |
| | | | |
| | | Torin Big Red 48" Ratcheting Off Road | |
| | | Powerbuilt 620470 Unijack | |
| | | | |
| | | Smittybilt 2722 Universal Trail Jack - 54" | |
| | | Goplus 48"(3.5 Ton) / 60"(3 Ton) | |
| | | Maasdam 1130-10, 48-Inches 8,000 lb | |
| | | RC 4WD Z-S1774 1/10 Hi-Lift Extreme Jack | |
Hi-Lift Jack HL484 48" Hi-Lift Black Cast and Steel Case

The Hi-Lift jack HL484 48-inch cast and steel jack are constructed with a mix of cast components and high strength stamped steel components and features an anti-corrosion zinc coating as standard. This Hi-lift jack has dimensions of 49X5x10 inch, with a bodyweight of 28 pounds. Its simple gear and lever system allow the user to winch up vehicles, no matter the terrain, letting you work your way out of numerous tight spots wherever you hit the trials. Best Hi-Lift Jack has over 100 years' experience producing quality products.
Hi-Lift Jack XT485 48" Hi-Lift X-TREME Jack

This is the latest version of the original best rated Hi-lift jack with its amazing features. Its surface is coated with a metallic charcoal powder that gives it a distinctive appearance. While handle and hardware are coated with gold zinc that prevents rust and corrosion thereby extending their lifespan. IT has a holding capacity of 7000 pounds and has a bodyweight of 33.1 pounds.
Hi-Lift Jack UTV-424 42" UTV Jack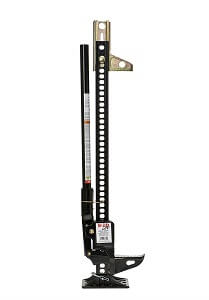 It is the black powder-coated jack and handles with gold zinc-coated hardware. These black coated jacks are equipped with winch/clamp/spreader tools instead of the standard tool clamp-clevis. It comes in size and height between 36 inches and 42 inches and a weight of about 28 pounds. Its lightweight makes it very easy to move or rotate as the situation requires. This model of jack can easily take care or load of about 7000 pounds without causing havoc to the tool.
Torin Big Red 48" Ratcheting off-road/Utility Farm Jack, 3 Ton Capacity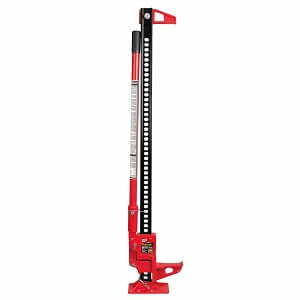 This monster Jack is made up of the most excellent grade of steel to ascertain high quality and strength with its incomparable durability. Ratcheting off-road/Utility Farm Jack is suitable for lifting, pulling, winching, clamping and spreading. It has a lifting range of 5.12" to 40" and can easily and safely handle the load of about 3 Ton (6000 pounds). This is the best hi-lift jack mount for jeeps.
Powerbuilt 620470 UniJack- 4000- Pounds Capacity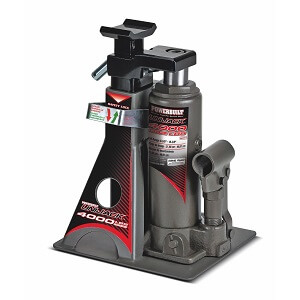 This jack is designed to safely lift and hold both regular cars and trucks. It combines a jack stand and hydraulic bottle in one unit, eliminating the need for the separate jack stand. It has a height ranging from 8-5/8 inch to 18-3/8 inch.
BUNKER INDUST Offroad Hi-Lift Jack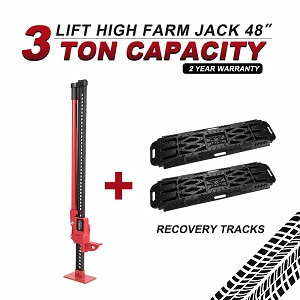 This is the best hi-lift jack for a jeep with adjustable height. The maximum lifting height is 107cm. The maximum capacity of a high lift farm jack is 3 ton (7000 lbs). The traction mat is made of UV stabilized flexible, super tough engineering-grade reinforced nylon. The center of the traction mat is specially designed with a jack base for emergency work.
Smittybilt 2722 Universal Trail Jack 54"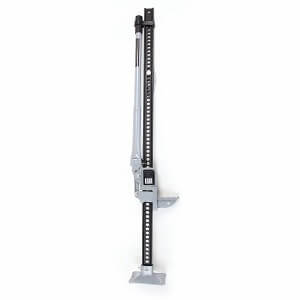 This is the best Hi-lift jack for a jeep with a large base and adjustable clamp. It is a versatile jack with a solid steel case and finished in a durable coat with zinc-coated hardware. In case of flexibility and adaptability, this is the best hi-lift jack mount for jeep, withholding capacity of 4660 pounds, can lift the vehicle to 54 inches.
Goplus 48" (3.5 tons)/60" (3 Tons) Off-road Ratcheting Farm Jack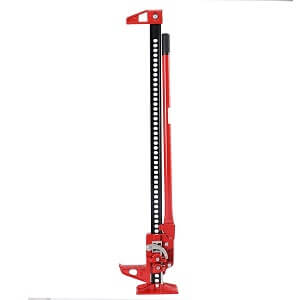 This is a multifunctional, indispensable tool that can be used for fast and efficient lifting, winching, clamping, pulling and pushing. It can lift tractors or heavy trucks, pulling posts and poles, even serves as an all-purpose hoist. This jack is made up of heavy-duty solid steel construction, durable sturdy to keep its shape. The largest capacity is 3.5 tons (7500lbs).
Maasdam 1130-10, 48 inches 8,000 lb Capacity Jackall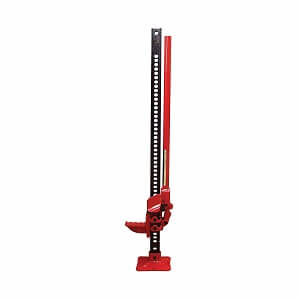 This is the second Best hi-lift jack for pulling posts with a larger base and greater stability. To reduce stretching and to prevent corrosion, it is powder coated with steel handle locks against beam for convenient storage. The jack is 48", having a capacity of 8000 lb.
RC 4WD Z-S1774 1/10 Hi-Lift Extreme Jack RWDZ-S1774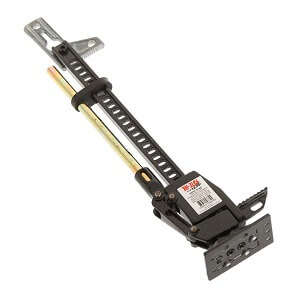 The only Hi-Lift extreme jack is now offered in 1/10 scale size. This jack is hand-painted with a steel standard bar and gold handle. It has a height of 5.6 inches. This jack is a fully functional scale replica of a full-size hi-lift down to even the smallest details. It has a base plate with a width of 0.62 inches and a length of 1.04 inches.
What size high-lift jack do I need?
Finding the perfect high-lift jack can be challenging. You must know what your need is to get the right product. High-lift jacks come in 4 different lengths; there are 42", 48" and 60" in an all-cast iron jack which is less sturdy than a cast-and-steel one (which also comes in a 36"). Both types of jacks are equally functional based on their range and capacity; however, cast-and-steel jacks are comparatively, cheaper. All four lengths of jacks can lift a minimum of 4.5" of nose height to almost 50". If you are looking for a standard one, purchasing a good old 48" jack would work just fine for you. They are easy to work with and can be stored, effortlessly.
What size high lift jack for jeep JK?
Vehicles like jeeps are four-wheelers and usually require balanced winching. For this purpose, you can use a 48" or a 60" depending on what terrain you drive in the most. A 60" high-lift jack is only recommended for rigs in long trips. However, 48" works the best for jeep Wranglers as the 60" one might even fit under your 4×4. Also, with a 60" jack there is a high chance of the jeep to topple over or get caught up in the branches. Trion, Blackhawk, and Arcan are the top three jacks recommended for jeeps; you can easily find them and a lot of other jacks on Amazon at reasonable prices.
What size high lift jack should I buy?
Purchasing jacks depends entirely on the type of vehicle you own. If you have a jeep or any 4×4, you might want to look for a heavy-duty jack that offers smooth lifting and has an effortless operating method. 2-3ton jack would work just fine for you. Given their high-functionality, they might be costly but on Amazon, you can get your hands on top-quality high-lifting jacks like Trion T83006, Arcan and Prolift (not suitable for high vehicles). They might be lifted slow but that ensures your safety and reduces fatigue.
What size hi-lift jack for Tacoma?
Vehicles like Tacoma are to be lifted from the sides of bumpers instead of the hitch which ensures safety by keeping 3 tires on the ground. The best high-lift jack for Tacos is 48" jacks in cast-iron which provides sturdiness and functionality at the same time. You can find a wide range of versatile jacks for your Tacoma on Amazon at affordable prices. Buying a 60" is more suitable as Tacoma is a heavy vehicle but there are storage problems due to the size of the jack. However, if you can overcome storage problems, get the biggest one costing just a few dollars more.
What size high lift jack should I get?
The size of a high-lift jack depends entirely on the vehicles you are going to winch using that jack. For higher and heavy vehicles like jeeps and SUVs, 60" jacks are recommended in cast-iron. Basically, there not much difference in cast-iron jack and cast-and-steel jack other than the wear and tear of the jack's body. Steel is more malleable which makes it more prone to wear as compared to cast iron. However, a standard 48" works the best lifting almost all kinds of vehicles and does not take that much room.
Who sells hi-lift jacks?
If you are in a need for a high-lifting jack, Amazon is the best place to look for one. You would not only find high-functional jacks for decent prices but there is a wide range of versatile automobile accessories to make the winching process much easier. However, you might want to purchase an American-made jack and not a Chinese one because the durability is compromised on the latter as it is more economical. You must beware of the cheap imitations that look very real but give-in in a few months or even days. Always go for a reliable brand; Amazon offers many alternatives along with the one you might be looking for providing variable options to choose from.
When to use high lift jack?
High-lift jack is incredible equipment that is used for lifting and winching vehicles but you must only use one when you have considered the following points:
The type of terrain i.e. even/uneven ground
Lifting from the corner of the bumper or from the belly
You can use it to change tires of heavy vehicles or when they are stuck in grooves or muddy potholes; high-lift jack serves multiple purposes if you know how to use it right.
How does a high-lift jack work?
You must know the length and the weight capacity of your jack, beforehand in order to use it properly. For a standard jack, there are two climbing pins on the bar that has holes in it. These holes serve the purpose of holding the weight in its place for a specific height. When one pin is locked in its place the other is freed. This allows the weight to be held in the placing lifting the vehicle up form aside so the other 3 tires remain on the ground, ensuring safety. Repeat the same process for lowering the vehicle but make sure to let go of the lever slowly after locking the pin to avoid damage.
Are hi-lift jacks made in the USA?
Yes! USA is one of the largest jack-manufacturing countries; American jacks claim sturdiness and are easy to use with effortless operations ensuring less damage. Are you scared of getting the cheap replicas? Buy the USA-made to avoid any fake imitations. Via Amazon, you can get various options including jacks of all sizes, weight capacities and types (including, floor jacks and bottle jacks).
Where are hi-lift jacks made?
High lift jacks are manufactured all over the world; China and the USA are the highlighted manufactures. However, USA-made jacks are more reliable and can last longer based on their sturdy body. You can look up some great US-made hi lifting jacks on Amazon at reasonable prices. I would personally suggest buying a second-hand American Jack than a Chinese one due to the dependability. It would even cost you less.