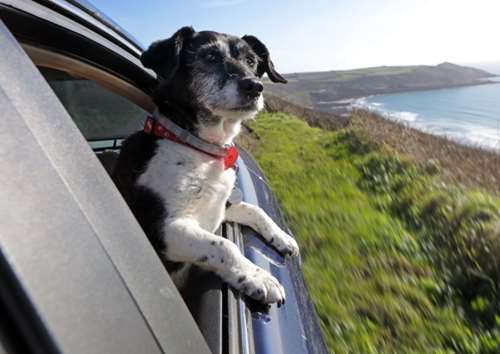 How to Prevent a Dog from Scratching the Car Door?
If you've got a mischievous dog in your family who likes scratching up your car, this guide is just what you have been looking for. Let's talk about the ways to protect a car from dog scratches.
Get an Exterior Car Door Protector
This method is the most convenient and economical out of all. You just need an exterior car door protector. Keep your car doors free of scratches and scores by using a scratch-resistant car cover. Cover the car when parked so your dog's nails can't get to the car.
Cover the Dog's Nails
This method might be somewhat debatable; it's nothing but a misconception. The adhesive used with the caps to cover the nails up is non-toxic and does not harm the dog in any way. It is completely safe; every time your dog is in the car, use dog nail caps to avoid scratches. 
Keep the Dog Away from the Car
The goal here is to make your car as unattractive as possible for your dog. For this start by taking out anything that can catch your dog's eye like dog food or any of its toys. Dogs are very sensitive to smells, get a dog resistive mothball to keep your dog away from the car.
DIY Dog Car Door Protector
It might sound a bit funny but it works wonders. You don't need much for this, just two pairs of socks would do. Put on those socks on your dog's paws and keep your vehicle free of scratches. A thick plastic or fiber sheet on the inner side of the door also protects dog scratches.
Use Dog Seat Covers
To protect the car door from dog scratches, you can use a car door protector but when it comes to the interior, car seat covers will do this job for you. You can also use a car hammock for your pet. 
Use Plastic Sheet
Scratches aren't the only problem when you have a dog, drooling also leaves nasty marks on the windows. Use a plastic sheet to cover the car windows while driving with a dog; it will prevent the dog's slobber on windows along with scratches.
Train Your Dog
In case your dog isn't being such a good pet and scratching your car all over, train it a little. It is best to train your dog to use its kennel for resting instead of under the car.
Consult a Dog Trainer
I know life can be pretty busy and training a dog takes a considerable amount of time especially if you own a chow chow; they're pretty lazy. A local dog trainer will be able to help you in this case. They analyze the behavior of your dog and train them for obedience and discipline. 
Why are Dogs Scratching at the Car Door?
Pets, especially dog scratch due to anxiety. However, there can be another reason why it would begin to scratch or jump in the car. 
It can be out of boredom and they want to go outside or inside the car to get a change of occupation. You need to play with your dog more if that's the case.
Another reason can be nature's call. Your dog probably needs to defecate or urinate. It can also scratch up the car if your dog heard or smelled something and now is investigating it.
Lastly, if your adult dog is on heat or is looking for a mate, it minds end up jumping on or scoring your sweet ride.
How to Protect Car Interior from Dog?
There are different ways you can use to protect car interior from dog scratches among which car door guards are quite popular. Car door guard for dogs are easily available in the market. Here is some recommendation:
Soft Claws Canine Nail Caps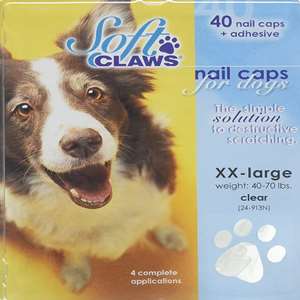 With a comfortable and easy-to-apply design. These dog nail caps will last 4-6 weeks without making the pet uncomfortable or interfering with its daily routine. These caps are made of high-quality rubber which will not hurt your dog's paws and your car won't get scratched up either. If you like being extra, get some glittery sparkly caps and make your dog look like a total diva. If you prefer simplicity, go for the neutral ones, they are more easily available. See Latest Price Here.
QUMY Dog Boots Waterproof Shoes for Dogs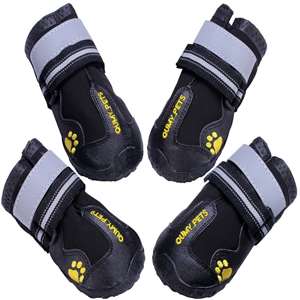 These dog shoes are made with high-quality fabric and have a rugged anti-slip sole that provides comfort as well as traction. These shoes expand at a wide split seam. It comprises two adjustable and Velcro straps that ensure a perfect fit; these straps are reflective so you can easily spot your dog at night. Getting dog shoes means you can protect your car inside out; your dog won't be able to scratch anything for that matter. See Latest Price Here.
Pet Dog Car Door Cover Protector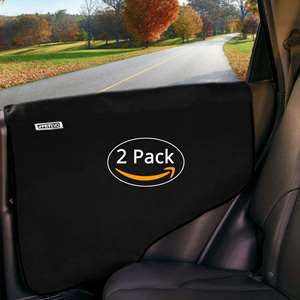 Using an interior car door protector is the best choice if your dog likes to watch out the window. It prevents scratches, as well as its water-proof design, keeps the dog drool from reaching the car's body. The top-quality polyester material of these interior covers is thick and secured on with a tough adhesive such as keeps it in its place for a long time. See Latest Price Here.
Pet Backseat Cover for Cars, Trucks, and SUV's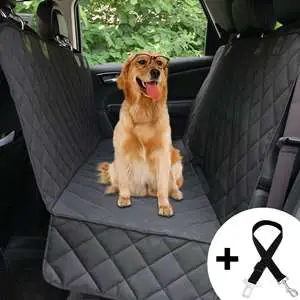 Using a waterproof seat cover also known as the dog hammock is another smart way of avoiding the dog-nail-damage to the car seats. It is made by 600D oxford with a high-quality PVC of 54″ by 58″ dimensions to make sure that your car seats remain untouched. Since the hammock is soft and comfortable, your dog would have no problem giving you company while driving. It's sturdy and durable so you don't have to spend money on another anytime soon. It doesn't slip and even has an opening for the seat belt. See Latest Price Here.