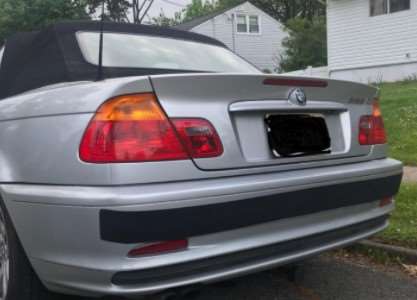 What is a Rear Bumper Protector?
As the name describe this product protects the rear bumper of your vehicle. It serves as a protective layer that prevents the bumper from scratches, dents, etc. while parked.
There are different types of bumper protectors including trunk-mounted, sticky, license plate mounted, which are made up of hard rubber or compact foam.
Getting a car bumper guard makes parking a far less worrisome thing as the risk of vehicle damage from accidentally bumping into something drops up to a great extent. So, Let's find out about types.
Types of Car Bumper Protectors
Adhesive Car Bumper Protector/ Stick-on Rear Bumper Protector
An adhesive car bumper protector is the most common type and very easy to install. They require an adhesive which is used to affix the bumper guard on the bumper. 
A great thing about these is that they are easily removable despite the adhesive being very strong. You can use them on the entire bumper or just a corner.
However, with all the benefits comes a downside that is the ugly and 'in-the-face' visuals. The bumper guard looks pretty unpleasant on the bumper and is quite visible.
Trunk Bumper Protector
Trunk mounted bumper protectors are pretty invisible once mounted. All you need to flip out the bumper guard before parking to make the protector functional and keep the car bumper safe from any damage.
Trunk bumpers, however, only offer protection when parked, its pretty much useless while driving. Also, the flipping of guard on and off every time you park is very disturbing.
License Plate Mount Bumper Guard
A license plate guard is installed directly onto the license plate of the vehicle and is usually pretty thick. Installing one is very easy; simple mount it to the license plate's frame.
As for the front bumper guard of this category, it provides sufficient protection to the central region of the vehicle but offers zero defense for the corners.
Hitch-Mounted Bumper Guard
This one works ideally for trucks and SUVs. It is mounted to their trailer hitch to protect the rear bumper.
Being easy to install and remove, it is one of the best choices for a rear bumper guard for SUV. Although, these guards work with a receiver hitch only and they aren't that good-looking.
Universal Bumper Guard / Universal Bumper Protector
If you are like me and do not want to compromise on the style whilst preserving the look, then this type is for you. For this, you would want to use a paint protective film here.
The paint film would provide protection against all sorts of scratches but would do nothing for dents. The film is transparent so the original color would remain untouched.
The film can be precut or be of the universal size so there is nothing to worry about in that case.
Why Should Use a Car Bumper Guard?
Are you sick and tired of getting your car scratched up all the time while driving or parked? Then the car bumper guard is a must-have one for you.
Getting a car bumper guard will benefit you in many ways including:
You get a considerable amount of protection against scratches and dent.
You can park with zero worries and reluctance.
Save bumper replacement cost. 
Save your repaint cost up to a great extent.
Maintain the resale value of the car.
Recommendations of the Best Bumper Guard
If you are looking for a bumper guard and can't make the right decision, here are some of the best rear bumper guards that will go perfectly with your car, SUV, and truck:
BumperX 6″ Width. Bumper Protection & Guard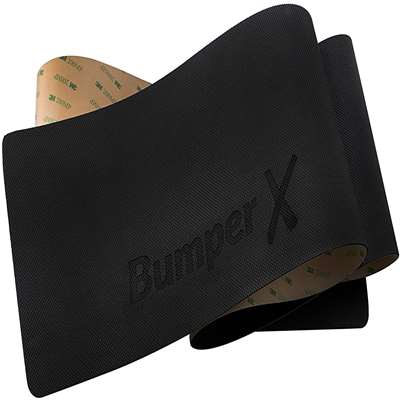 This bumper guard is made out of black premium EPDM rubber which does not only complement any color of the car but also provides considerable protection against damage. It is pretty easy to maintain. In case you notice any dust accumulation, wipe it off with a cloth, and use vegetable oil to renew the shine. With its wide surface area, it covers up all the existing damage and prevents future ones that too at a very reasonable price. The easy-to-install bumper guard fits almost all vehicles but if you have a Ford Fusion, new 2016+ Prius, or a unique "not flat" bumper, it won't work for you. Check out the latest price of the BumperX.
Rear Bumper Protector Mat & Rear Bumper Edge Protector
Encell Foldable Car Bumper Guard Mat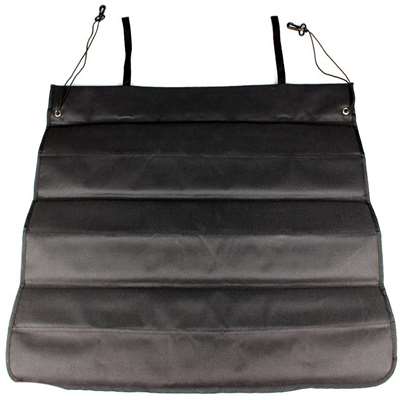 This very rear bumper protector mat works great especially for people who have pets as it does not only provide protection against scratches and debts but also dogs from slipping while getting in the car. The lightweight foldable design makes it easy to store and the durable hooks ensure a secure attachment to the cargo. Check out the latest price of the Encell foldable mat.
Advgears Rear Bumper Edge Protector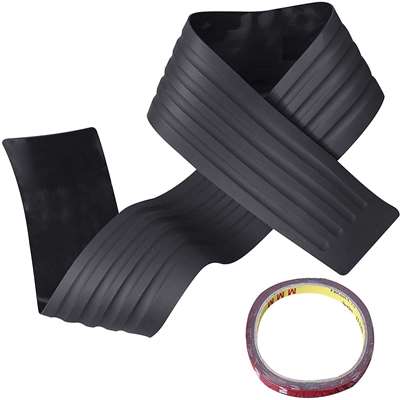 If you are in a search of a high-quality silicone polymer rear bumper edge protector, then it is just the thing for you. The anti-aging waterproof polymer offers abrasion, temperature, and UV resistance. It keeps the vehicles from all the nasty scratches and conceals the existing ones as well. It is lightweight and has an anti-slip design to make sure it goes a long way. The company even offers a service within 24 hours of purchase, in case there is a problem and you need it fixed immediately. Check out the latest price of Advgears edge bumper protector.
How to Install Rear Bumper Protector
How to Fit Rear Bumper Protector?
When it comes to parking your car and coming back to a scratched-up bumper, believe me I know the feeling. This is exactly why you need a bumper guard but installing is where a lot of people face problem so here is a guide for you to install your bumper guard, with minimum effort:
I have a simple 4-word rule: clean, measure, align and stick.
Clean
Use the wipes that come with the bumper guard and thoroughly wipe the installation area. Make sure to let it dry completely before hopping onto the next step.
Measure
Before applying the guard, you need to mark the exact position on the bumper to guide you while installing it.
Use tape for this; add a patch below the license plate right in the middle and place a long strip on the lower side of the bumper. You can place the guard to help you find the exact spot.
Align
Locate the center bump mark and align it with the tape patch in the upper middle part of the bumper.
Stick
Now peel the tips of the bumper guard and carefully stick it on the bumper. Make sure to not press on too firmly in the first. Peel off the tape and when you make sure the guard is on the right spot then press firmly! All done.
How to Remove Rear Bumper Protector
Removing rear bumper protectors can be quite a job at times. Here is my simpler version of the bumper Stricker removal guide to making the whole thing easy and quick. You will be needing:
Heating gun
Rubber gloves
Debris cleaner
Thin rope or even a shoelace would do
How To Do
Start by opening the tailgate of your car. Next use a heat gun (or a hairdryer, works the same) and start heating up the sticker to soften and loosen the tape or adhesive that is keeping the bumper in its place.
Remember to not set the heating gun at a very high temperature as it can damage the paint of your car; heat evenly by moving the gun around.
Once the sticker starts to soften at the edge, slide in the piece of rope and work it all the way through. Keep this process going until the sticker is completely off.
Now that you have gotten rid of the whole thing, use a paper towel to remove any dust. 
Use your rubber gloves to rub off the tape residue. Rubber gloves speed up the process and save your fingers from that friction.
Use the debris cleaner or an adhesive remover to get rid of any leftovers and get a cleaner finish.
If you are looking for ways to fix your old worn-out rear bumper protector rubber, well I got bad news for you. They are unfixable and you have to get a new one.
Top Recommendations
Here are some recommendations for specific car models/brands so your options are narrowed down, and the whole bumper protector purchasing becomes easier.
Audi (Audi Q5 Rear Bumper Protector)
It is a high-end product that means you get a top-quality carbon fiber-style PVC bumper sticker that ensures sturdiness and reliability. Given its dimensions, it will effectively cover up all existing scratches and dents on the rear bumper of you Audi Q5 as well as prevent against the new ones. For bumper protectors, it is a lot easier o maintain. All you need is a slightly moist paper towel to clean it; no oil, no other liquids. It'll keep its shine regardless. Check out the latest price of the product.
Ford (Ford Kuga Rear Bumper Protector)
It is made out of 304 stainless steel brushed chrome that does not only guarantee toughness but also gives a shiny look to your Ford. The custom-fit design makes sure that it perfectly goes with the size of your Kuga and provides maximum protection against scratches and dents. The package comes with everything that you will be needing for its installation so, you won't have a hard time sticking it on. Check out the latest price of the product.
Caddy (VW Caddy Rear Bumper Protector)
It is a customer-fit rear bumper protector made of chrome that has been stainless steel brushed. This means you get the functionality and looks, all at the same time. The shiny look will add a stylish look to your vehicle and conceal all the existing scratches and other damage while making sure the car doesn't get more in the future. It comes with all the stuff that you need for installation so you know it's a pretty good deal. Check out the latest price of the product.
CRV (Honda CRV Rear Bumper Protector)
This bumper protector will make sure your rear bumper remains damage-free and gets no scuffs, scratches, or nicks. It has a no-drill easy installation to reduce the effort of fixing one. An adhesive 3M tape would do this job for you. Another great thing about it is that is has a textured surface that provides extra grip so you can get your dog out with no worries. The honeycomb structure also adds a rugged look to your bumper that looks pretty cool. Check out the latest price of the product.