Looking for a Lawn Mower Ramp?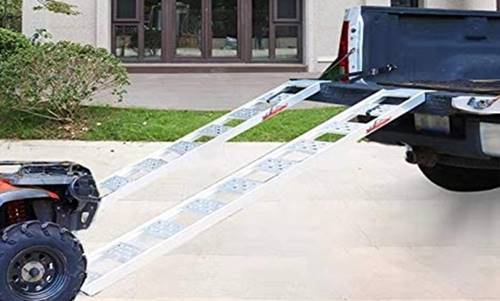 Purchasing any type of equipment can be overwhelming if you do not have sufficient knowledge. While purchasing ramps, especially, people do not invest that much thought in the buying process. This can be very harmful. Do you think I am exaggerating?  Well, it is true. Overspending on ramps with a low value for money can be harmful to your pocket and any low-quality ramp can collapse while using or poor craftsmanship can injure you.
Points to consider so you don't sweat blood before making a purchase.
Lawnmower ramps are an essential piece of equipment especially for our gardener fellas who have to mow their lawn now and again. Here are a few points which you must consider before purchasing your set of lawn mower ramps.
Vehicles like tractors and grass mowers have low ground clearance. This means that the gap between the vehicle's base and the ground is very small. To tackle this, look for an arched ramp so the loading procedure would not damage the ramp or the vehicle.
Lawnmowers are the kind of vehicles that have a non-uniform weight distribution. This problem occurs in many other automobiles, as well. To deal with this problem, purchase one with a higher load capacity so even there is a higher weight on one side than the other, the ramp would not collapse.
The center of gravity is very important while transporting vehicles. Vehicles like lawnmowers and tractors have a comparatively higher center of gravity despite having a low ground clearance. Lawnmower ramps are usually longer which makes the loading easy.
Aluminum ramps are always a winner either you look for lawn mower ramps or ramps for other automobiles. The natural protective coating on aluminum prevents the metal from oxidizing hence avoid any wear and tear. Aluminum is a lightweight metal as compared to steel or wood. This makes it suitable for ramps as it allows easy handling and transporting.
Top 10 Lawn Mower Ramps
| | | | |
| --- | --- | --- | --- |
| | | | |
| | | Hopkins 11935MI Lift Rider Ramps | |
| | | Guardian Dual Runner Shed Ramps | |
| | | Motorhot Loading Ramps for Lawnmower | |
| | | Pit Posse Pair Of Lawn Mower | |
| | | Yaheetech Tri-Fold Lawnmower Ramp | |
| | | 2 Pcs Pair Loading Ramps for Lawn Mower | |
| | | CARGOSMART 3092 Ramp For Lawn Equipment | |
| | | VIVOHOME Loading Ramps for Lawn Mower | |
| | | ZENY Loading Ramps for Lawn Mower | |
| | | Ruedamann Loading Ramp for Lawn Tractors | |
1. Hopkins 11935MI Lift Rider Ramps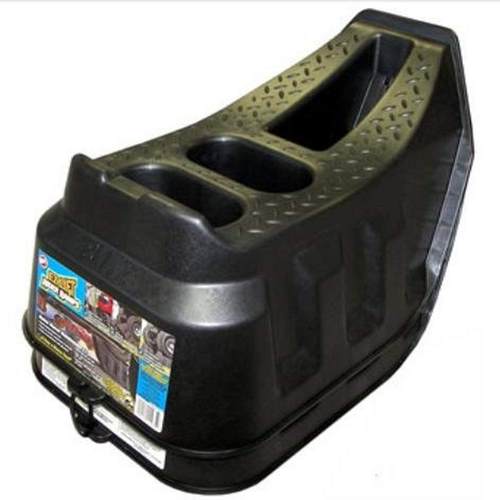 The innovative design of these ramps will blow your mind. Unlike any other set of ramps, they make your mower maintenance easy with its curved design. Made with durable plastic it can hold weight up-to 500 lbs per ramp. Moreover, you can easily store it in less space.
2. Guardian Dual Runner Shed Ramps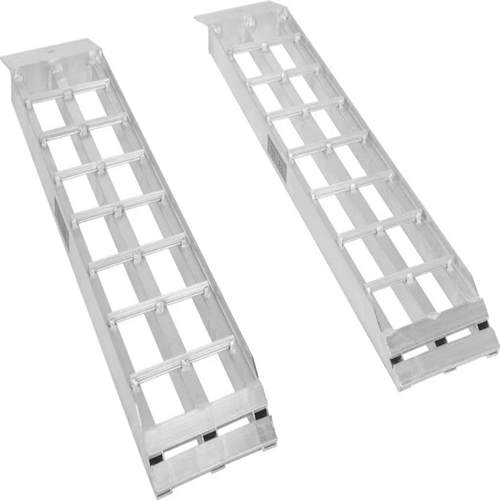 If you are looking for lawn mower ramps for sheds, it's a good choice as it can weigh of 750lbs and allows secure operation. These lawn mower ramps have rung spacing of 3.5" and a 4" L-shaped lips with drilled holes for better traction and safe loading. With a durable aluminum body, not only they become lightweight but also corrosion-resistant.
3. Motorhot Loading Ramps for Lawnmower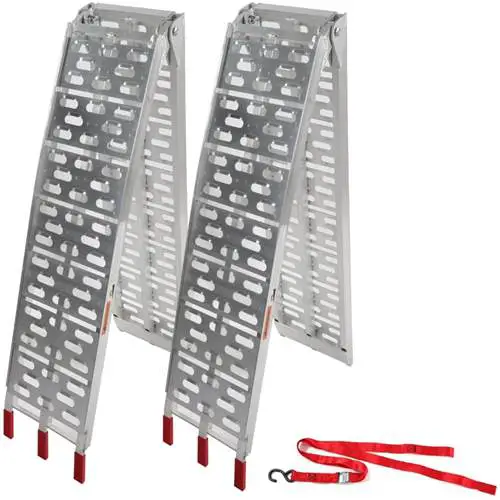 If you are seeking out for lawn mower ramps for vans, you might want to consider this one. The perforated design of these 7.5″ long ramps provide a perfect surface for loading. The lightweight aluminum body can lift to 1500lbs which works great for any heavy-duty vehicle. It provides a safe maneuver with its rubber-tipped fingers that increase grip.
4. Pit Posse Pair For Lawn Mower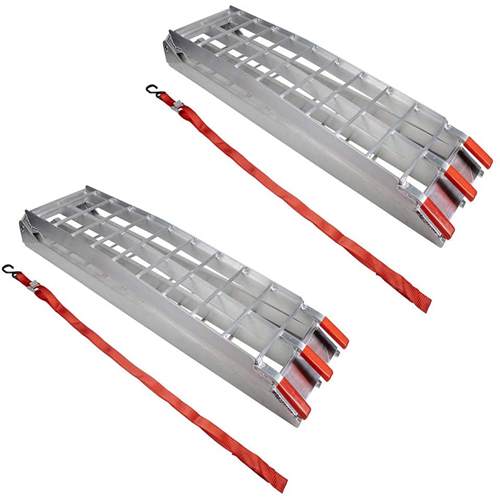 These ramps are great for loading and unloading heavy vehicles. The sturdy aluminum body does not only provide a 1500lbs loading capacity but it also ensures durability and smooth operation. The joints, hinges, and crossbars are of great quality which confirms the stability so the ramp would not break while using. One of the great things about these ramps is that it does not require any assembling. Just unwrap your newly bought ramps and get to work.
5. Yaheetech Tri-Fold Lawnmower Ramp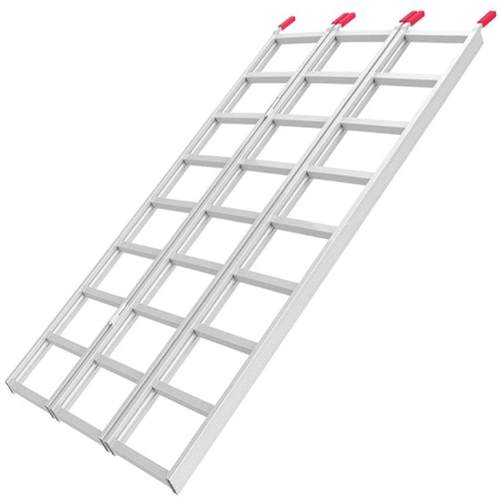 Ideal as lawn mower ramps for pickup trucks, these ramps can support weight up to 1500lbs. The sturdy build offers better traction with top-quality joints, hinges, and crossbars that are welded to the rails. With a tri-fold design, it becomes portable and conveniently storable.
6. 2 Pcs Pair Loading Ramps for Lawn Mower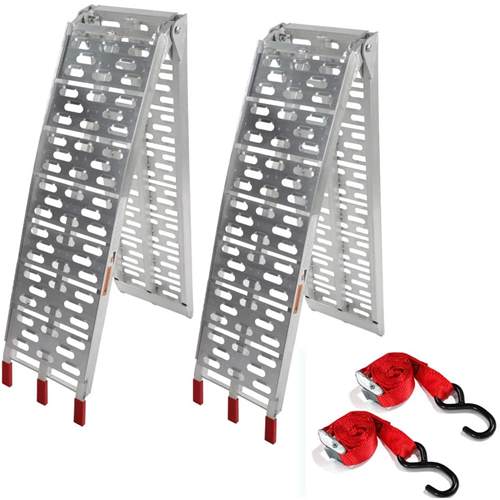 These folding ramps offer a great deal for easy storage and portability. The premium aluminum build makes it great for heavy-duty vehicles like ATVs, lawnmowers, garden tractors, dirt bikes, etc. They support load up to 1500lbs with 91″x 11.5″ dimensions that go down to half the original size after folding.
7. CARGOSMART 3092 Ramp For Lawn Equipment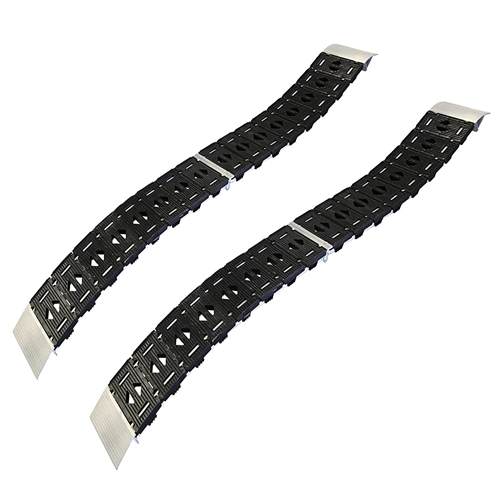 The innovative S-curved design works professionally in terms of traction, storage, and operation. The ramp is ideal for vehicles with small wheels including ATVs, lawnmowers and garden tractors. With the weight capacity of 750lbs, the loading procedure remains safe and smooth. The aluminum body offers many benefits including ease of handling, corrosion resistance, and durability.
8. VIVOHOME Loading Ramps for Lawn Mower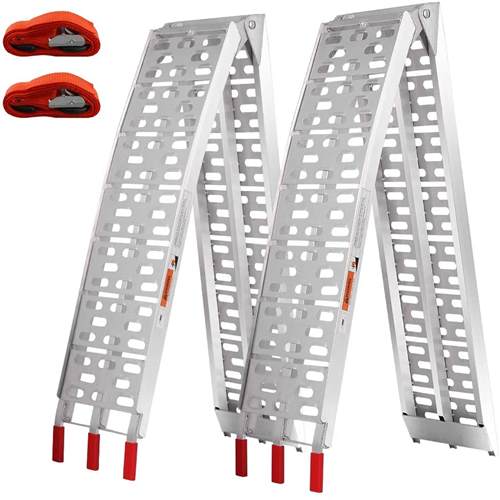 High-quality material and durable construction make them a great choice as lawn mower ramps for trucks. The curved structure provides a better grip so the ramp would not slip during loading and unloading. High weight capacity of 1500lbs makes it ideal for heavy vehicles like lawn, mowers, ATVs, and trucks, even with non-uniform weight distribution, loading with these ramps would not be a problem.
9. ZENY Loading Ramps for Lawn Mower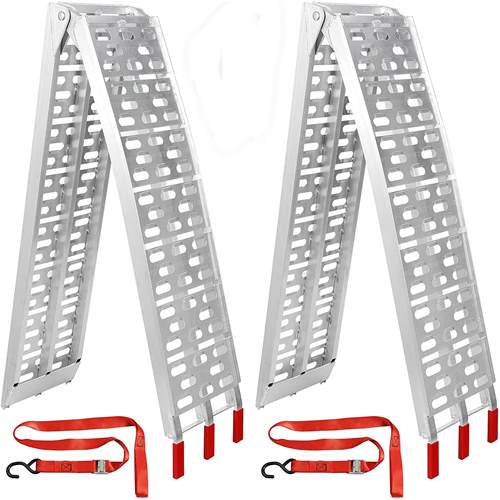 As lawn mower ramps for sheds, these ramps work great. With the ability to lift to 1500lbs, they ensure safe and convenient loading and unloading. The arched structure makes it ideal for four-wheeler vehicles like snow blowers and mowers. These ramps have a sturdy build with a weather-resistant texture. This also makes these ramps very low maintenance and easy to use.
10. Ruedamann Loading Ramp for Lawn Tractors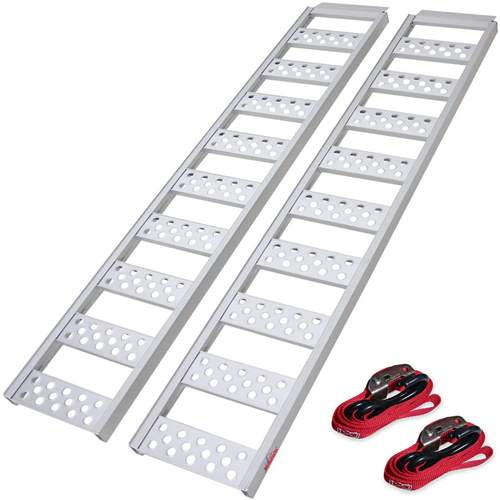 Aluminum made, these ramps are low weight equipment that offers versatile and practical use. These ramps can lift up to 750lbs. The top headboard has a unique design that delivers better grip. This design makes it great for vehicles like garden tractors, dirt bikes, ATVs, lawnmowers, etc. The stamp's structure is stable which prevents it from collapsing during loading.
Here comes a question in your mind, What should you buy, then?
If you are anxious about purchasing a new set of ramps, well, don't be because it is a very simple decision if you know what your needs and requirements are, and you have done the research. You must know what are you looking for to get the right piece of equipment. Here is an easy way to deal with the daunting process of purchasing the right equipment:
The 4Ws
What material are you looking for?
Aluminum is the best based on its multiple benefits but you can always opt for any other material based on the kind of environment you work in and your handling abilities.
Why do you need a set of ramps?
Ramps are used for various purposes. Loading/unloading of vehicles and wheelchairs, and even for houses and sheds too. The type of ramp that is to be used depends on your use. Loading wheelchairs require different types of ramps as compared to heavy-duty vehicles.
Where are you going to use them?
The ground and surroundings also matter while purchasing a ramp. Ramps are usually used outdoors which means that the ramp should be made of weather-resistant material. Steel is a good choice but it can heavy and hard to lift whereas wood can corrode in wet conditions. Hence, aluminum works the best.
Who is going to handle the ramp?
Believe me or not, it matters. Look for user-friendly ramps if you are newbie then handling a ramp might injure your wrist or back trying to lift the ramp. Also setting the ramps require some skills.