A transmission jack is an inevitable tool during installation or removal of a transmission in a vehicle. A transmission in simple terms can be referred to as the gearbox. The jack is designed in a special way particularly for this purpose. Mechanics and other professionals require this tool to hold, lower and lift transmissions. It is placed strategically on the central position to safely handle the transmission. To buy the best transmission jack, it is important to consider the capacity of weight it can hold and its safety in-order.
Hydraulic transmission jacks are used in removing and installing automotive transmission systems. Unlike hydraulic jacks, floor jacks are commonly used in car shops or workshops to lift a part of the whole vehicle. They allow repairs to be done underneath the vehicle swiftly.
High lift transmission jack is manufactured with a lift placed on hydraulic base. This jack is commonly used for highly lifted vehicles such as large trucks. The vehicles are usually raised using a hydraulic lift because they are generally raised and therefore hard to use normal jacks. On the other hand, low profile transmission jack is commonly used to fit cars which are not raised off the ground. Mainly for cars raised with normal jack stands rather than lifts.
Here is a list of best transmission jacks to buy in 2019 and review on them.
1. Torin Big Red Telescoping Hydraulic Transmission floor jack
2. Torin Big Red Hydraulic Transmission Floor Jack
3. Sunsex 7793B 1/2- Ton Telescopic Transmission Jack
1. Torin Big Red Telescoping Hydraulic Transmission floor jack
 Powerful Features: 
capacity of up to 1000 lbs with an adjustable saddle to fit any system.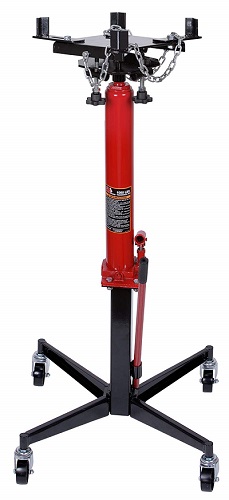 Special Features
Lift range of 49.6 inches to 68.7 inches
Safety chain tilts either side
Has 4-3 inch steel wheels rotating 360 degrees
Made of durable steel
½ ton capacity
The Torin is the best transmission floor jack you can buy for your garage. This jack weighs 75 pounds and measures 26.6 x 16.6 x 6.6 inches. The whole pack is delivered in a box which has instructions for assembling as well as all the parts. It is highly recommended for people who love home servicing of their own vehicles.
The equipment is made of heavy and durable steel which makes it strong. To make it fine and attractive, the finishing is done through dipped enamel. The enamel finishing not only makes it good-looking but also protects the whole pack from rust.
The jack is designed in a way for both in and above- ground use. It comes in handy for removal or installation of both manual and automatic systems in light vehicles such as cars.
Pros
Simple and easy to assemble
Affordable
Stable
Feels secure
Flexible and adjustable
Light
Enamel finish
Cons
Slow pumping system
Not designed for commercial use
2.Torin Big Red Hydraulic Transmission Floor Jack
 Powerful Features: 
built-in overload system and 100mpercent factory tested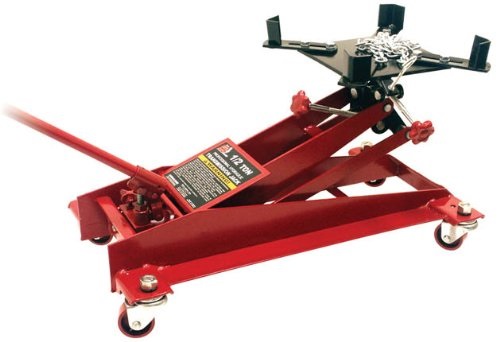 Main features
Wide and reinforced base
Has an overload safety system
Steel swivel bearings
Weighs 9.06 pounds
1000 lbs capacity
Maximum height of 22.64 inch
Tory tested
If you are looking for a reliable and safe transmission jack, check this one out. It has been tested in the factory and proven to 100 percent fit. Unlike the other jacks, this one has zero error margin which makes it a necessity in every industry or workshop dealing with transmission systems. With its hydraulic system, the jack can smoothly lift or lower a transmission not exceeding 1000 lbs.
The reinforced steel base gives you satisfaction while working. It can stretch to a maximum height of 22.64 inches beyond its minimum height of 8.66 inches. The overall dimensions of the jack measure 31.5 x 18.1 x 9.1 inches with a weight of 9.06 pounds. This is a reasonable size for a heavy-duty jack lift to ensure a mechanic works without fear of the equipment collapsing.
It features steel swivel bearing casters which make it easy to slide beneath a car. The easy movement and rotation make it easy to position it under the transmission. When using the jack, you do not have to worry about extra force or labor to push and position it at the exact spot.
Pros
100 percent tested in the factory for safety.
Very stable due to its wide stance
Easily movable
Adjustable saddle
Has a safety overload system
Can handle heavy duty tasks
100 lbs capacity
Reliable
3. Sunex 7793B 1/2 -Ton Telescopic Transmission Jack
 Powerful Features: 
Overload valve, foot pedal pump, 74-inch maximum height.
Unique features
Overload valve which prevents overloading
Weighs 0.48 ounces
1000 lbs capacity
1-year warranty
Extends reach to 74 inches
Has a nylon strap tie down mechanism
Telescopic rams ta allow moving of transmission to the table
While the Sunex 7793B may look like a general transmission jack, this model is among the best transmission jack. It can be used for multiple purposes ranging from installation, removal and also transportation of transmissions. The jack has an amazing height with the capability of stretching up to 74 inches. Mechanics can easily work under the vehicle without struggle or limitation of height. This allows the jack to reach any transmission of a vehicle on a lift.
Additionally, the jack has telescopic rams which allow the transmission to be easily moved and lowered to a table with its minimum height of 35.5 inches. A foot pump pedal allows slow and calculated release during lowering of the transmission. This trait enables the hands to be free and perform other tasks such as precise positioning. The foot pump also makes it easier to lift a load without using much effort.
The product dimensions are 27.2 x 14.2 x 39.4 inches. It can swiftly handle a load capacity of 1000 lbs. You will not have to worry about overloading the jack. The jack has an overload valve which plays a major role in preventing it from being used beyond its rated load. Accidents such as breaking and slipping which happen due to overloading are in this way controlled.
Pros
Overload valve
1-year warranty
Adjustable arms
Foot pedal
74 inches maximum height
Stable
Easily movable
Ability to transport load.
Heavy Duty
Cons
Only suitable for vehicles lifted high above the ground.

Light
CONCLUSION
If you are a professional, then you definitely need a transmission jack in your workshop. A low profile transmission jack is ideal for low a car which does not need to be lifted on lifts.
Finally, if you need to buy the best transmission jack you will have to consider aspects such as lifting range, weight capacity, saddle pad, warranty as well as rollers and caters.