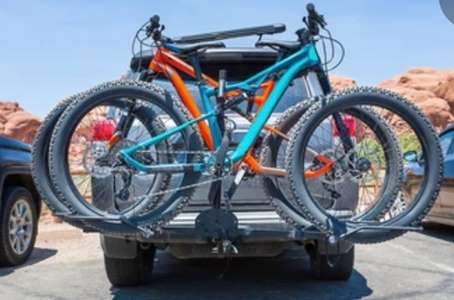 I know the feeling of stress you may feel while trying to carry your bike along with you on your picnic trip. Well, you don't have to worry now because you can use the help of bike racks to carry your bike alongside you.
There are different bike racks like skinny racks, big racks, short racks, and tall racks. Choosing the right type of bike rack is very important because a wrong choice can be quite painful.
Before you purchase a bike rack, you will have to decide whether you will need a bumper rack, a roof rack, tailgate pad, or trailer hitch rack, but your choice should be based on the type of vehicle you drive.
What Kind of Hitch Do I Need for a Bike Rack?
As we proceed further, it may come to your mind what sort of a hitch I should use for my bike rack. I would say that you should use a trailer hitch and pair it with a hitch-mounted rack.
There are several benefits of using a trailer hitch for a bike rack:
Easy to install
Will neither damage the car nor the bike
Foldable allowing you to close your garage's door without removing it
Alongside its benefits, it has some cons as well:
Expensive
The garage door won't close if bikes are on
To put it simply, I would say that a trailer hitch is the best option for a bike rack as it can easily carry up to 4 bikes, but you must ensure that you should have a 2" receiver hitch.
What Size Hitch Do I Need for Bike Rack?
Another important question that may arise in your mind is what size hitch I need for a bike rack. I would say that it all depends on the type of car you are driving and how many bikes you want to carry. The common sizes for a hitch are 1-1/4" and 2".
The 2" hitch is comparatively stronger and can carry more weight. Moreover, they are usually for large SUV-type cars, trucks, etc. You won't find a 2" hitch on a passenger car.
On the other hand, 1-1/4" hitch is available on cars for which 2" hitch is believed to be strong for what the car will carry. 1-1/4" is the best option if you want to carry bicycles.
Hitch for Bike Rack Recommendations
CURT Adjustable Trailer Hitch: Made up of powder-coated alloy steel, it is a heavy-duty hitch and can hold 10000 pounds. The best thing about this hitch is that it can easily fit 2-inch hitch receivers. It's weatherproof and comes with a built-in anti-rattle feature, deterring vibrations and rattling at the coupling point. See the latest Price Here.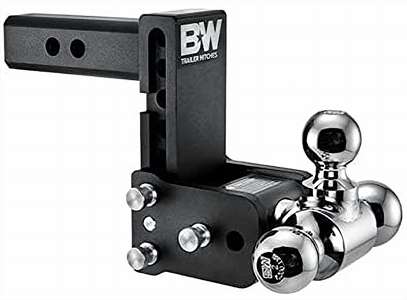 B&W Trailer Hitches Tow & Stow: Comes in multiple-size ball mounts. It has a sturdy construction, is compact, and is eye-catching. It is USA-made with a limited lifetime warranty. See the latest Price Here.
What Kind of Hitch Do I Need for a Thule Bike Rack?
OK, I know what you're thinking at the moment. What sort of hitch should I get for my Thule Bike Rack? Now, let me answer your question that the best hitch for a Thule bike rack is detachable tow bars. They are the best in the market as they are easy to clip and are fuel-efficient. The only problem is that they are a bit expensive. Despite that, they are worth the price.
If you are low on budget, don't worry as there are other less expensive options. You can go for trailer hitches that come in handy for carrying stuff like bikes, cargo, skis, and snowboards, or you can go for a receiver hitch that allows you to mount various racks.
Well, this entire conversation comes to the fact that it depends on your vehicle that what kind of a hitch you need. To put it simply, the larger the vehicle, the higher the size of hitch you can carry.
How Do I Know What Trailer Hitch to Buy?
Selecting the right trailer hitch is quite challenging, but it may become simple if we follow a couple of steps while selecting the right trailer hitch. When selecting the trailer, you must keep in mind some things, i.e., the trailer hitch on your vehicle, the towing ball mount, and trailer balls.
First of all, you will have to consider the type of vehicle and the load you will carry. Weight carrying capacity is an important factor to consider when choosing a hitch. The weight is divided into five different classes from 1 to 5.
Class one hitches can carry a weight of 2000 pounds and is suitable for crossover and compact full-size vehicles. Class two hitches can carry 3500 pounds and are designed for full-size cars, quarter-ton trucks, and SUVs. Class three hitches carry weight ranging from 3500 pounds to 12000 pounds and are designed for at least crossover vehicles. Class four and five hitches are heavy-duty hitches capable of pulling around 8000 – 20000 pounds of weight. Using this hitch class information, you can easily select the hitch depending on the type of your vehicle.
Another important thing you must consider is that the towing ball mount. Ball mounts are available in different sizes. You must ensure that the ball and mount you have should either meet the weight rating of your trailer or should exceed it for keeping the trailer level.
Lastly, you should also consider the size of trailer balls when selecting the hitch. Trailer balls are available in three different sizes. So larger the trailer ball is, the more weight you can carry.
Two Main Styles of Bike Racks
The first one is a hanging-style hitch-mounted bike rack. Bike geeks also mention it as a frame-mounted bike rack. It is easy to install and compact. It comes with straps that secure it in place. This bike rack is capable of holding multiple bikes, and also it is quite cheap.  The problem with this type of rack is that it uses the top tube of your bike. So if you don't want your bike's frame to get scratched, then I would say you should not get this bike rack.
The second style of bike rack is a platform-style bike rack or tray-style bike rack. In this style of bike rack, the wheels of your bike either sit in the tray or on the top of the platform. It features an arm that secures on top of the wheel. Unlike the previous style, these are quite expensive. Usually, these racks carry only two bikes, but other models can carry around four bikes.
U-Haul Bike Rack Hitch Installation
After purchasing the U-Haul bike rack hitch, the most important thing you should know is how to install it. Following are the steps that will help you install your U-Haul bike rack hitch:
Open the auto pin of the bike rack and lift it using the carry handle
Grab the stinger into your receiver
As soon as it clears this little, go ahead, and allow the auto pin to rest back.
Turn the anti-wobble knob clockwise
While you turn the knob, pull the slack out
Turn the knob clockwise, and the wobbles will start to go away
Insert the key and turn it in an anti-clockwise
These are some small steps that you can follow to install your U-Haul bike rack hitch.
Now hang on. As we are at the end of our conversation, I would love to mention some popular products you can consider purchasing.
Best Hitch Bike Rack
Thule Apex XT Bike Hitch Rack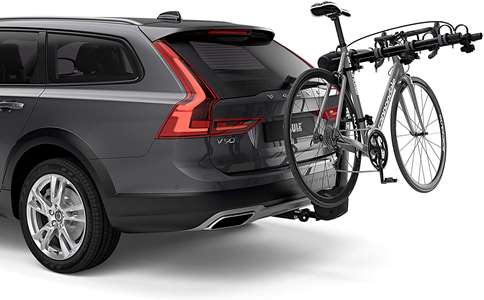 It uses a cable lock to lock the bikes on the rack. The best thing about Apex XT is that it allows you to safely transport bikes as there is a distance of 7" between each bike. It has an anti-sway cradle that prevents contact between the bikes. When you are not using the rack, you have to fold down the bike arms. It has a HitchSwitch lever that keeps the carrier away from your vehicle so that you can easily access the trunk, hatch, or tailgate. See the latest Price Here.
Allen Sports 2-Bike Hitch Racks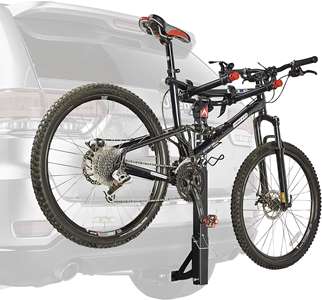 It is an easy-to-use rack to transport your bikes with the ability to carry two bikes at a time. You have to attach it to the hitch and then use the tie-down cradle system to keeping your bikes safe. When it is not in use, you can fold it. The rack tilts, providing you with easy lift-gate access. See the latest Price Here.