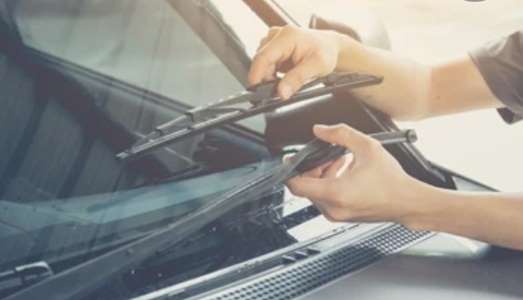 Are you the one looking for the best and reliable windshield wipers for your vehicle? If yes, then this article is for you. First, you should get an idea about the wipers and how they work on different windshields.
Windshield wipers are one of the most important parts of your vehicle that clean the windshield and enhance visibility that will help you in a better and safer drive.
With the evolution of technology and improvement in vehicles, many manufacturers are launching high-end cars, jeeps, and trucks with wipers that are doing the job better than ever.
What Kind Of Windshield Wipers Do I Need?
Before making a purchase, you should know what you are exactly looking for and how much you should invest. First, examine your vehicle as it would help you choose the perfect windshield wipers and then purchase accordingly.
I know what you're thinking, what kind of wipers does my car need? Well! There are several ways to answer this question, but I can help you get the best product in the light of my experience. 
Knowing your car's model is essential. Here is some information on windshield wipers to help you decide the best for your vehicle:
Conventional Rubber Wipers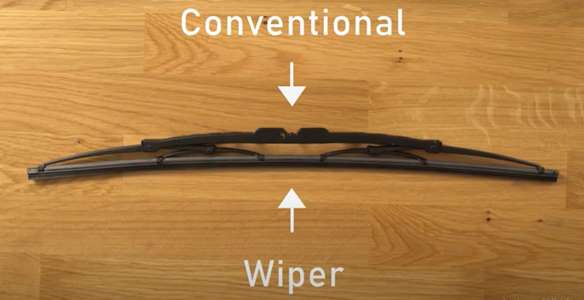 We all are familiar with these wipers; the classic wipers with a thin edge to clean the maximum water and cleaning product residue from the windshield. These conventional wipers are not only reliable but cheap as well. 
Silicon Wipers
Next level of windshield wipers. Yes! Silicon is gaining popularity in the wipers category as they give the maximum coverage and clean out the windshield to the maximum extent. These wipers don't make those annoying screeching sounds and provide the best results. They might cost a bit more than the regular ones but are totally worth the price.
Beam Blades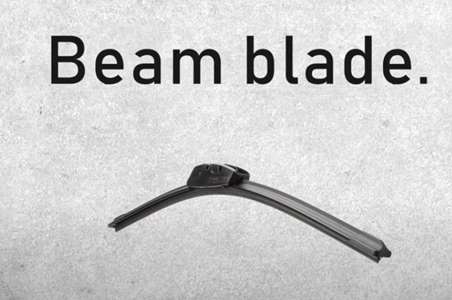 If you are looking for wipers for your curved windshield, this is the type for you. Beam blades consist of rubber and springs that provide flexibility to the wipers, hence delivering the best results.
Winter Blades
These wipers are from the family of beam blades. The main difference is that they are made of graphite and Teflon which makes these wipers tough. Made from high-quality material, these wipers ensure the best results which make them the most expensive windshield wipers.
Wait – There Is Something More For You
Winter blade specially blended graphite coated rubber blade with a smooth surface is another option on the list. These wipers provide even pressure all over the curvature of your windshield and ensure a clean and smooth surface.
These wipers are considered the best for the harsh weather conditions as their strong and reliable build consisting of a synthetic rubber squeegee eliminates mental components without damaging the windshield.
Last but not least you might find another blade in this family, a blade with a bracket-less design and tension spring. With a flexible design and superior wiping performance, these wipers guarantee high-end results in bad weather conditions as well.
The best part, these blades come with max 365 powder-coated rubber technology that enhances the life of wipers and lasts up to 40% longer than normal blades. With customized precision, these blades have high performance and the best results for your vehicle.
What Size Wiper Blades Do I Need?
Picking the right size of blades is essential to keep the windshield clean and scratch-free. Here are some facts and methods that'll help you find the exact size of the wiper blades: 
Your car's user manual should have the size and details of your vehicle's windshield wiper blades according to the model. Use a measuring tape to examine the driver and passenger side blades as the driver side is usually longer. 
In the next step, extend the wipers away from the windshield and measure across the whole length of the blade to get the exact measurement.
You can use reference guides that you can easily find at Target, Walmart, or even at any online store.
Best Windshield Wipers Recommendations
Do you want to buy windshield wipers for your car? Made up your mind? Well! Let's have a look at the latest products.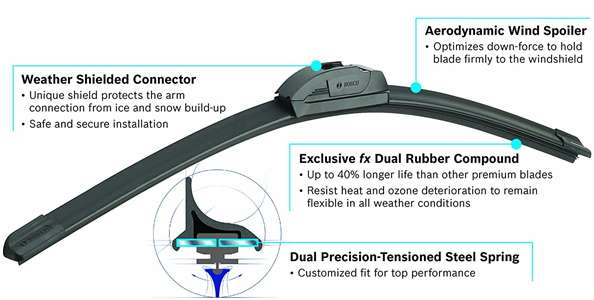 BOSCH ICON 24A Wiper Blade: is one of the latest windshield wipers with a high-quality rubber that resists extreme weather conditions and lasts up to 40% longer than the traditional wipers.
The best part of these wipers is the easy installation with hook arms (9×3 & 9×4). Exclusive tension spring arcing creates a perfect fit and covers each side of the windshield which makes it a great choice for almost any model. Click Here to See the Latest Price.

Rain-X Latitude 2-IN-1 Water Repellency Wiper Blades, the water repellent coating on the wipers creates a protective layer on the windshield that lasts for months and provides maximum visibility.
Virtual streak-free viper and smooth edges make the vipers last longer than other windshield wipers. With synthetic blend rubber, these blades bear the ultimate weather conditions. Click Here to See the Latest Price.
Best Rear Windshield Wiper Recommendation
Here is a recommendation for rear windshields that I have used and let me be very honest with you, some of them performed amazingly well.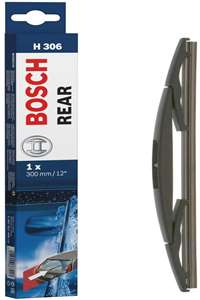 Bosch Rear Wiper Blade Original Equipment Replacement, a perfect rear windshield wiper for your vehicle. Designed and engineered especially for application-specific wiping systems, this wiper comes with high-resistant natural rubber with smooth edges with a silent operation. Click Here to See the Latest Price.
Can I Use Different Size Wiper Blades?
If you go for the standard size, then yes! As windshield wipers come with a and b names. "A" is the driver side, and "b" is the passenger side.
Different size wiper blades can be used for temporary usage as fitting and length can vary, but you need to keep one thing in mind. Each vehicle model is designed with a unique pattern that means slightly different wiper blades for each car. That means the best option is to go for the right pair. 
For instance, if you buy long blades, they may clean a larger area, but if they are too long, there is a chance of hitting the trim area of the windshield. Similarly, if you go for a double wiper, they may clean the windshield but put more pressure on the wiper motor and linkage.
So there are pros and cons of using different-sized wiper blades, but I always recommend using the wipers that are meant for your car's model for a better and safer experience.
Are Windshield Wipers the Same Size?
It depends on the car, its model, shape, windshield, and a few other things. Usually, the driver's side wiper blade is longer than the passenger side's.
When it comes to European cars, they have an aerodynamic windscreen, and the passenger one is generally curved rather than flat.
Some cars have the same wipers, but some brands and models prefer different-sized blades.
Note: Avoid using the mono blades as mono blades can reduce spring tension over time.
How to Measure Rear Wiper Blade Size?
Most people get confused while measuring the size of the rear wiper blades. Nothing to worry about. Here's an easy way of getting the correct dimensions of your wiper blades.
Measure the length of the rear wiper blade and minus one inch "-1" will be the measurement you are looking for. 
For instance, if the blade length is 15, then 15-1=14 is the blade length.
If the arm has a pin that gets inside of the blade, then 15-2
If the blade screws into the arms with two screws, then 15-3
Let me make it easier for you. The passenger side wiper is almost the same as a rear wiper. You can use that; it may be a tight fit but can be used easily.
Are Windshield Wipers Easy to Replace?
Using the nuts makes it easy to replace the windshield wipers that can be done at home as well, so no professional help is needed in this procedure.
Let's have a look at the easiest way of windshield wipers replacement:
If the wiper is hook-type, it must have a locking tab that keeps the wiper arm connected to the blade. To remove the wiper blade, rotate it and press it down. Keep pushing until the lock disengages. Now you can easily unhook the wiper.
To install a new wiper arm, hook it up around the wiper blade fitting and pull up firmly until you hear a click. Yes! The installation is complete.
Another wiper comes with a pin. To remove the wiper arm, you need to pull the pin until the lock is disengaged firmly. To install a new wiper, pull the black tab up slightly, then insert the wiper arm in it firmly until it clicks down and locks itself. Blades are installed now!
Do Cars Need Specific Windshield Wiper Fluid?
You'll find tons of opinions on this one, some say it's not that necessary but speaking from my experience, you do! Pick a fluid according to the climate condition.
Each fluid comes with a certain formula that works in different conditions. Get your desired windshield fluid from stores or online. Try to avoid usual household cleaning fluids as that could harm the blade and the windshield. If you are running out of options then any blue automotive fluid can easily be used.
You can use any fluid containing these elements:
Methyl alcohol: very low freeze-point (winter-mix down to -45 F)
Ethyl alcohol: not as low freeze-point (all-season/summer-mix down to 0>5 F)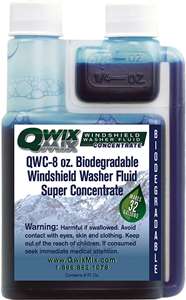 The best part is, these fluids contain de-icer, bug remover, detergents, fungus, IPA, among other ingredients. That is a plus! Click Here to See the Latest Price.
You can even go for usual fluids that can be used in certain areas and climate conditions. 
To cut it short, every car needs a specific wiper fluid that works fine in particular weather conditions, and using normal household window cleaners may harm your car and windshield wipers as well. So it's better to invest in the safety and better condition of your car.
Conclusion
Your vehicle needs your attention, and that brings us to these high-quality windshield wipers so you can give your car the care it deserves, especially the windshields that come in direct contact with temperature, sunlight, moisture, and whatnot.
Related Article: Can a Cracked Windshield be Repaired