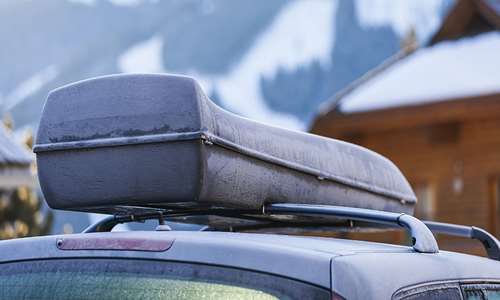 What Type of Roof Rack do I Need?
There aren't too many options if you are out of space in your car. Regardless of which car you drive, no car feels to have sufficient space for fitting gear.
When it's about to place anything on the vehicle's roof, that's when your car requires a roof rack. One must need a base to avoid damaging the car surface.
You might wonder, what type of roof rack do I need? Let me be honest with you; this entirely depends on the type of car and your requirement.
However, before you make a choice, you must know about multiple types of roof racks. Have a look through the following types of car roof racks:
Types of Car Roof Racks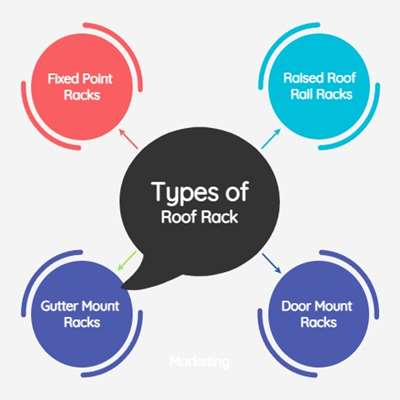 Fixed Point Racks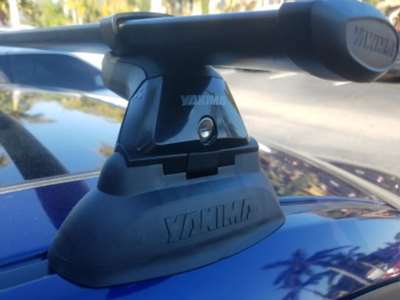 This type of roof rack fits perfectly in the factory fitting point on the roof. Each car has a fixed point of setup on the top.
Fixed point roof racks fit perfectly in place without any additional alteration.
Raised Roof Rail Racks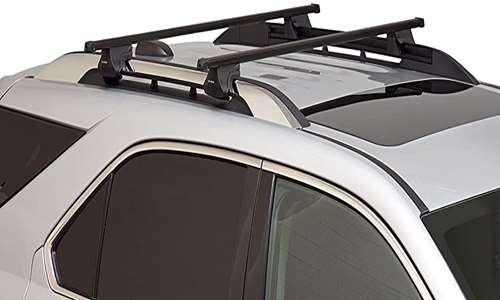 Several types of heavy cars have a raised rail originally fixed on the roof. Raised rail is a set of bars elevated from the car surface and thus serves as a fixing point for these racks.
These types of racks fit perfectly to the factory-fitted raised rail on the roof.
Gutter Mount Racks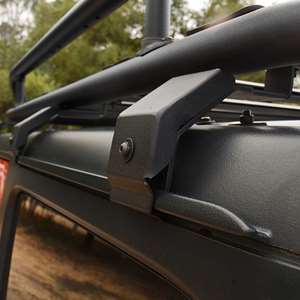 As the name indicates, these roof racks suitably fit into the rain gutters of the car roof. Many jeeps and SUVs originally have these drip rails attached just above the door lining.
These roof racks perfectly fit those rails and serve their purpose.
Door Mount Racks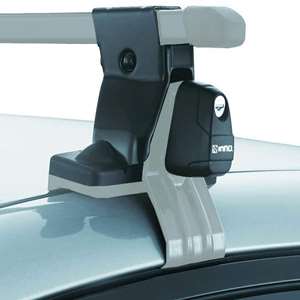 Do you have a car with no roof rails? No big deal! You can still add a roof rack to your car. These type of roof racks sits perfectly on the painted surface.
The clamp of these racks adheres smoothly to the top of the door frame.
What Kind of Roof Rack do I Need for my Car?
Well, there is no definite answer to this question. But wait! Certain things can help you determine the best roof rack for your car.
Unfortunately, you cannot buy any rook rack you find appealing. Instead, you have to subjectively explore and observe specific characteristics to avoid making a wrong choice.
Let's have a look through the following aspects before buying any roof rack for your car.
Purpose of Use
Before you dwell into impulsive buying behavior, you must be sure of the purpose you seek out of a car roof rack.
The selection of the right roof rack is highly dependent on the type of usage you require from it. In the case of heavy loading, types of roof racks differ.
Comparatively, if you require a roof rack for customary items, the respective roof rack would be different. Thus, before buying, make sure you are well assured of the purpose.
Loading Capacity
Almost all roof racks differ in their loading capacity. Some roof racks are primarily designed with delicacy, thus suitable for minimal loading of the gear.
However, other roof racks are heavily built with efficient loading capacity. Overlooking this aspect of a roof rack would only cause damage to your car. Therefore make sure to analyze the loading capacity of a rack before making a decision.
Wait – There is more
Material
Material is what determines durability, right? So before you decide on a single roof rack, you should explore the material in detail.
The texture, strength, and weight of the roof racks tell important complications about the material. A good roof rack offers greater strength and capacity.
Moreover, lightweight, rust-proof, and waterproof roof racks always offer highly reliable functionality.
Design
The best roof racks are the ones equipped with the aerodynamic property. It means that you must look for a roof rack with minimum air drag. The efficient aerodynamic property restricts the rack from moving along with the air pressure.
Who doesn't want the luggage to be safe? Thus, roof racks with an aerodynamic specialty promise the safety of your luggage.
Easy installation
A roof rack should be effortless to install. We know how distressing the application can be!
Thus it's important to look for a roof rack with easy installation and removal aspects. This can help you with your efficient time management.
What type of Roof Rack do I Need for a Rooftop Tent?
Some factors play a crucial role in selecting a roof rack, which can sustain a rooftop tent. These two factors are known as dynamic and static weight capacity.
Useful Information
Static weight capacity (SWC) is the ultimate weight limit a roof rack can sustain, while the car is in parking mode. This is calculated by including the weight of a tent along with its occupants.
Whereas the Dynamic weight capacity (DWC) is the exact opposite of it. It is the ultimate weight-bearing capacity of the roof rack while the vehicle is in motion.
The most normal range of DWC can be anywhere between 95-200 pounds. Thus, before buying a rack, make sure how much the tent weighs.
ARKSEN Universal Roof Rack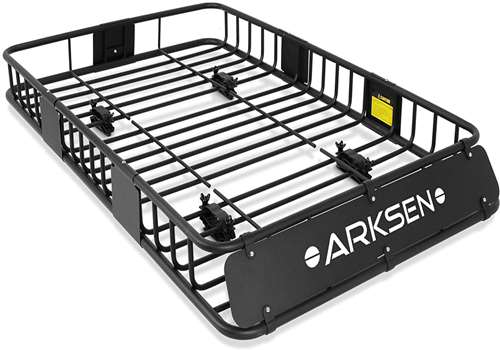 This roof rack comes with brilliant support and strong resilience against air pressure. It is known to be ideal for carrying heavy luggage and cargo bags.
This roof rack equipped with heavy metal bars is perfect for long, rugged drives. If you want extra space for an adventurous trip with friends, get your hands on this rack. See the latest price.
Its high weight-bearing capacity has made it a well-justified purchase. It is indeed one of my personal favourite and reliable roof rack for any car.
What type of Roof Rack do I Need for a Kayak?
Are you aspiring to go on a summer adventure? Well, here's a product you might need while need on the go. It is likely to be of great help to carry your kayak along!
YAKIMA Rooftop Kayak Carrier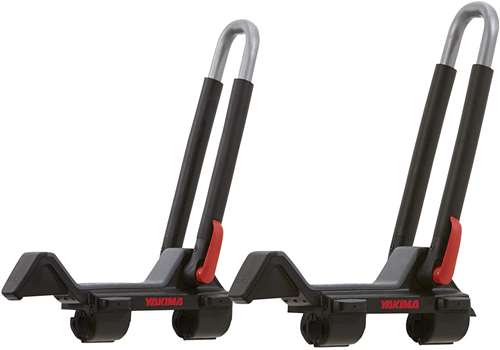 This top-rated carrier can exceptionally carry up to two kayaks at a time. Not only this, but this roof rack is relatively easy to install and comes with great versatility in design. See the latest price.
Strong carrying capacity, high-end material, and aerodynamic aspects make it an impeccable choice.
If you wish to enjoy a pleasing and hassle-free adventure, this product is sure to assist you with its magical brilliance.
Related Article: How to Buy Kayak Roof Rack for Car without Rails [Buying Guide]