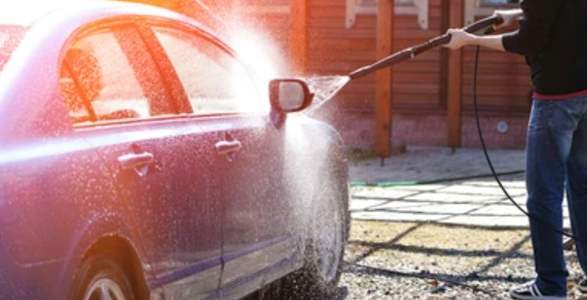 A lot of people find car washing services not up to their mark. If you are one such person who enjoys washing their car at home, then here's what you need to know!
If you are looking to upgrade your car washing game, switch to a pressure washer for a quick and effective car wash at home. An ideal, precise, and effective solution for both time and effort.  
Their ability to provide a pressurized flow of water removes all types of resistive dust, grimes, and debris from the surface of your car. 
However, pressure washing your car comes with associated risks if not handled properly. The varying degrees of nozzles can also turn out to be damaging to the surface of your car.
Thus, this is mainly what we are exploring today. This article will provide substantial information about the use of 3100 psi pressure for cars.
Can a 3100 PSI Pressure Washer be Used for the Car?
Generally, a 3100 psi electric pressure washer is easily available in the market. Since 3100 psi pressure washers are operated via gas engines thus are ideal to use for commercial purposes.
Starting with detailing heavy machinery to clean driveways concrete walls, this pressure washer is ideal for large-scale washing purposes. 
For the car, a 3100 psi washer, is not suitable for your car. Specifically, if the washer isn't handled cautiously from a safe distance and nozzle, it can be quite damaging for car paint. 
However, a significant advantage of these washers is that they are gas-operated thus can be used anywhere with no requirement of electricity.  
Now, What Distance is a Safe Distance for Such High-Pressure Washers? 
Ideally, a 3-4 ft. distance is protective enough for the safe detailing of your car. However, when it comes to the nozzle, a 40' wide nozzle would work best. 
Before you decide, it's important to know that the pressure washer comes with two distinct categories of pressure which are mentioned on the nameplate. 
Among those, one is the working pressure and the other is known as maximum pressure. When you pull the trigger the water comes out with its maximum pressure. 
Thus, it's recommended to always pull the trigger in direction of the ground first, thus bringing the pressure to the working stage.
Gas or Electric Pressure Washer for Car Detailing?
To put it simply, gas pressure washers are mainly used for heavy machinery and commercial purposes due to their portability. In areas without any access to electricity, these washers work perfectly to clean roads, decks, machinery, and concrete walls, etc. Such washers are of high psi starting from 2000-3000. 
While electric washers operate via electricity. They are normally used for car detailing. These are usually of lesser psi, the ideal water pressure for car wash is ranging from 1500-2000. 
How Much PSI Should a Pressure Washer have for Washing a Car?
A question most of us are seeking an answer for! Let me tell you, the ideal and widely accepted pressure washer for cars psi ranges between 1500-2000psi. Any level amid a given range is totally fine. 
Read More About: What is the Safe PSI for Car Wash?
Best Pressure Washer for Car Detailing
Are you tired of experimenting with varied pressure washers? I know it might be very tiresome but here are the best pressure washers for car detailing I have ever come across, i.e. Sun Joe electric pressure washer and Karcher electric pressure washer. Have a look at their specifications.
Karcher Electric Power Washer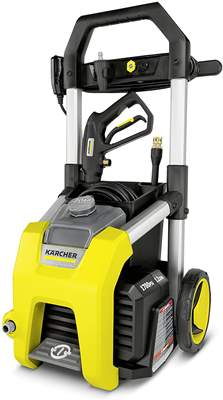 With three different styles of nozzles, this pressure washer is made for greater convenience. It involves in-built storage (for nuts and bolts) and a detergent tank, with 1700 psi it saves so much time and energy for lightweight cleaning. See the Latest Price on Amazon.
Sun Joe Electric Power Washer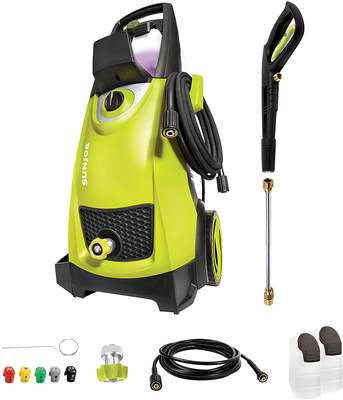 In comparison to the previous washer, this one is more powerful and more versatile. It can handle a variety of cleaning tasks with its 2000psi and 1.76gpm. 
Moreover, this washer is built with a stop system that automatically turns off the motor, thus conserving energy. For a powerful clean, you may switch to this washer. See the Latest Price on Amazon.
Best Gas Pressure Washer for Cars
If you are looking for a gas pressure washer for your car, Simpson gas pressure washer comes with 2400psi is the best option. For cars always remember that gas washers with low psi are the best choice as compared to other high psi washers. 
However, it's important to always use them from a safe distance with a high angle nozzle. Here's a good gas pressure washer for the car. Check it out! 
Simpson Gas Pressure Washer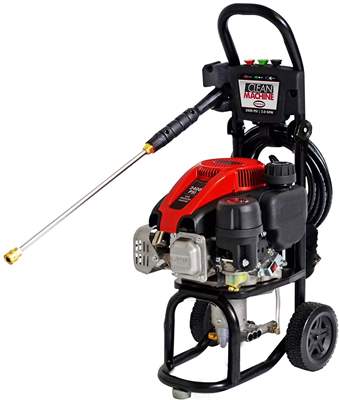 This pressure washer comes with a 149cc engine that is easy to start and maintain. It also includes a comfortable spray gun for greater ease, control, and comfort. 
However, since its gas-operated thus, its pressure washer pump might get greasy and thus give a slight fuel odor. See the Latest Price on Amazon.
Honda 3100 PSI Pressure Washer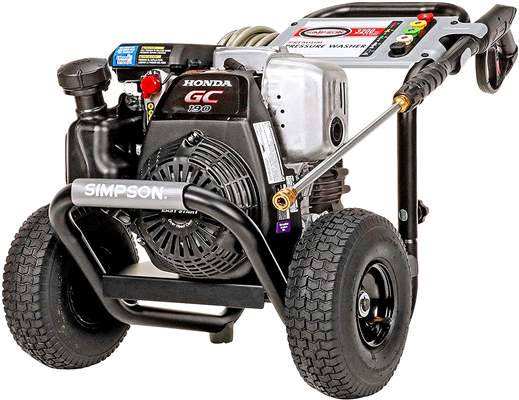 This premium style of a pressure washer comes with 5 different nozzle tips of varying angles. The welded steel frame and pneumatic wheels make this pressure washer convenient and easy to use at home. 
Along with incredible washing properties, its 3100 psi pressure washer pump is quite durable and works smoothly for as long as 3 years straight. See the Latest Price on Amazon.
Pressure Washing Cars Good/Bad
A clean car is one of the most satisfying things ever. The short answer to this question is that it's a good thing for the tidy and lustrous appearance of your car. 
However, if not done properly, it can cause more harm than good. It is indeed one of the fastest and easiest way to thoroughly clean a car. It is because too much pressure, hardness of water, and degree of the nozzle can damage the car paint from the scratches. 
Thus, to get the cleaning done just fine, knowing how to accurately do the job is important!
Read More about How to Clean a Car with a Pressure Washer?
Let's Talk About Pressure Washer Soap Nozzle-How it Works?
For this purpose, it's important to look for the flow rate of the pressure washer. The flow rate in a washer will determine how well it can perform when connected with foam cannon (i.e how much foam it will produce) 
A foam nozzle is a wide fan spray with a large orifice that brings down the pressure so that the soap injector would spray the soap.
However, keep in mind that too much soap may strip wax. Therefore, it is advisable to use the suggested soap to water ratio for cleaning. Ideally, 1oz/gallon is recommended. Always read the instructions before use.
Bottom Line!
I know what comfort it brings to wash your car at home. Thus, despite clinging to the tiring cleaning method, having substantial information about pressure washers can now help you clean your car in minutes!