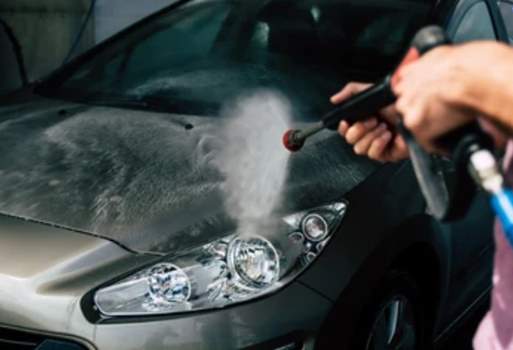 A clean car is one of the most satisfying things ever. I'm sure if you're a driver, you know the feeling too. Still, some of you may not like to wash your cars because getting a bucket of water and spending hours washing your ride is not only tiresome but also very time-consuming.
It is true, for I, too, used to get exhausted after washing my car with the old bucket method. So, I had to look for an alternative to getting rid of this problem and saving my precious time. 
I did extensive research and found out about this super awesome equipment called the pressure washers. This thing is no joke. Where you spend hours cleaning the car with a bucket and water, this thing takes minutes. unbelievable, right? However, I found that there were risks involved while using pressure washers. 
Most car washers contain pressure that can disrupt safety. Moreover, they will cause a few damages to your car and be a nuisance for you. This article will let you know about the safe PSI for car pressure washers to protect your car from any damage.
What is the Safe PSI for Car Wash
Whether your car is robust or not, the safe PSI for a car wash is between 1500-2000. This PSI (pound per square inch) range will enable you to clean and wipe out dirt and stains quickly and easily. Be cautious! Anything above 2000 can damage your car paint, and the lower than 1500 PSI will not remove debris or spots that well. 
If you do not know what PSI is and want to know about it, here is its simple explanation for you. It is nothing but the unit of pressure or measurement of the force per inch. In a car washer, it is the amount of pressure at which water is coming out from the washer.
Is it Safe to Pressure Wash Your Car?
Pressure washing your car is utterly safe: there isn't any risk involved in it. However, there is still something you need to keep in mind. Here is a tip to pressure wash your car.
You can try to remove deposits of tar and remains of bugs but you should not put the very tip of your pressure washer wand against your car paint directly. 
You may wonder why is it so? It is to save yourself from a paint job. In other words, you don't want to not scrape off the paint by holding the tip too close. Instead, you go for a clay bar which will enable you to get rid of such deposits very easily. 
What Pressure Washer Nozzle is Safe for Car?
Here is a Million Dollars Question "What tip to use to pressure wash a car"?
The choice of pressure washer nozzle is dependent upon the PSI of your car washer. You can opt for a 40-degree pressure washer nozzle(white) if you intend to use 2000 PSI using your car washer. But, for lower than 2ooo PSI, you can choose any nozzle except the red one. The red ones work better for tires. So, you should keep it reserved for tires or beneath the car.
What are the Types of Spray Nozzles?
Spray nozzles play a vital role in pressure washing. Here are different nozzles with different degrees.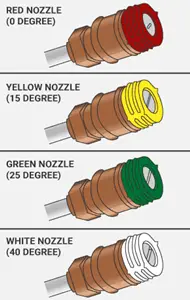 Red Nozzle-0-Degree
You should not use the red nozzle for any type of car application. It is preferable to wash solid surfaces such as hard metal, baked bricks, and cement using the red tip.
Yellow Nozzle-15-Degree
Imagine driving a car with stripped and scraped paint and sidewalks. How would you feel? disgusted, right. Do not use a yellow nozzle or tip for automotive usage at all, for it is too hard. And you will find your car decolored and fainted. 
Green Nozzle-25-Degree
The green nozzle is the best choice to remove debris and contaminants from hard surfaces. For instance, steel wheels and truck beds from your vehicle. You should use it for the prewash, but the pressure of the sprayer must be lower.
White Nozzle-40-Degree 
Whether you have a small or a big car or any kind, you can use the white tip on the surfaces of cars. This tip of pressure washers can clean larger areas rapidly. And it will let out cleaners and detergents without difficulty.
What PSI will Damage Car Paint?
It is utterly fine if you use 1500-2000 PSI (2.0 GPM) while using a car pressure washer. If you go more than 2200 PSI, you will end up damaging your car paint, but it depends on the type of nozzle you are using.
All other nozzles will not cause trouble for you, except placing the red one too close to your car paint. Thus, you should keep the red nozzle 3-4 feet distance away if your washer has higher PSI.
Product Recommendations
The products you buy should be versatile and effective. In this way, you can use them for multiple purposes. Here are some of the highly recommended products in the market that can solve your problems.
Best Pressure Washer for Cars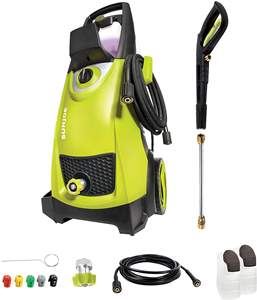 Sun Joe SPX3000 is the leading, powerful, and versatile electric pressure washer. It produces up to 2030 PSI and 1.76 GPM and has a 20-feet hose length. This product saves your costs and time.
You can wash and clean a wide array of things. For instance, cars, trucks, homes, premises, boats, lawn equipment, fences, patios, driveways, decks, so on. Sounds amazing, doesn't it? See Price on Amazon.
Pressure Washer Car Detergent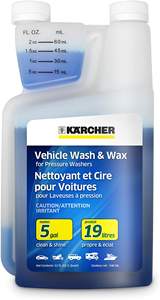 Karcher is the angled edge, 1-quart wax soap, and car wash. It promises to make your car shine and clean like you bought the car today. It has a concentrated, 5-gallon detergent that is ready to use.
This detergent makes your life easy by just letting it out through a pressure washer. Its versatility enables you to save your costs because you can use it for various purposes. See Price on Amazon.
Pressure Washer Nozzle Tips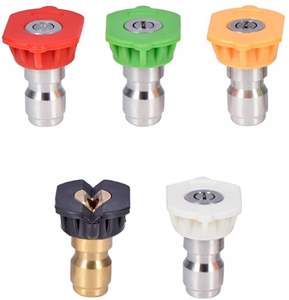 You may want to use the nozzles with different degrees for different purposes. Don't you like to use it for watering plants, washing cars, and so on?
So, you must be looking for a product that contains a holistic solution. The Twinkle Star is the multi-pressure washer nozzle tip that solves all your problems. See Price on Amazon.  
Can You Power Wash a Car Engine?
You cannot power wash a car engine.  You may think that your car engine gets stuck with dirt and debris. And the clearer the engine, the better the car, but bursting it with water won't help. 
Instead of a power wash, you can take a hose and a little water to get your engine neat and clean. But be careful while doing it. You don't want to damage any part. Something you should never do is wash electrical/alternator components. The equipment includes oil senders, oxygen sensors, MAF, and so on. Also, avoid the water from getting onto fuse, boxes, and connectors.
Can a Pressure Washer Strip Car Paint?
Yes, the pressure washer car paint damage is possible because of high PSI. The greater PSI can cause scratches or strip off the car paint if there is any paint defect. You should get acquainted with any paint damages like deep scratches and stone chips. Before pressure washing your vehicle, the paint defects checkup is a must. 
When there are paint defects, there has been the likelihood of pressure wash car damage. Look, the edge of defect paint is always vulnerable to pressurized water. If the forceful water hits the scratched or stripped paint, it will go from very low. Then this pressure wash will take off the large area of paint. 
Can I Wash My Car with a 3100 PSI Pressure Washer?
Even though the 3000 PSI is too high, you can wash your car but you should go for the right nozzle such as white or green with the right distance of 4-5 feet.
There are powerful pressure washer products that have dials. You can use such dials to adjust the pressure down. Most people like these washers because they are versatile. For example, you can wash fences, driveways, deb, and so on. 
How to Clean a Car with a Pressure Washer?
Here are the simple steps that you should follow when washing your car with a pressure washer. 
Make the right selection of a pressure washer and a nozzle. 
Find a good place to park your car. Remember that the spot must be an open one and have an outlet.   
Sprinkle water on the car from 3-feet away; top to bottom, including wheels and tires so every part gets a thorough rinse. This spraying process causes grit, dirt, stains, and mud to get softened. 
Make the tires and wheels clean and then pressure rinse the cleaned ones to ensure it's super clean.
Check if you need to use a formula or any spray to counter bugs and tar. 
In this whole process, you need to keep the distance between the wand and the car's surface around 12 inches. 
Finally, it is all about using your bucket and other things to get your work done and clean your car.
Key Takeaways
A car wash is a great way to make your car look new and revive its resale value. The modern world has modern solutions. Washing used to be a tedious job, but the advent of pressure washers has made it quite easy. 
However, you must be mindful of safe PSI while using pressure washers. The safest PSI is 1500-2000. Over 2200 PSI will be dangerous for your car paint. Look out for well-suited nozzles for spray, and always adjust the nozzle per the PSI. 
When you buy pressure washer products, you should go for all-rounder or versatile. Like Sun Joe, Karcher, and Twinkle Star in this case. These will save you a lot of time and from spending extra bucks.
 Related Article: Best Stain Remover for Car Carpet