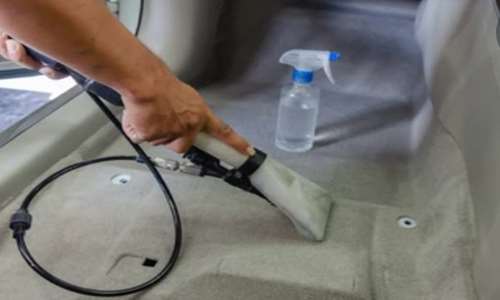 Messes in a car are inevitable, especially after a family drive or a trip with friends, and cleaning the interior becomes quite a challenge.
Weekly car washes are quite common for people who like taking care of their vehicles, but we often miss the interior. Remember, your car's interior needs as much attention as the exterior.
The seats, floor tangles, and rug of your vehicle experience much everyday misuse. From rock debris and mud to grime, car carpets experience severe wear and tear.
Just like me if you have children or pets and you regularly travel with them, you'll undoubtedly need to get yourself a container of a good quality carpet cleaner to keep the interior clean and good as new.
By careful cleaning and maintaining the interior of your car can go far in safeguarding its resale value.
How to Choose the Best Stain Remover for Car Carpet?
PH Matters
There are some things you need to consider while purchasing carpet cleaners. Not all of them would work the same; some might even end up damaging the fibers or cause discoloration.
While buying a cleaner for car mats, keep in mind that pH balance. Purchase one that is not too alkaline because each point on the pH scale represents ten times the previous number. To put it simply, it is more vital than you think.
Therefore, choose a cleaner with a slightly alkaline or neutral pH.
Foaming Agents
Another mistake that I have seen people making now and again is buying foaming agents in pair with the primary cleaner.
When an alkaline cleaning agent is mixed with greasy compounds that are a common component of the car's messes, it forms a soapy foam-like consistency.
This foam is enough to get into all of the nooks and crannies and thoroughly clean the carpets; you do not need any foaming agents.
Even the foam from the cleaner alone is a lot; you'll need to thoroughly rinse it to get rid of the soapy water completely.
Quality
Most evidently, the quality of your car carpet cleaner makes a huge difference. Low-quality compounds can strain the fibers and cause them to become stiff or go all fluffy and fuzzy.
What is the Best Stain Remover for Car Carpet?
Let's come to the actual question, what is the best carpet cleaner in the market? There isn't one that means you have got a bunch of options in top-notch carpet stain removers for starters.
The following recommendations will help you find effective car mat cleaners:

Chemical Guys Lightning Fast Stain Remover for Carpet and Upholstery: It is excellent for removing tough carpet stains, including mud, wine, curry, and grease. As it comes in a spray form, it works great on other parts of the vehicle besides the car carpers. However, it is a shampoo, so make sure you dilute it with water before applying.
For the best part,  this carpet cleaner removes tough water stains so that you can use it for the exterior and the interior of the car. See Price on Amazon.
Chemical Guys Interior Cleaner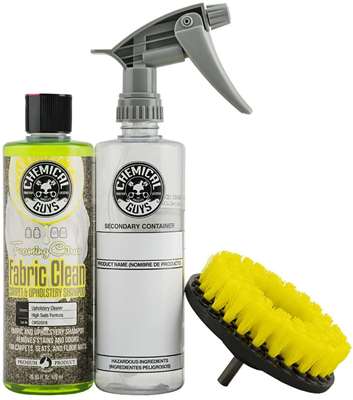 This foaming citrus is a powerful formula that helps fight tough carpet stains. Comes in a kit of 3 pieces, including a fabric cleaner with a spray bottle and a drill brush.
It contains a fresh citrusy odor that leaves the carpet smelling fresh for quite a while (at least till the next cleaning session). Does not only work great for carpets and mats, but you can also use it for car seats or even microfiber couches at your home.
As it is also a shampoo, you'll need to dilute it. The ratio depends on the nature of your cleaning routine; is it the regular car washing session? In that case, 20:1 works just fine, but if you are going for an extensive cleanse, then 8:1 will do the job. See Price on Amazon.
How to Clean Car Carpet Stains?
You can use different ways to remove stains from your car's carpets using a carpet cleaner. The first step in each procedure is to do vacuum cleaning. Then the following techniques will provide you a comprehensive method for cleaning your carpet.
Without Extractor Method
This method is for all those who do not own an extractor and do not want to spend money either but want high-end interior detailing and good-as-new car carpets. For this method, you'll be needing
A drill
A drill brush
A spray bottle
The fabric cleaner 
A microfiber towel
A fabric guard spray
Start by combining the water and fabric cleaner in the ratio of 8:1 in the spray bottle. Shake it well to make sure the cleaner has been diluted well.
Next up, spray it thoroughly on the carpet; don't miss any points. Also, spread the diluted cleaner on the brush and attach it to the drill.
Now it's time to clean. Do not apply pressure and let the machine do its job. Remember, machines work, so you don't have to. 
After brushing the whole carpet once, use a microfiber towel to wipe off everything. Repeat a couple of times and remember working in layers is essential. It is far more effective and consumes way less time.
Lastly, spray on some fabric guards to protect the carpet fibers and maintain the good-as-new texture.
Let the carpets dry in the open air; avoid direct sunlight or blow-drying them. Once they are thoroughly dry, place them back in the car, and you are good to go. Now you'll have no more foul odors or stained carpets.
The Extractor Method
For this method, you'll need all the things that you used in the non-extractor process with one extra; you guessed it right, the extractor.
Fill the detergent compartment with cleaner and water with an 8:1 ratio and keep a spray bottle of this solution. 
Spray on the mixture with the help of the bottle over the carpet. Use the drill brush to scrub out all the dirt and contaminants. Again, remember the layers.
Once the carpet is all foamed up, time to pull out the extractor. It will help in sucking out all the cleaner-dirt concoction off the rug.
You'll notice it is way more effective and efficient than wiping it off with a microfiber towel. Once you are done with extracting, let the carpet dry in the open air.
How to make Homemade Car Carpet Cleaner?
The pandemic has gotten the best of us, and not all products are at hand anymore but not to worry, as DIYing can save the day for you.
If you are out of your regular car cleaner, here is how you can make homemade stain remover for car carpet yourself that would work for sure. You will be needing:
Oxi clean (odor blaster)  
Funnel    
Spray Bottles   
Dish Soap    
Glass Cleaner  
Rubbing Alcohol 
Scrub Brushes   
Plastic Jug   
Hot water
Start by taking a plastic jug and place a funnel on top of it. Also, never forget to wear a pair of goggles and gloves for safety.
Take a scoop of oxi clean and pour it in the jug through the funnel; I use the odor blaster one as it works great for all the foul smells in the carpet. 
Next, take some dish soap; make sure it's of good quality. If it has a citrusy smell, that's even better. Add 2-4 tablespoons of it to the oxi clean in the plastic jug.
Add 3-4 tablespoons of rubbing alcohol to the mixture, followed by 6-7 tablespoons of the window cleaner. 
Now here is a thing, any window cleaner will work well, but if your carpets are drop-dead filthy, then get the one with ammonia in it. 
With all these ingredients, a concentrated form of carpet cleaner is ready. It's time to dilute it; pour in hot water almost to the top of the plastic jug and give it a fair shake.
How to use the DIY Carpet Cleaner?
You do not need extractors or any expensive machinery, for that matter. Transfer the cleaner mixture to a spray bottle and spray the carpet all over with it.
Take a brush and start scrubbing. If you have a drill brush and a drill, it'll make your work a lot easier and quicker.
If you have an extractor, you can use this DIY car cleaner with that too; use it like you would use any store-bought carpet stain remover.
Related Article: What is the Best All-Purpose Cleaner For Car Interior?