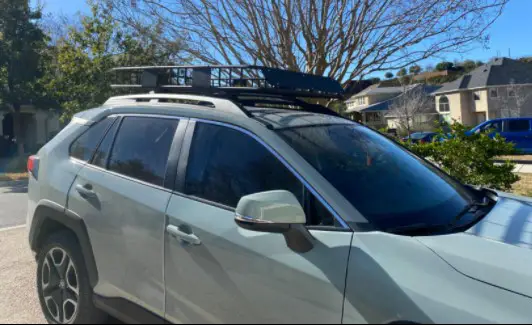 What is a Roof Rack, and What Does it Carry?
Before we begin, you must know what a roof rack is and what it carries.
One installed on your vehicle can come in handy for carrying several items like skis, kayaks, bikes, and other cargo.  Installation of a roof rack on your vehicle is the first step in constructing your adventure mobile.
But the problem here can be to figure out what roof rack is best suited for your vehicle.
After using them for a while, I learned that roof racks are an excellent accessory for your vehicle. The one I used perfectly fitted on my vehicle and worked great. It consisted of an aero-style oval bar shape. I was able to fit almost anything on the roof racks with no hassle whatsoever.
Pros and Cons of a Roof Rack
Ok, I know what you're thinking at this moment. Do roof racks provide that much utility? Like everything, roof racks also have some pros and cons. Let's have a look at them.
| | |
| --- | --- |
| | |
| | |
| Feature mounting points for different items like axe/shovel, lights, etc. | If the bed is full, you won't be able to access it |
| | They increase the height of your vehicle, limiting your access to covered parking, garage parking, etc. |
| | They strengthen the center of gravity |
Recommendation for Roof Racks
Now that you have a substantial amount of knowledge on what these are, their purpose, and what utility they offer. I would like to recommend two of the best roof racks available in the market right now.
1. MaxxHaul Steel Roof Rack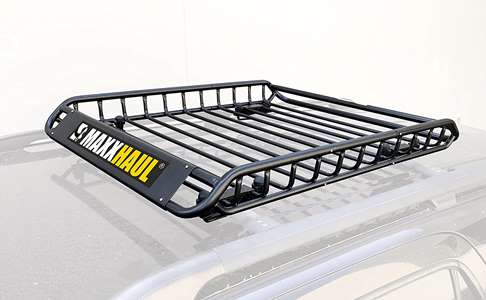 The first one is MaxxHaul Roof Rack. Having overall dimensions of 46" x 36" x  4 – ½," it has a maximum distributed load capacity of 150 pounds. This roof rack provides you with instant space for your cargo. The roof rack comes with a universal U-bolt mounting system that makes its installation a breeze. The best thing about the rack is that the frame has all-steel construction and is powder coated, preventing rust. Click for Latest Price.
2. XCAR Roof Rack Universal for SUV Cars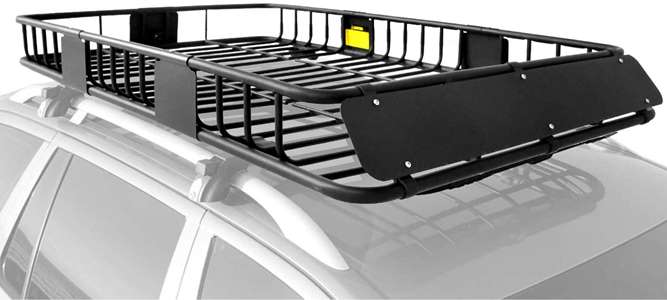 The second roof rack I have on my list is the XCAR roof rack. This roof rack is specifically designed for outdoor adventurers with 64" x 39" x 6' overall dimensions and a black powder coating that prevents rust. The roof rack comes with four universal U-bolts that makes its installation a breeze. Moreover, it can safely hold up to 150 pounds of cargo, gear, or equipment. A unique addition to this roof rack is the windshield which keeps your cargo safe from any damage. Click Here for Latest Price.
What is a Cargo Carrier, and What are its Specifications?
Where we have talked about the roof rack, it is also necessary that I must tell you about the cargo carrier.
To put it simply, a cargo carrier is some additional space on your vehicle's roof. These are comparatively cheaper and can hold up to 500lbs of weight.
Again speaking from my personal experience, I have observed that cargo carriers are not suitable for off-roading. However, I found these to be extremely useful for carrying bulky material, foldable bikes, etc.
Cargo carriers are mainly of two types, i.e., hard cargo carriers and soft cargo carriers. You might find some other types of cargo carriers as well that include.
Hard Top Carriers: They are the safest solution as they usually have a lock. You have to mount them on the top of your vehicle using U-bolts or straps.
Soft Top Carriers: These are comparatively inexpensive but are not very much secure. It just looks like a bag mounted on the top of your vehicle
Soft side "saddlebag" style carrier: It is also a soft-sided carrier similar to the soft top carriers.
Trailer hitch cargo rack: This carrier also has security issues, and you have to pay extra for all the apparatus such as trailer hitch, rack, lockbox for security, etc.
Want to know more about cargo carriers? OK, then let's move on to the pros and cons of a cargo carrier. I will provide you with the pros and cons of two types of cargo carriers, but it all depends on your needs and preferences that which one you want to select.
Hitch Cargo Carrier
| | |
| --- | --- |
| | |
| | Hinders tailgate and backup camera |
| Easy to remove freedom panels | |
| No impact on the center of gravity | Increase the height of your vehicle |
| Minimum impact on fuel economy | Space needed for storage when not in use |
Rooftop Cargo Box
| | |
| --- | --- |
| | |
| | |
| | It affects the aerodynamics and fuel economy of the car |
| Evenly distribute the weight of the load over the cargo carrier | |
| | |
| | |
Why Do You Need Roof Rack for (hard) cargo carrier
Will you need a roof rack or not for a hard cargo carrier entirely depends on what you will be carrying. If you will be carrying just sleeping bags and clothes, then just a cargo box will be a perfect option. If you plan to carry something extra like spare fuel and equipment, then I believe a roof rack will come in handy.
In my opinion, if you pair the cargo carrier with a roof rack, it would be great because it will increase the overall carrying capacity. I also tried pairing one with my cargo carrier, and it worked well.
But once again, it all depends on your personal choice and what car you are driving. Roof racks allow you to put your cargo on top of your car.
Recommendation of Hard Cargo Carriers
As we move along, I would like to introduce you to some of the best hard cargo carriers available in the market. So let's have a look at them:
Mockins Hitch Mount Cargo Carrier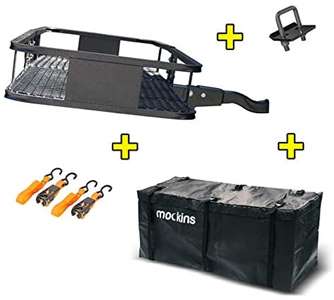 The first one is Hitch Mount Cargo Carrier from Mockins. Having overall dimensions of 60" x 20" x 6", it can easily carry 500lbs of cargo. A great inclusion with this carrier is a pair of rainproof ratchet straps and a free hitch stabilizer for added security. The cargo carrier comes with a waterproof hitch rack cargo carrier bag with dimensions of 57.7" x 19.4" x 24" and a capacity of 15.5 cubic feet. Click Here for Latest Price.
OKLEAD 400 Lbs Heavy Duty Hitch Mount Cargo Carrier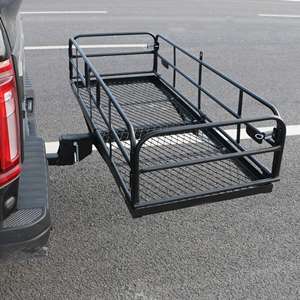 The second one I would love to mention is the OKLEAD hitch mount cargo carrier. Measuring 60" x 24" x 14.4", and having a capacity of 400lbs, it is matt black powder-coated, preventing it from rust and scratches. It can fit any hitch opening of 2". The two red reflectors are a great addition as they assist you in driving at night. The extra-large size and capacity allow you to carry extra cargo, luggage, equipment, etc. Click Here for Latest Price.
Do You Need Roof Rack for Soft Cargo Carrier
Imagine what it would be like as you put weight on top of your vehicle's sunroof. I believe it would be disastrous. Loading anything on top of a sunroof is nothing but a foolish idea. But what if you use a soft cargo bag instead of a hard cargo box?
I consider it a good idea because the cargo bag will evenly cover your vehicle's whole roof. Even after tightening them, they can still be slid easily. Most importantly, the bag eliminates the need for a roof rack. In other words, you will not require a roof rack if your vehicle has curved roofs or you are using a soft cargo carrier. Instead, you can use a roof mat on the roof but ensure that it is the same size as the cargo bag.
Indeed, you won't need a roof rack if you use a soft cargo carrier, but you should know when they will make many noises if they are empty.
Soft Cargo Carrier Recommendations
Like I recommended you some of the best hard cargo carriers, I will recommend you some soft cargo carriers as well, which are the following:
RoofBag Rooftop Cargo Carrier, Made in USA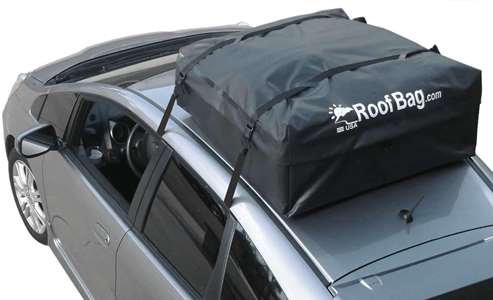 Measuring 48" x 38" x 14.5", Roofbag Rooftop Cargo Carrier is the most reliable cargo carrier in the market. An interesting thing about the carrier is that it can hold the cargo which four medium-size suitcases can carry. The straps are wide, seat-belt style, and super strong, making it the safest roof bag. The bag is made from heavy-duty and waterproof fabric, making it peel-proof and tear-resistant. Click Here for Latest Price.
rabbitgoo Rooftop Cargo Carrier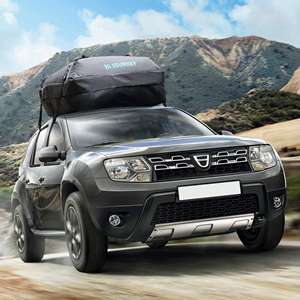 Providing 15 cubic feet of storage space and having an overall dimension of 44" x 34" x 17" fully satisfies your need for any adventure. For your facilitation, it has two installation methods. If you are using a roof rack, you can install it by tightening and fixing the cargo bag using straps and attaching them to the rack. On the other hand, if you don't use a roof rack, you can install four safety door hooks. It is made of premium material and has three different layers making it resistant to sun, rain, grit, and wind. Click Here for Latest Price.
Roof Box (Hard Carrier) vs Roof Bag (Soft Carrier); Your Choice
After knowing the potential benefits of a roof box and roof bag, you would like to know which one you should purchase, a roof box (hard carrier) or roof bag (soft carrier). To be honest, I think you should only purchase a roof box if you think you will use it in the future.
It depends on what you mostly carry on your road adventures and does your carrying needs a roof rack or not. If you carry heavy and scratchy material, you should use a roof rack to protect your car's roof and paint from getting damaged. But if you don't carry any heavy and scratchy material, then the combination of a roof bag and roof mat will be perfect. Still, you have to make a choice, and I would suggest that you make your choice wisely.
How to Set Cargo Box and Soft Cargo Bag?
As we move on to our bottom line, I would like to tell you how to set up your cargo box or bag so you have no problem during its installation.
Cargo Box
First of all, wash and wax your roof
Put on the front bar, center it, cinch it, and torque it appropriately
Do the same with the rear bar
Now mount the box, and you are done
Soft Cargo Bag
Clean the roof of your vehicle
Place the soft cargo bag on the roof between the crossbars
Ensure the zipper side is facing upwards
Unzip the cargo bag and load your luggage
Ensure all the items are placed evenly on the roof
Zip the bag and cover the zipper with the outer layer
Pass the strap through the ring
Wrap the strap around the crossbar
Pass the strap through the buckle and pull it downwards
Repeat the strapping steps to each side, and you are done setting up your cargo bag on your vehicle's roof
Conclusion
Now, as you have gained substantial knowledge on roof racks and cargo carriers, the bottom line is that if you carry heavy or scratchy items in your soft carrier (cargo bag) or if you are using a hard carrier (cargo box), then you must use a roof rack otherwise, get ready for car paint.
Related Article: Do You Need Crossbars on a Roof Rack