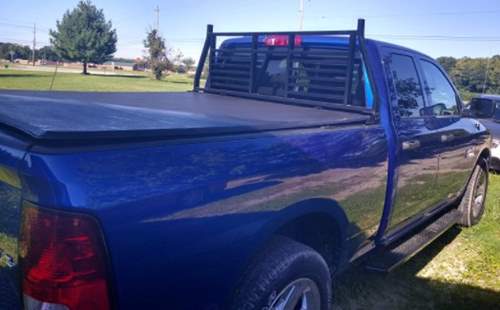 I know what most of you might be thinking! Can you have a headache rack and a tonneau cover, this is the most common concern of truck owners, thus you are not alone in this! Many manufacturers would say no, however it is possible at the expense of some work.
What is the Reason for Using a Headache Rack with a Tonneau Cover?
Both tonneau covers and headache racks are popular accessories for the truck due to so many reasons. Usually, it remains a crucial decision for people to choose between headache rack and tonneau cover.
The headache rack helps you carry large-scale items, while tonneau covers assist in covering up precious things. 
However, by using a combination of both, you can have versatility and sufficient space to load up things while ensuring maximum protection.
Things to Keep in Mind before Choosing Headache Racks that Work with Tonneau Cover:
When it comes to choosing a headache rack that fits with the cover, there are so many options to choose from. Ranging from sliding covers to roll-up folding, the versatility is there! 
However, things to keep in mind are as follows:
If your selected headache rack will only work when mounted on bed rails, then they are not compatible with the tonneau cover. 
A simple tip to avoid the hassle of figuring out what tonneau cover work with a rack is here! Begin by selecting a headache rack first, because it's relatively simpler to find a compatible tonneau cover with every headache rack than vice versa. 
To your surprise, if nothing works out for you, then there are tonneau install kits, which can make your headache rack compatible with your tonneau cover.  
Headache Racks that Work with Tonneau Covers
1. MaxxHaul 70234 Adjustable Black Headache Rack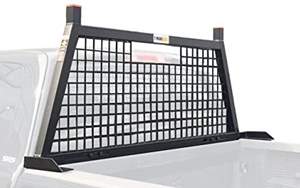 This rack will work ideally for a full-size truck. It is universally compatible and durable as well. Strong enough to carry things that normally go on trucks, lumber i.e. reasonable amounts of heavyweight. 
It does not adjust the height, only width is extendable. Since it's universally compatible, thus some drilling would be required to make it fit. It's not very sturdy. See the latest price here.
2. BACKRACK Back Rack 12400 Truck Bed Headache Rack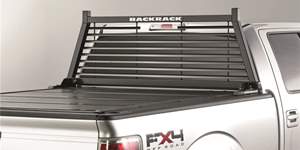 These back racks are made for specific brands of trucks. Thus, you would have to check if your model and make are compatible with this one. 
They are very durable and made out of steel. This rack is angled down, thus making it easier to look back in the truck.
It does not come with a complete installation kit, thus you will need to get separate tools to install it. It does not come with mounting brackets, thus you can't install it without cutting cover. The louvers are not of great quality and are really thin to tie anything with them. See the latest price here.
3. Steelcraft 90001 Headache Rack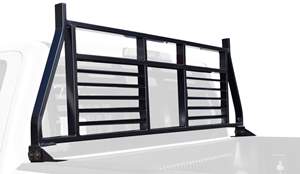 Its universal fit thus does not require extra modification. It includes a complete installation kit, such that comes with all the nuts bolts washers and lock washers, etc. 
It's very pocket-friendly and mounts on bed rails, thus you can install it with a tonneau cover as well. 
It is not very stable and uniform thus cannot carry heavyweight. Even if it perfectly matches your vehicle size, it still requires some drilling. It produces a rattling sound when your drive along the road. See the latest price here.
4. Backrack 10200 Safety Rack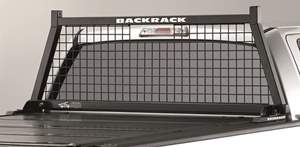 This rack is designed to be compatible with a bunch of trucks. Very durable and rigid and can be installed without additional assistance. 
Due to strong welds, it sits perfectly haul heavy material. Sturdy enough that you can mount a toolbox with it as well. 
It obstructs the view of the brake light. Do not include any hardware tools, come only as a single rack piece. The bolts and washers etc. are a bit shorter to allow firm installation. See the latest price here.
5. Backrack 144TL Truck Bed Headache Rack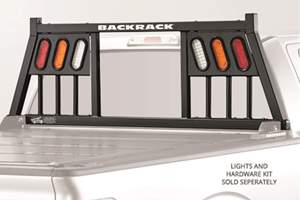 It works with most tonneau covers. They are truck-specific and most likely to fit full-size pickups.
This one also doesn't come with mounting hardware. The rack doesn't come with lights. See the latest price here.
How to Install a Headache Rack with Bed Cover?
There are basic two methods to get it done. One is via drill method, while the other process requires the use of an installation kit. 
In some cases, trucks come with built-in racks thus, tonneau cover with built-in truck racks becomes easier to install. However, the converse is also not impossible, so let's get into knowing how to install a headache rack with a bed cover! 
Drill Method
Begin by removing the tonneau cover, so you can have access to the place where the headache rack will be mounted. If you have a roll-up cover leave it about 12 inches from the cap. 
Now, set the rack on the rails and make sure it sits properly in place. It should be placed such that it sits evenly on both rails with its back to the edge of the bed. 
If drilling is required, drill the rack in place and secure it by placing bolts and washers, etc. Now, run the wire harness down between the cab and bed and remove the 7-way plug at the back of the truck. 
Install the plug from the wire harness in its place and reattach the existing plug to the second chord on the modular wire. 
Now connect the modular wire harness with the rack wire harness and secure all the recently build connections via electrical tape and it's done!
Installation Kit Method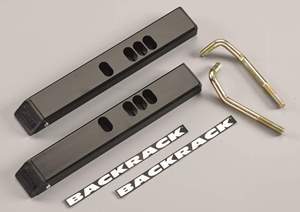 I know what you might be thinking! What tools do you need to install headache rack along with tonneau cover is the most common concern. 
To install a headache rack firstly you need to roll up the tonneau cover. To use the installation kit, you should have a stake pocket on your truck. 
It's because an open stake pocket hole provides a free hand to use different accessories to tie down bed rail bars. 
There remains a plug inside of the stake pocket hole. With the help of a long screwdriver, get that out. It will make way for the hardware bracket to drop down and stud as a receiver plate. 
However, on the backsides, a lock washer, a simple washer, and a 9/16 bolt clasp rack to the inside hole of the stake pocket. 
Once you get it mounted, the next step is to locate the footing. The footing has several holes, however, it is suggested to back and front holes which are going to sit on side rails. 
Now, assemble everything into position and it's installed! See the latest price here.
Related Article: A Buying Guide to Aluminum Headache Rack for Pickup