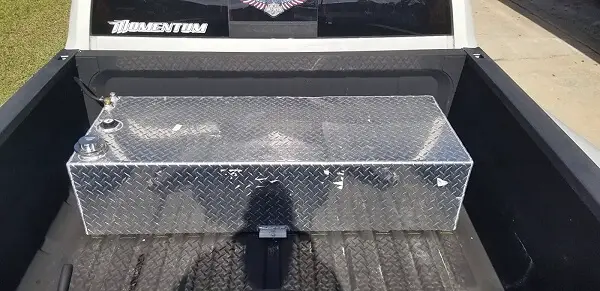 Let's start with the basics!
When it comes to auxiliary tanks for trucks, it is hard to decide which might go with our requirements the best as there are many things you need to consider before choosing one.
The saturation in options and brands also makes it quite overwhelming to pick one. Another essential consideration to make for parts like auxiliary tanks is the place you buy them from.
The manufacturer that you get your tank from counts a lot, too, as only reliable sources will provide a piece of hardware that goes a long way.
Nonetheless, once you have chosen a tank that fits your needs the best, there are many more left to think about: installation process, fitting hardware, method, and whatnot.
Toucan browse the market for various manufacturers to see which one makes the product that meets your requirements the best but who's got the time for it, right?
What's the bottom line?
This article will help you understand your requirements according to your truck and how and where you will get an auxiliary tank that fits your need the best.
Most crucial Question that comes to every person's mind.
When you purchase an auxiliary tank, the first thing that you need to contemplate is the model and type you bought.
In this way, you will know the type of installation hardware you'll need and how you'll mount it to your truck's bed.
Complete information is essential. Know what you are purchasing. Get a know-how of what it has to offer you. Look deeper into the pros and cons.
If you are installing it yourself instead of getting professional help, there might be some other things that you'll have to keep in mind to sustain the life of your newly installed auxiliary fuel tank.
Before going into further detail about how things work and what you should opt for, let's first discuss the crucial basics of auxiliary tanks and other related stuff.
The following table mentions the various sizes and what fuel capacity you'll get with each of these dimensions:
| | | | |
| --- | --- | --- | --- |
| Length (inches) | Width (inches) | Height (inches) | Fuel Capacity (gallons) |
| 50 | 19.5 | 18.5 | 37 |
| 47.5 | 13 | 19.63 | 40 |
| 60.75 | 16.5 | 14.75 | 50 |
| 59.5 | 18 | 19 | 75 |
| 60.75 | 25 | 18.5 | 98 |
Note how the length is the primary factor that affects the fuel capacity. Tanks with more length offer more volume of fuel.
FYI remember that 50+ length and width between 18-20inches require three extra inches for mounting the brackets. In contrast, tanks with a height between 14-19 inches need three additional inches to fill the neck or sending the unit cover box.
Also Read: Do Under Bed Auxiliary Fuel Tanks For Pickup Trucks Exist
Types of Auxiliary Fuel Tanks
There are four types of auxiliary fuel tanks for trucks; each serves its utility yet has some drawbacks.
Replacement Fuel Tanks
In Bed- Auxiliary Fuel Tanks
Refueling / Transfer Tanks
Fuel Tank and Tool Box Combos
Replacement Fuel Tanks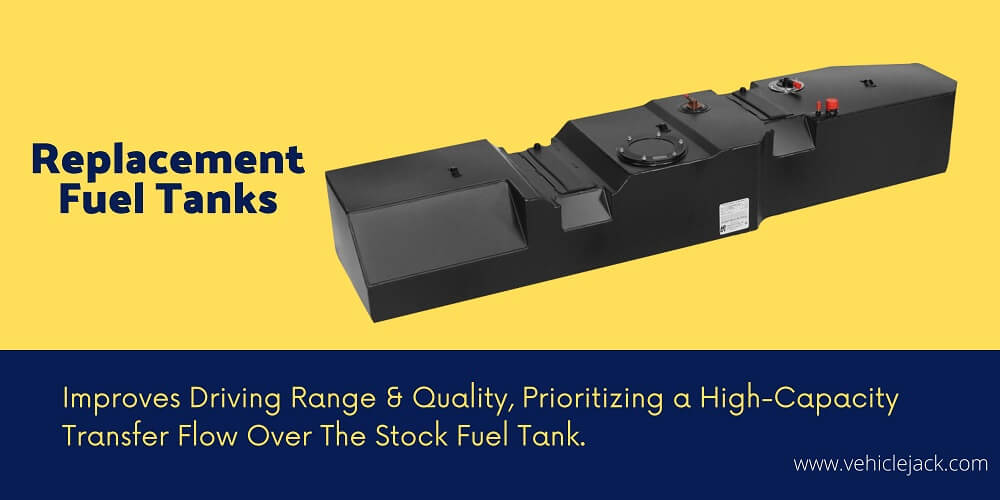 This type reduces the amount of resistance caused by the fuel and improves driving range and quality, prioritizing a high-capacity Transfer Flow over the stock fuel tank.
Ground clearance was a significant consideration back then, but highway vehicles are suitable for replacing fuel tanks. However, now, these tanks are designed so that the bed space is not sacrificed at all.
"As a design/developer, I built and installed an additional fuel tank on the right side of the truck frame.  I accomplished leveling out weight distribution and was able to gain approximately thirty gallons.  The benefit for me was able to purchase cheap fuel which can vary more than .22 cents per gallon." – Paul Kitching, 2000 Ford F350, Lance 1116
In Bed- Auxiliary Fuel Tanks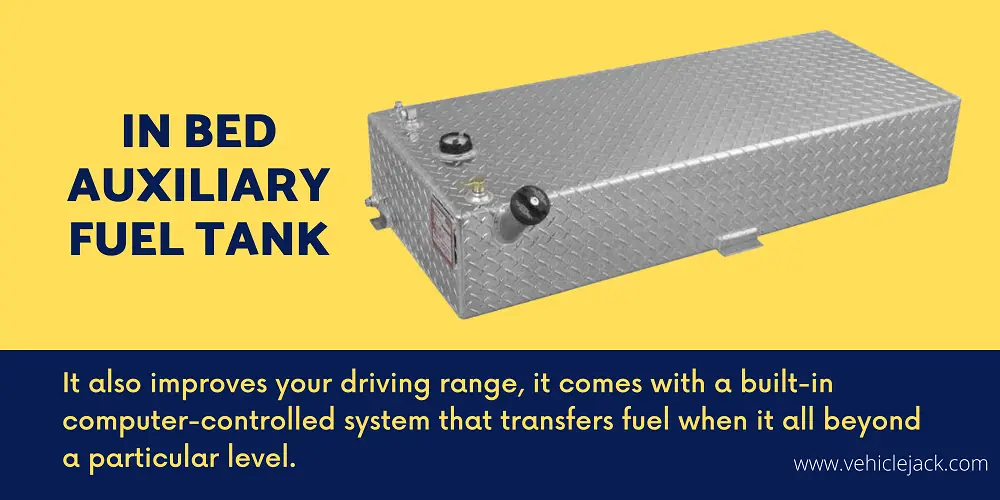 In-beds offer way more fuel capacity than any other type of auxiliary tank. With additional fuel, it also improves your driving range; therefore, one tank full goes a long way.
Wait! There is more. The most prominent feature of the new in-bed auxiliary tanks is that it comes with a built-in computer-controlled system that transfers fuel when it all beyond a particular level.
Highlighted Features: with this type, you get worry-free reliable fuel operations far more effective than a gravity-fed system.
The elegant design offers protection to other parts of the tank and ensures smooth working.
Refueling / Transfer Tanks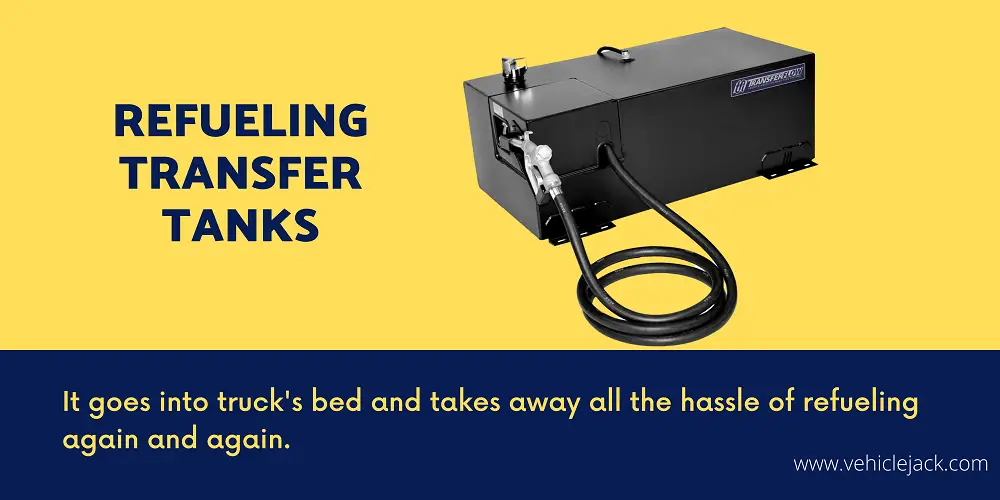 When you have are fueling tank, you do not need to worry about running out of gas. This refueling station goes in your truck's bed and takes away all the hassle of refueling again and again.
The mechanism is simple, and so is the installation. Refueling auxiliary tanks is an excellent investment if you have to travel a lot, especially off-roads.
Fuel Tank and ToolBox Combos
A lot of us look for something more when we shop. Fuel tank and toolbox combo give you that. This combo is perfect for extra storage and fuel.
Since the installation is done in the truck bed, the vehicle's structural integrity remained unchanged, and you get a bonus on top of that. Pretty good deal, huh?
Understand which Auxiliary tank suitable for you?
Understanding what product matches your need the most is an essential part of making a purchase. When it comes to auxiliary tanks for trucks, it depends on you and your vehicle!
The amount of ease you want with the operation, either you will be installing it yourself for a plan to get professional help, many things decide.
For some, a 35-gallon aux tank would work just fine. A 50-gallon aux tank works excellent for a truck with a 26-gallon capacity, but then, it all comes down to how big your vehicle is.
If you hate stopping now and again to refuel the tank, go bigger. Here are fueling tank will also come in handy if you do not want an enormous fuel tank.
Things to keep in mind before choosing
Your main concern here should be fuel capacity; after that's what auxiliary tanks are for. The amount you consume and the amount you want your tank to hold is what you must keep in mind.
Before you pick a type, remember you aim to increase the fuel capacity.
Second most important thing!  Some tanks serve as a compartment for fuel, whereas some offer more than that.
Is it a multipurpose tank; does it have a toolbox? Is it a combo or not? Make sure to know it before buying to be more transparent and pay for what you want.
Can you use this as an auxiliary tank?
Many aux tanks come with a built-in valve through which you can attach and control the pump, which makes it quite useful for farm vehicles.
If it's missing from your tank, you can attach a pump on the upper side and make your tank multipurpose.
It is just so you can make it versatile; if that's not what you are looking for, you can ignore the pump and the whole valve thing.
Confirm the dimension of the tank / how to confirm it is fit for your truck or not?
It happens to many people to aim for maximum fuel capacity and go for the most oversized auxiliary tank but end up buying the one that doesn't even fit their vehicle.
Do you see where I'm going with this?
Always remember that the dimension (height, length, and width) and the overall size of your tank do not only determine if it would fit or not but also impacts their installation process.
The tank must be compact enough to fit into your truck and leave sufficient space for another mechanism to remain unaffected.
Here is a bonus tip! Always buy a tank that leaves enough space in your truck bed for an additional tank as you never know when you're fuel consumption might increase.
So if you ever an extra tank, you would have to go through the hassle of getting the current one out.
Material
Rust is the biggest nightmare of any petrolhead. The material of any vehicle equipment/parts counts a lot, especially tanks because rusting ruins it in no time.
Due to the rusting problem, I always recommend opting for aluminum tanks. To make sure your aux tank goes a long way, choosing aluminized steel powder coated aluminum diamond plate tanks is a smart choice.
Another point that you must remember is the number of holes on your tank's upper side.
It is so you'd know when to stop by the pump station. There should be holes on the driver and the passenger side so you can accordingly adjust the cap.
Now for the Question that comes to everyone's mind! 
How to fill this tank/Is this tank connect with the original tank?
When it comes to filling the tank, there isn't any fancy equipment or some high-end investment required.
Getting a good quality fuel pump would do that job just fine. Holley (12426) Fuel Pump is a pretty good choice if you are looking for a sturdy pump for your auxiliary tank.
It has a solid-state design and a super simple two-wire hook-up that ensures smooth operation.
Highlighted features: This pump's self-priming and regulatory system will take away the hassle of frequent check-ups. It gets better; it's compatible with all types of fuels.
Recommendation for Auxiliary Fuel Tank for Truck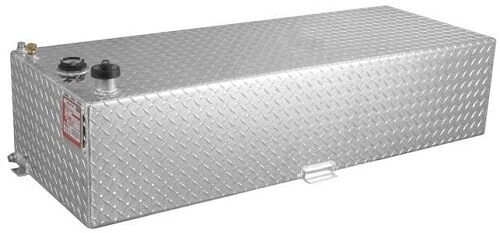 Brand: RDS MFG INC 72771 Fuel Tank
Capacity: 60 Gallons
Type of Fuel: Diesel, water, fertilizer, biofuel, a combustible fuel
Gravity feed: No
Bonus Tips: Unsuitable for gasoline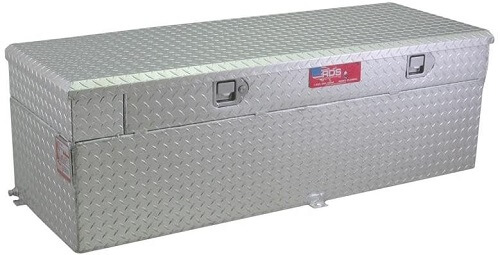 Brand: RDS MFG INC Fuel Tank Tool Combo
Capacity: 60 Gallons
Type of Fuel: Diesel
Gravity feed: Yes
Bonus Tips: Gasoline auxiliary fueling is allowed if an electric fuel pump is used to tap the top of the tank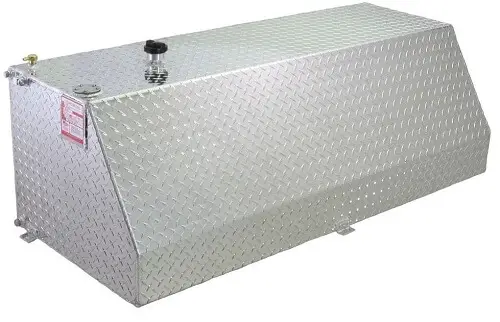 Brand: RDS MFG INC 71783 Auxiliary Fuel Tank
Capacity: 63 Gallons
Type of Fuel: Diesel
Gravity feed: Yes
Bonus Tips: Gasoline auxiliary fueling is allowed if an electric fuel pump is used to tap the top of the tank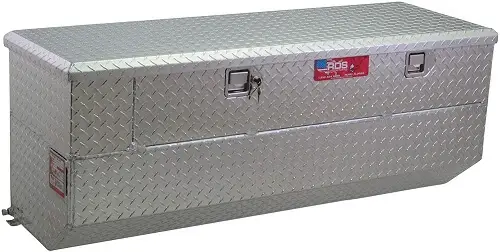 Brand: RDS MFG INC 72773 Fuel Tank
Capacity: 41 Gallons
Type of Fuel: Diesel
Gravity feed: No
Bonus Tips: Unsuitable for gasoline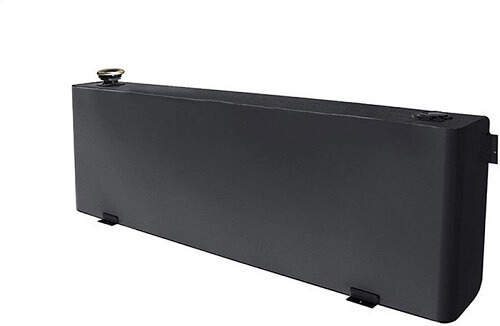 Brand: DEE ZEE DZ92556NSB Transfer Tank
Capacity: 42 Gallons
Type of Fuel: Diesel
Gravity feed: No
Bonus Tips: Unsuitable for gasoline
How to install Auxiliary Fuel Tank for a Truck?
The process depends on the model of your vehicle and the pump. Here is a step-by-step tutorial on who to install a fuel tank:
The whole process doesn't take more than 2-3 hours, and it's pretty simple with the right.
Start by cleaning the working area and the equipment. It will avoid possible injury and contamination, ensuring a smooth maneuver. Make sure to remove items from inside the bed of the truck, like the bed mat.
Mark openings on each of the four sides of the auxiliary gas tank to keep the tank from scouring against any segment of the truck bed. With the tank appropriately found, you at that point need to make a point to noticeably stamp the openings where you'll append the gas tank to the bed.
The installation pack will assist you with simple and smooth installation measures as it includes the on/off valve there and the provided line that accompanies the RDS.
At this point, it is fitting to focus the hole areas to forestall the bore from wandering away from the ideal location for the hole. It is suitable for penetrating a tiny hole that will go about as a guide and afterward go further.
Before mounting the tank on, decide how you'll run the fuel lines. A few tucks offer simple admittance to the elastic fitting; it is accessible close to the lower part of the stake pocket support posts situated toward the sides of the truck bed.
If these are accessible, you can eliminate the elastic attachment, poke or cut a hole in the rubber line's focal point that will permit you to embed the rubber fuel line.
If vital, you'll need to cut the industrial facility hose and make some room. Presently, place the aux tank and jolt it quite close.