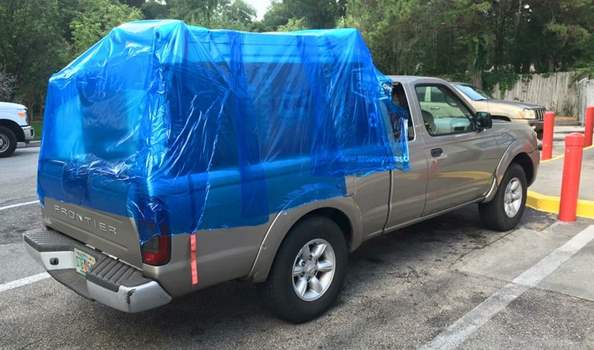 Last year I had planned a camping trip with my friends, and since we were five people, there was a lot of stuff that we packed.
Back then, my main concern wasn't the bulk in my truck bed but to keep that stuff safe from harsh weather, rain, etc. The theft was another problem since we were off-roading.
I wasn't in the mood to spend big bucks for just one trip, nor did I have anyone who could lend me a tonneau cover, so I was pretty in a pickle at time. I did some legit research and found some great solutions.
Here are some options for truck bed luggage storage that will save you from spending too much and get you a quick solution to your cargo problems.
How to Keep Luggage Dry in Truck Bed?
Even though it seems like there is one absolute answer to this question, you can still have various options to suit your specific need.
If you travel regularly and require a luggage cover, then a tonneau cover and waterproof boxes would work just fine for you. It is a versatile piece of waterproof equipment and comes in various soft, hard, roll-up, foldable, etc., to keep your luggage dry in the truck bed.
However, if you travel less and need something like a truck bed dry storage, use alternatives that'll save you some money. It might sound a bit trivial but using contractor bags for protecting the cargo is THE BEST temporary solution. We all do that.
Contractor bags are similar to trash bags but way bigger and thicker than regular trash bags, and if you worry about how weird it would look to put your stuff in a trash bag, don't worry, as you can cut them open and wrap your good individually as well, use duct tape to make it more secure.
However, I recommend just placing the stuff in them as it is because it's much quicker and effective this way.
Nonetheless, there are always other options available as the market is supersaturated and different manufacturers have something unique to offer through their products.
Waterproof Truck Bag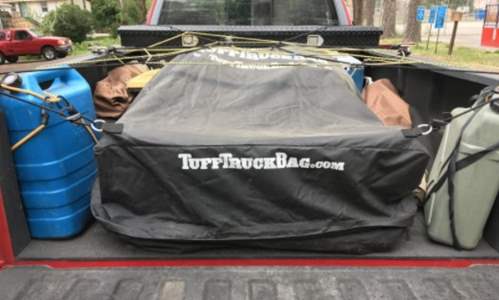 Tuff Heavy Duty Truck Bag: If you are looking for a waterproof truck bag for bulky luggage, it is perfect for you as it does not only keep the moisture out but is also heavy-duty.
It supports heavy cargo without ripping apart and rolls up quickly when you need access to the truck bed. See the latest price on Amazon.
Tarp Bag with Zipper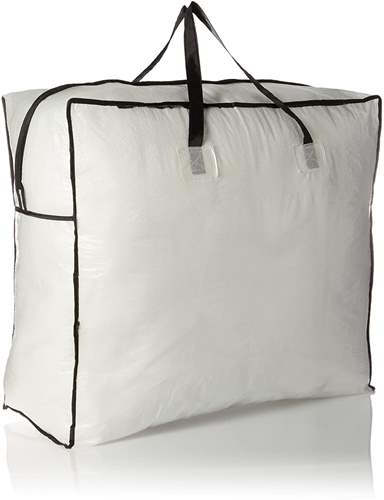 Household Essentials Tarp Bag: This tarp bag has a zipper and handles, so you don't only have a durable bag for storage, but the carriage is super easy too.
You can use it as a temporary storing system for your stuff. The best part is that despite being a lightweight polyethylene tarp, it is highly durable and robust.
If you are seeking out a waterproof tarp bag, this is the one for you. See the latest price on Amazon.
How to Keep Furniture Dry in Truck Bed?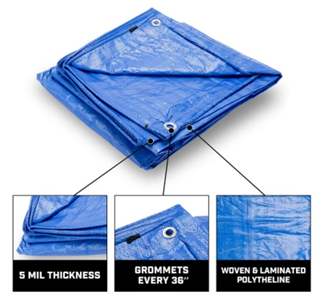 Moving furniture can be quite a job if you don't have something to cover it up to protect it from moisture and sunlight, which can ruin it up to a great extent.
Using a waterproof tarp for truck bed is the best solution for keeping your furniture dry during transportation.
The question is, what size of truck bed tarp should you purchase? The answer lies in the size of the furniture that you want to carry.
Remember: To keep the furniture secure, place some bricks or a plank under it, so the furniture is slightly higher and isn't touching the truck bed. Then wrap the entire thing with the tarp; take some ratchet straps or bungee cords to secure the tarp around the furniture tightly.
B-Air Grizzly tarps are a great option as its lightweight and durable. The waterproof material makes sure the cargo stays away from water. The tightly woven fabric with polyethylene fibers ensures a robust performance which is excellent for keeping your stuff safe back in there. See the latest price on Amazon.
What Size Tarp to Cover Truck Bed?
Different truck manufacturers have different sizes. Therefore, you need to measure it first. To calculate the size of the tarp for the truck bed first, measure your truck bed.
Once you have the truck bed dimensions, buy 1ft extra for the length and width of the tarp to keep a margin. Normally a tarp of size 6ft x 8ft fits most of the truck beds.
How to Tarp a Truck Bed?
When it comes to tarps, a lot of people have a hard time tying them up. Don't worry! It is an easy process if you know what you are doing.
The trick to an even coverage is covering the entire truck bed, including the tailgate and bed rails. It will make it similar to a tonneau cover. Cover up the stuff entirely and tie each corner of the tarp with ropes or ratchet straps. Tie between each corner to make it securer et voila!
DIY Quick Tarp for Truck Bed
If you need a waterproof tarp for one-time use and aren't willing to spend on one, DIYing will save the day for you. It's a quick and easy method that saves you some money and keeps your luggage away from moisture.
Here is how you can DIY a waterproof truck bed storage. You'll need just two things: duct tape and some good-quality contractor bags.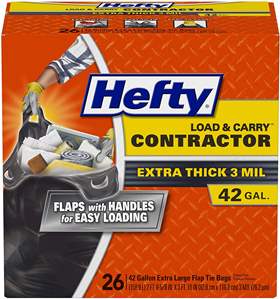 The Hefty contractor bags are a good option. I once had to transport some office furniture and needed a temporary solution for the tar. These bags came quite in handy.
These contractor bags offer 42 gallons with 3.0 mil thick each so, it pretty much keeps the stuff inside secure and away from water.
Process: To make the trap, duct tape the bags together. For this purpose, place them together and put the tape on the edges.
Use as many bags as you need until you get a big enough tarp to cover the whole cargo. Once you have made the tarp that is of the required size, place it on the goods and tie it up using ratchet straps or simple ropes. See the latest price on Amazon.
How to Secure Luggage in Truck Bed?
The most secure way to keep the luggage safe in the truck bed is to use a hard tonneau cover. These open from the inside and get access to the truck bed. You have to open the tailgate, which makes it pretty safe.
So, if the tailgate is locked correctly, the luggage is safe under the hard tonneau cover. See more details here What is the Best Truck Bed Cover.
Will Suitcase Fly Out of Truck Bed?
A good quality suitcase has enough weight to keep it stable on the truck bed. Even if it is of a just-okay quality, it is not paper, so don't worry, it won't fly away.
Even if you are traveling at a speed as high as 60mph, the suitcase won't go anywhere. I have a suitcase that I usually carry with me that weighs around 3kg, and I frequently carry it in my truck bed and it did not fly yet.