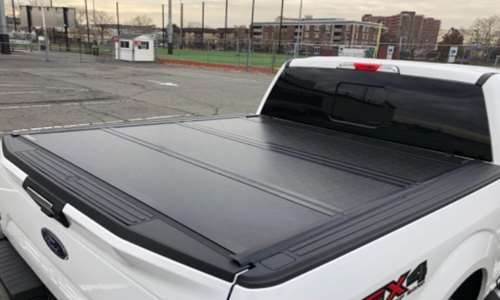 You might already know what a truck bed cover or better known as a tonneau cover, if you own a truck.
A tonneau is an area open from the top. Usually, it comes in handy for cargo or even passengers. A tonneau cover is used for covering that area or the truck bed.
However, the real question is, why do you need one; what good will it bring to your truck?
This article will answer all such questions and give you more profound know-how on what you should be looking for exactly.
The primary reason for getting a truck bed cover is protection. Since the tonneau is an open area and comes in contact with sunlight, rain, and all kinds of wear and tear, more than the interior requires protection.
A tonneau will add to your truck's resale value. It will protect the truck bed from the externalities and help it keep maintain its original shape and color longer and better.
Best Tonneau Cover / Truck Bed Covers Has the Following Features
Let's get to purchasing. When you decide to get a truck bed cover, some features are more useful for you. It would help if you consider the following things while buying one:
Durability
Check the material for strength, durability, and weather resistance. Ensure the material isn't of a kind that rusts quickly or starts to wear off pretty soon from moisture or the sun.
Low-quality ones are made out of cheap material that often bends from the center or becomes brittle after sudden weather changes.
If you are from the East coast, you know what I'm talking about.
Water Resistant Material
If you want to buy a tonneau cover, always go for the one made with water-resistant material. It will provide better protection to the inside, but covers made from such material are more durable and sturdy.
Although can I be totally honest with you?  No tonneau cover is 100% waterproof and will keep all the water out but, getting a good quality one will ensure most of it stays out.
Nonetheless, you can fix this problem using a tonneau cover protectant spray. What makes this so unique?
These sprays do not only make the non-water-proof cover water-resistant but increase the effectiveness of the already water-resistant ones providing maximum protection against moisture.
Easy Installation and Removal
Your priority shouldn't only be easy installation but easy removal as well because sometimes you might take it off to transport big things like a bike or something.
Therefore, opt for a tonneau cover that offers non-invasive installation so you can easily install, take off, and then re-install it without any hassling or harming the truck.
Security
Not all tonneau covers offer high security, and here is the real deal, if you do not put a lock on the tailgate, no cover can keep the goods in there safe.
So, always choose a tonneau lid design that completely covers the top leaving no rides or slits, and always secure the tailgate with a lock for maximum security.
Design
Choose a design that allows you complete access under cover of your truck bed. The common ones are foldable and roll-up tonneau covers.
The most common designs of tonneau covers are roll-up tonneau cover and folding tonneau cover. These are readily available in the market.
I suggest getting a roll-up one if you haul the trailer because the foldable one may block your rearview and will be troublesome during driving.
What is the Best Truck Bed Cover in the Market?
What is the Best Truck Bed Cover?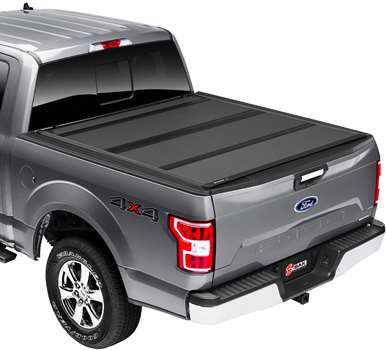 If you are looking for the best truck bed cover that you can easily install by just clamping on, and the installation itself is non-invasive to avoid drilling and all, then BAK BAKFlip MX4 is a good choice.
It is a hardcover that keeps out moisture and thieves. This cover is pretty lightweight and durable as the aluminum it's of aircraft grade. See the latest price of BAKFlip MX4 Hard Folding Truck Bed Tonneau Cover.
What is the Best Type of Truck Bed Cover?
Ok, I know what you are thinking. Which one should you buy? Well, it all depends on the type of cargo you transport and the area you drive through in short which suits you is the best for you. Here are the different types of the truck bed cover.
Roll-up Truck Bed Covers
These covers often come in soft material and are perfect for people who have to tow the trailers as it has a flat structure that doesn't interrupt your rearview.
A roll-up one offers you easy access to your full truck bed and easy installation that means you do not have to drill or anything.
Folding Covers (Soft & Hard)
Folding covers for truck beds have two subcategories, including soft and hard. There is just a difference in material between hard and soft covers. Some come in bi-fold design, while some also offer triple-fold design.
A folding tonneau cover provides easy installation, and you can have easy access under the truck bed. These are pretty popular in pickup truck drivers.
Retractable Covers
Retractable ones work just like the name suggests. These come in both hard and soft material, so you can pick the one that works the best for you.
The best feature of a retractable tonneau cover is that it gives you access to a specific part making it easier to carry large objects without exposing them completely.
Universal Truck Bed Cover
Made of high-quality durable thick weather-resistant material like vinyl or oxford. It comes in a standard size which you can adjust according to your truck bed. It is the best temporary solution to keep your truck bed dry for a trip. Get a Universal Truck Bed Cover Now.
Get this: Tonneau covers are not universal across truck types. It means no cover will fit all trucks the same.
What is the Best Retractable Truck Bed Cover?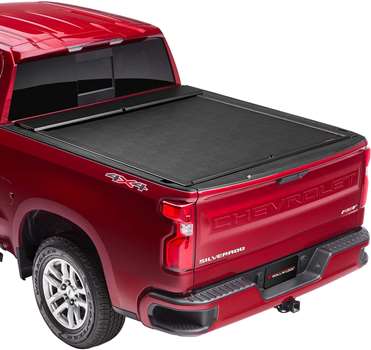 Roll-N-Lock M-Series Retractable Truck Bed Tonneau Cover. It has a vinyl-over-aluminum design that ensures sturdiness yet maintaining the classic tonneau cover look. The operation is [very simple and effortless yet secure.
If you are worried about installation, this truck bed cover pretty easy to install. With just a couple of clamps, you'd be able to put it on pretty quickly. See the latest price here.
What is the Best Roll Up Truck Bed Cover?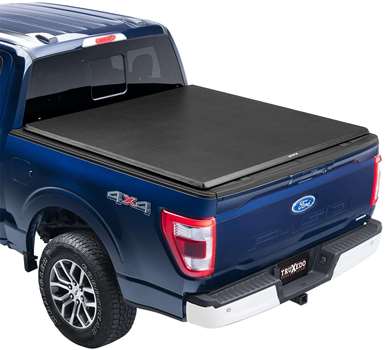 TruXedo Truxport Soft Roll Up Truck Bed Tonneau Cover. It is one of the best options when it comes to roll-up tonneau covers. It protects against weather and saves you from the hassle of drilling, offering a super easy installation.
The top of the cover is made of high-quality fabric, so it's pretty easy to clean. The usage is pretty simple, too; you need to unlatch the tailgates, and voila! See the latest price here.
What is the Best Folding Truck Bed Cover?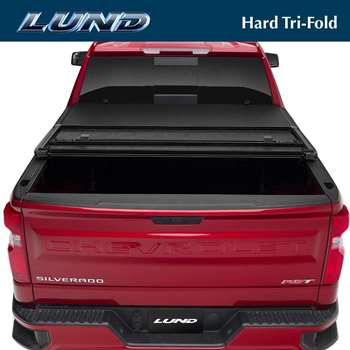 Lund Hard Tri-Fold, Hard Folding Truck Bed Tonneau Cover. The reason why it is the best one in the market is its versatile design. It provides maximum protection against weather and goes a long way because of its robust structure made of heavy-duty aluminum and vinyl.
The foldable design is easy to maneuver and is entirely secure as it locks the cab with nylon straps. See the latest price here.
What is the Best Pickup Truck Bed Cover?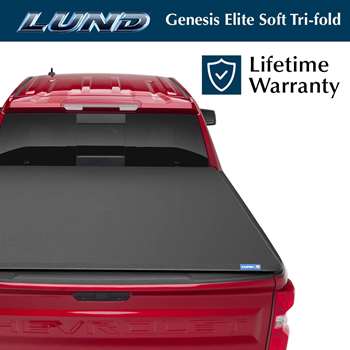 Lund Genesis Elite Tri-Fold Truck Bed Tonneau Cover. It is a soft premium twill-woven cover that requires almost no maintenance and is very easy to use. The flawless folding and integrated straps allow accessible cargo accommodation.
Despite it being a tri-fold cover, the installation does not take more than 5 minutes, and there isn't any drilling involved which is incredible. See the latest price here.
What is the Best Waterproof Truck Bed Cover?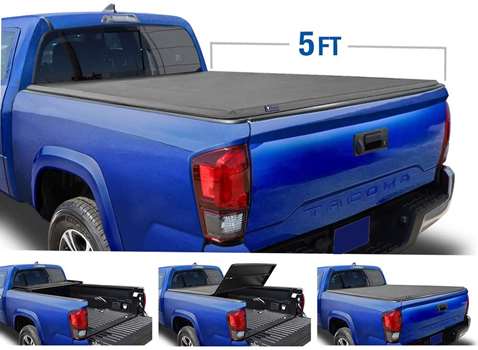 Tyger Auto T3 Soft Tri-Fold Tonneau Cover. It works pretty effectively as it has a dual-coated 24oz marine-grade vinyl structure, while the frames have a coating of heavy-duty aluminum along with stainless steel clamps.
Along with ensuring waterproofing, it provides easy installation with no need for drilling whatsoever. See the latest price here.
Can I Rent a Truck Bed Cover?
A truck bed cover is an expensive after-market option. Therefore, no dealer is dealing in pickup truck rental with bed cover.
However, I remember there is a place near Pittsburg airport known as The Payless. They used to rent out RAM 1500 Laramies with truck bed covers a couple of years back. Not sure if this service is still available or not.
Can You take a Truck through a Car Wash?
Yes! You can take a truck through a carwash. Over time, the popularity of pickup trucks has increased, resulting in a considerable percentage of this type of vehicle on US roads.
Therefore, manufacturers make sure that a car wash is of the size to work for pickup trucks and better cleaning.
Nonetheless, the size of a car wash station determines whether the truck would fit in or not. Before you take in your pickup truck for a wash, always empty the truck bed.
Oversized side mirrors, tires, and lifted suspensions can also take up a lot of space, so make sure you know your truck's dimensions before taking it to a car wash station.
Do Truck Bed Covers keep Water Out?
Do Truck Bed Covers Leak?
It all depends on the way you installed it. The cover may fail to keep out all the moisture if you do not seal the corners properly. That is why I always suggest spending more time sealing the corners and the tailgate side while installing a tonneau cover.
Presently, almost all the brands ensure waterproofing in tonneau covers that will keep your stuff dry. Just make sure you put it together correctly, and it's all good.
How to Measure Truck Bed Size for Tonneau Cover?
People make the most common mistake while purchasing a tonneau cover not to measure the truck bed correctly. Let me tell you how to rectify this situation.
All you need is a measuring tape. Start by measuring along the bed rails from inside the bulkhead to the inside of the tailgate.
Now, a couple of things to remember.
Manufactures round it to these covers nearest inch, so if you are a little above or below, just round it to the top tier (if your measurement was 12.5 inches go for a 13icnhes cover).
Other things that might affect the bed length are step sides, flare sides, or RAM boxes. If your truck has any of those, you'll need to select accordingly.
Related Article: How to Choose Right Auxiliary Fuel Tank for Truck