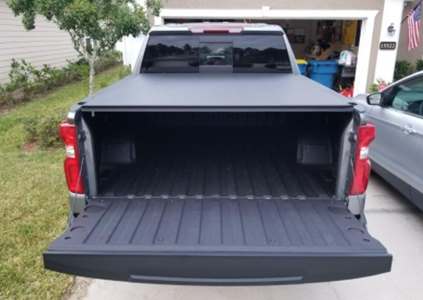 A few years ago, I was traveling with grocery items in the cargo bed of my truck. Suddenly, dark clouds appeared, and I sensed it might start raining. I tried my best to make it home in time, but before I could reach it started raining. 
Upon reaching my destination, I parked the truck in the garage and soon saw the mess created in my cargo bed. Almost all the grocery items were in chaos and lost their worth. 
And you know what, I am sure some items flew out of the cargo bed because of the storm. It was the day when I realized I lack some shelter over a cargo bed in such scenarios. 
Sounds familiar?
Then you may need to install a tonneau cover or simply known as a roll up truck bed cover. You can call a hard or soft cover installed on a cargo bed. It completely covers the cargo bed of the layperson, providing it with protection. 
You will get other multiple benefits, which we will cover later in detail. In short, these covers are a must-have for every pickup.
Why Should You Buy a Roll Up Truck Bed Cover?
I know you are tired of hearing the same advice again and again. But a roll up tuck cover is worth the investment. If you have a pickup, you should install a truck bed cover. 
The main selling point behind pickups is its cargo bed. It is a luxury vehicle with the capability of carrying cargo. But if your cargo is not safe in it, it defeats the purpose of pickup. 
So, what is the key to safety? 
The truck bed covers shut the door above the cargo bed. Its primary purpose is to protect your cargo from various dangers. They are weatherproof so they keep out any rain, dirt, snow, or debris from entering the cargo bed. 
Do you know traveling around with unprotected cargo results in cargo being affected by the weather? Therefore, weather protection is a crucial necessity.
Apart from snow and rain, your cargo may catch dirt or debris. Sometimes, when you are traveling at high speeds, light stuff may just fly out of the bed of your truck. 
The cover will competently protect your cargo from being damaged due to weather and flying out of the cargo bed.
Want to know more?
Another enormous advantage of tonneau covers is that it protects cargo from thefts. The pickup toolbox generally stays in the cargo bed. It makes an easy target for thieves. It becomes significant when you are mounting something valuable in your pickup. 
Unprotected cargo attracts unwanted attention towards your pickup. A truck bed cover keeps your cargo out of sight, which is the first step towards preventing theft. If a thief does not know what is inside the cargo bed, he will never take the risk of trying to open it.
It preserves the resale value. Harsh weather also deteriorates your truck bed. No one wants the truck bed to get covered in dirt or snow, but this will eventually happen once you drive it without a bed cover. This results in an increase in the maintenance of truck beds and faster wear out. 
Tonneau covers keep your truck bed safe from environmental effects and make the truck bed easier to maintain. It also prevents the truck bed from rusting.
Finally, having a truck bed cover improves fuel economy. The reason behind it is less drag created by covering the truck bed. It makes pickups more aerodynamic and improves gas mileage. 
Different Types of Roll Up Truck Bed Covers
Roll Truck bed covers are easier to open and close. Once you open the lock, you can roll them and attach them to the bulkhead of the truck. Generally, roll-up truck bed covers are divided into two major categories. These are:
Hard Roll Up Truck Bed Covers
These are made of hard materials such as fiberglass or aluminum. They offer plenty of protection and security alongside quick access to the cargo bed. 
You cannot cut or open these covers through side rails. They have a built-in locking system to keep your cargo safe, even if the tailgate is down. They are heavier and more expensive than their softer counterparts. 
Soft Roll Up Truck Bed Covers
Reputed companies use canvas, polyester, or vinyl to make soft truck bed covers. The fundamental purpose is to keep your cargo safe from environmental effects. They will not offer much resistance if someone tries to break through it with cutting equipment.
You will get complete access to the cargo bed, and they are easy to open and close. These covers are lighter and considerably less expensive than hardcovers.
Which Material Suits You?
We can further categorize the two dominant categories based on the material used in these covers.
The manufacturers commonly made soft rolling covers from vinyl. They offer excellent protection against weather effects. They are durable and waterproof. 
The second option is canvas, which offers durable resistance against weather effects. They are easier to roll up, so they open and close quickly. 
You can choose hard rolling covers from a variety of materials. The most popular of them are aluminum, which is lightweight and offers high protection. These covers are easy to use too. Other options include fiberglass and ABS polymers. 
Both are useful for long-term protection from weather and thefts. They have an even distribution of weight and stress throughout the cover, but both are heavier than aluminum covers.
Things to Consider Before Buying Roll Up Truck Bed Covers
It is essential to note down the key points and traits you would like to have in the particular thing that you are purchasing. But why? Because your minute concern regarding product purchasing can save you from various future complications.
Therefore, you need to consider a few factors before buying truck bed covers. Mostly it comes down to personal preference, but every truck bed cover should be able to cover the following features,
Truck bed covers must be waterproof, as you do not want water slipping through truck bed rails. It can rapidly enhance rusting. Also, your truck bed cover should withstand severe weather, such as snowfall, thunderstorms, or dust storms. 
What else do you need to check?
The truck bed cover should be easy to install and operate. It should have full access to the cargo bed. This attribute is a must because it is a speciality of roll up truck bed covers. Loading and unloading of cargo should also be convenient. 
It should completely fit your pickup's cargo bed. It should not create vibrations at high speeds. Finally, it should be durable. 
If you live in places where thefts are a regular occurrence, then consider a hard truck bed cover that offers powerful protection against unwanted access.
Best Roll Up Truck Bed Cover Recommendations
1. Tyger Auto T1 Soft Truck Bed for Ford F-150 (2015-22 models)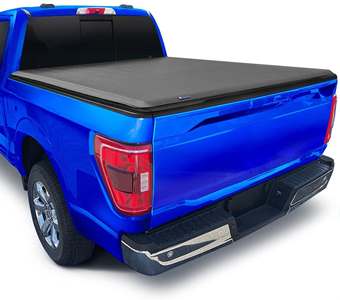 It is a customized sleek design with a stylish roll-up truck bed, which is soft rolling and lockable. It reduces drag and gives a 5% decrease in fuel usage.
2. Gator Soft Roll Up Bed Cover for Classic Dodge Ram 1500 (2009-20 models)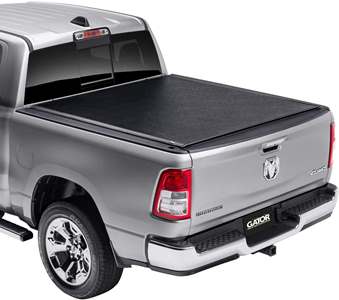 This roll-up truck bed cover protects your cargo from various elements when you need it. It also allows full access to the cargo bed when you need no protection. High strength and stylish design. It remains tight even at high speeds.
3. Gator Soft Roll Up Truck Bed Covers for Chevy Silverado/ Sierra/ GMC Silverado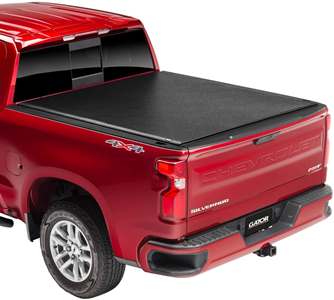 This truck cover bed is a perfect match for the Chevy Silverado (2019 to 2021 models), Sierra, and GMC Silverado. It gets installed super easily. It has a sleek appearance without compromising functionality. Therefore, it is quite easy to operate.
4. MaxMate Soft Roll Up Truck Bed Cover for Nissan Frontier/ Suzuki Equator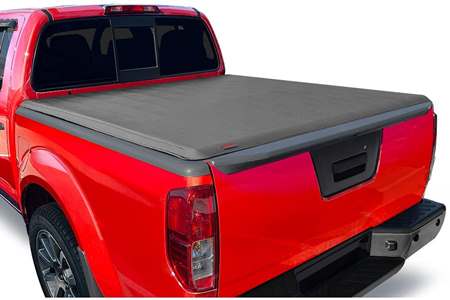 It is compatible with Nissan Frontier (2005-21 models) and Suzuki Equator (2009-12 models). You can install it conveniently on your truck and seal the cargo bed from external elements. It is easy to operate and has a secured lock mechanism. 
5. Gator ETX Soft Roll Up Truck Bed Cover Fits Ltd/Lgcy Chevy/GMC Silverado/Sierra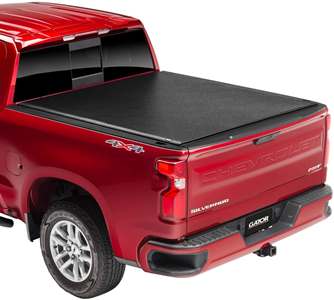 This cover provides 100% access to the cargo bed. It makes loading and unloading easier by being easy to operate. It is an excellent choice for the owners of Chevy Silverado (2014-18 models), Silverado 1500 Lgcy/Ltd (2019), Sierra, and GMC Silverado.
6. Gator ETX Soft Roll Up Truck Bed Cover for Ford F-150 (2015-20 models)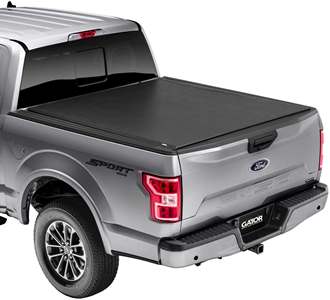 It is a low profile roll-up truck cover bed that gives full bed access. Hence, it is pretty convenient to install and operate. Its sleek design improves the vehicle's aerodynamics.
7. Tyger Auto T1 Soft Roll Up Bed Cover for Dodge Ram 1500 (2002-18 models)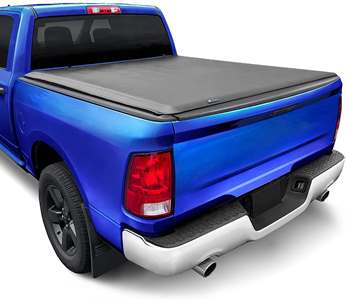 It has an incredible weather-resistant design. Thus, it keeps cargo dry even in harsh conditions. Seals with Velcro strip on sides and with latch lock on the tailgate.
8. Gator Covers ETX Soft Roll Up Truck Bed for Ford F-150 (2004-14 models)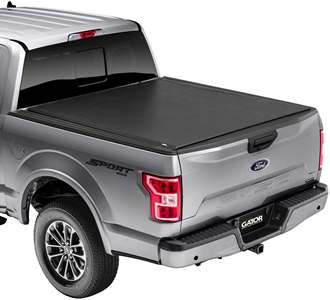 This bed cover gives 100% access to the cargo bed upon rolling. The installation procedure is painless and requires no drilling. The manufacturers make it from industrial grade leather-grain vinyl.
How to Install Truck Bed Cover?
It is handy to install and takes about 20-30 minutes to get installed. First, make sure that you park the pickup on an even surface. Do not forget to gather the essential tools which are listed in installation instructions.
Now, follow these steps to install the truck bed cover.
Place the cover side rails on truck side rails and place the clamp to lock it down. Do it twice, once on the driver's side rail and once on the passenger side rail.
The next step is attaching the front and rear header seal. Peel the paper on the seal and adhere the front header seal in one corner across the box to the opposite corner.
To apply the rear seal, align and adhere to the seal at the end of the rail. Make sure to seal contacts on the edge of the box.
Carefully place the cover on the truck's bed bulkhead. Remember to place it near the cab to avoid gaps in between.
After placing the cover, pull down the latches on the forward section of the cover (on both sides). Adjust the latch so that they properly fit and tighten.
Unroll the cover to the back of the truck. Open the tailgate and, from underneath the cover, attach the latches to the rear section of the cover. 
Check if tailgate latches are perfectly in place. Assure the cover does not block the tailgate from closing.
Double-check each clamp and make sure they properly fit.
To watch the video: Click Here
Related Article: What is the Most Secure Tonneau Cover – Buying Guide
Conclusion
If you are a road guy, then you should pamper your pickup. We all know deep down that the trucks and vehicles deserve it. It is better to decide now than to get disappointed later by the truck's performance.