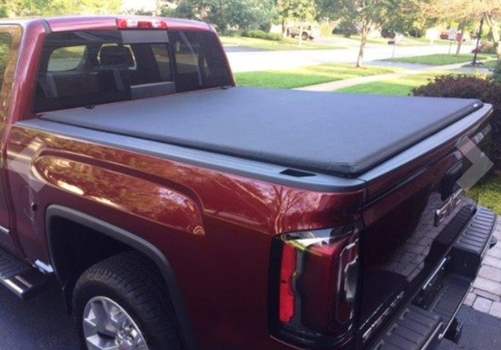 Everyone has a favorite brand, especially when it comes to equipment for vehicles. A tonneau cover is something that a truck driver must-have.
It protects the cargo and conserves the truck's resale value by keeping it from the wear and tear caused by the weather and your cargo. Each design and type of tonneau cover provides a degree of safety, from the principal component of getting gear far from intrusive eyes.
Let's talk about the best one in the market that offers the most security and durability.
What is the Most Secure Tonneau Cover?
The search for the most secure tonneau cover is floating all over the internet. The truth is no tonneau cover comes with a built-in safety lock except for some retractable ones. Even with these retractable covers, you'll have to make modifications according to your need.
Most tonneau covers unlatch from the inside. Therefore if your tailgate is secure in its place, the cover is mostly safe.
Nonetheless, if you encounter a skilled thief, a crowbar, or a coat hanger is all it would take to get him to unlatch the tailgate but these cases are rare.
Remember, if the cargo is "out of sight," it is safe, so a cover pretty much keeps it secure enough.
Tonneau Cover Comparison Chart
Here we compare different types of tonneau cover to help you find the best one.
Tri-Fold vs Retractable Tonneau Cover
| | | |
| --- | --- | --- |
| Tonneau Cover Type | Hard Tri fold | Retractable |
| Installation | Non-invasive | Invasive and difficult |
| Removal | Easy to remove due to less weight | Hard to detach due to complex mechanism |
| Access to bed | Low access until you remove the cover | High but it takes up a lot of room, compromising truck bed space for cargo |
| Security | High security | High security. |
| Waterproofing | Mostly waterproof only the hinges might cause some dibbles | Low as the canister may collect moisture |
| Durability   | High | High; comes with sturdy aluminum |
| Operation | Manual or by remote | Manual or by remote |
Bottom line: If you mainly transport small cargo in your truck, a tri-fold tonneau cover is your best choice.
Whereas, if your cargo is relatively more oversized in size and you require better access to the truck bed, it's better to get a retractable one.
Tri-Fold vs Roll Up Tonneau Cover
| | | |
| --- | --- | --- |
| Tonneau Cover Type | Tri-Fold | Roll-up |
| Access | Mediocre; for complete access, you need to remove the bed | High; it rolls up to the end giving full access to the bulkhead. |
| Coverage | Might off the rails | Low-profile |
| Unlatching/removal | Unlock two clamps on the inside | Open two small side locks on the inside and pull the latch in the front. |
| Installation | Easy; requires no drilling or extra hardware | Requires extra hardware for mounting the rails on the sides |
| Installation time | 5-10 minutes | 10 minutes |
With all the data you need to decide on a tonneau cover purchase, we have some suggestions to ease this process further.
Most Secure Hard Tonneau Cover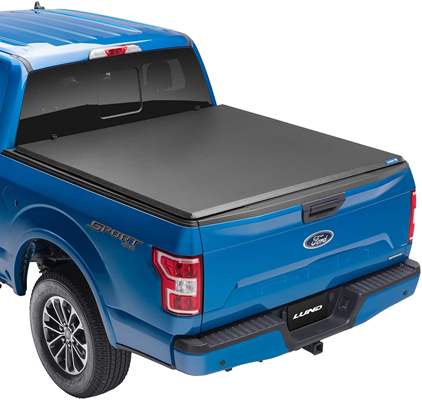 Lund Hard Tri-Fold: It is the best hard folding tonneau cover, this one has heavy-duty, marine-grade vinyl and sturdy aluminum. Still, the thing best feature is that the weight is evenly distributed, making it super easy to lift and operate.
The easy-lock handles contribute further in providing better security, and the easy installation makes putting the whole thing up a matter of 5 minutes. See the latest price on Amazon.
Most Secure Roll Up Tonneau Cover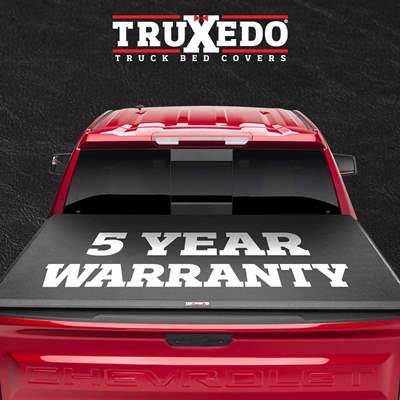 TruXedo Truxport Soft Roll Up: This cover is equipped with heavy-duty frames and high-quality leather that provides maximum protection against the weather, which is why it is the best tonneau cover for chevy colorado.
For installation, you do not need drilling or any special tools; a couple of easy clamping would do the job just in 30 minutes. See the latest price on Amazon.
Most Secure Toyota Tacoma Tonneau Cover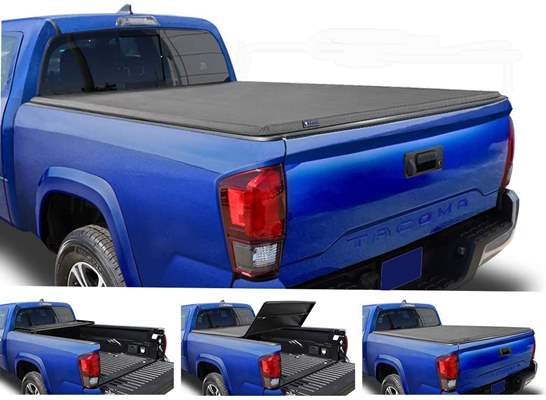 Tyger Auto T3 Soft Tri-Fold: This cover offers a high-end design with dual-coated 24oz marine-grade vinyl, heavy-duty aluminum, and stainless steel mounting hardware frames. It is one of the most secure pickup bed covers.
It offers high security for your cargo with ease, noninvasive installation, and keeps the truck bed from damage caused by the weather. See the latest price on Amazon.
Best Tonneau Cover for RAM 1500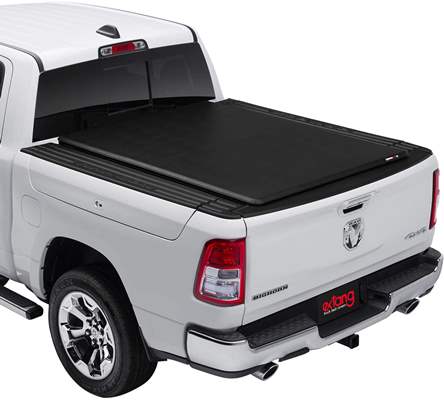 Extang Trifecta 2.0 Soft Folding Tonneau Cover: If you are looking for a locking tonneau cover ram 1500, then it is a decent choice. It has a leather-grain fabric that deflects water and keeps your stuff away from moisture and sunlight. It offers fade resistance with outstanding tension.
The greatest thing about this cover is that it is easy to install and easy to remove. You need to clamp and unclamp, and your job is done. See the latest price on Amazon.
Best Retractable Tonneau Cover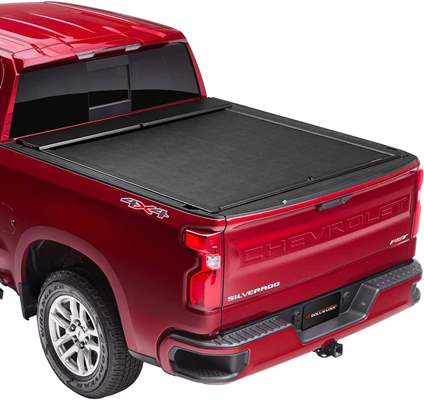 Roll-N-Lock M-Series Retractable Tonneau Cover: This cover by Roll-N-Lock offers a vinyl-over-aluminum design and aluminum casing to ensure maximum security and preservation of cargo.
The effortless operation and super-quick installation make it one of the best choices in tonneau covers for trucks. See the latest price on Amazon.
Can You Drive with a Truck Bed Cover Open?
The answer is no. You may wonder why? Manufacturers design Folding Cover/roll-up covers to be used either completely open or closed.
If you drive with your cover half-open or close, it can result in severe damage to the cover, bed contents, and the hinges that hold it together.
Can You take a Truck with a Tonneau Cover through a Carwash?
Is it OK to go through a Car Wash with Tonneau Cover?
I never recommend taking your truck with a tonneau cover through the spinning brushes of a car wash. The abrasion from these brushes can damages the top of the cover as well as the rails of the cover.
If you must, prefer touch-free car washes stations that clean the vehicles with water and chemicals: they involve no clothes or brushes, which is good news for the cover.
The best solution is to wash it with your hands; thus, you can control the amount of pressure and abrasives the cover comes in contact with.
Good News: Cheap Alternative to Tonneau Cover
When it comes to a tonneau cover it is pretty much costly, but you have many other cheap options; wood, fiberglass, plywood, or vinyl fabric, but here is a little thing to remember. It would only help if you are an excellent DIY enthusiast or a handyman to make a homemade one.
To save you from all this extra effort, here are a couple of products you can use instead that would give the utility of a homemade tonneau cover, only better.
Keeper Waterproof Roof Top Cargo Bag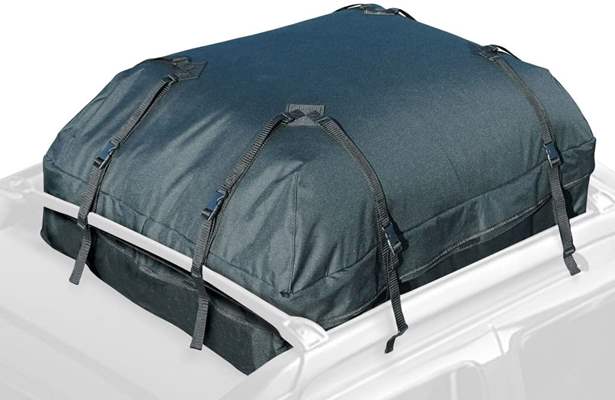 It is a 15 cubic feet waterproof cargo bag that you can use to cover your stuff in the back of your truck to keep it safe from the weather. It's soft, easy to carry, and fold pretty easily; hence, you get continent storage.
Now for the best feature, as it's a soft bag and takes up almost no space for itself, it increases the space. See the latest price on Amazon.
Related Article: How to Keep Luggage Dry in Truck Bed