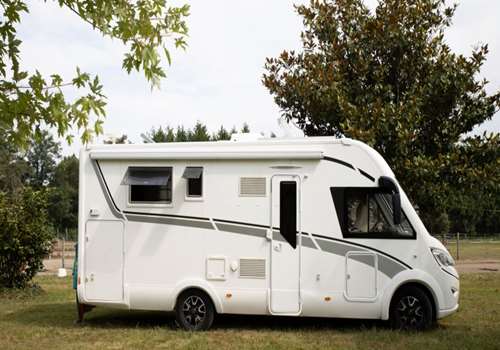 Recreational Vehicles, commonly known as the RVs, are the classic American vehicles going up to a 52-seat capacity. Perfect for concrete American roads!
Such vehicles include motorhomes, campervans, caravans, fifth-wheel trailers, popup campers, and truck campers.
If you are looking for equipment, repair material, or making improvements in your RV, this article is all about that!
RVs are not your regular cars; they are BIG and sometimes too big for the standard-sized pitches, which is why you require a specific type of equipment.
A jack is one of the essential pieces of equipment you need for your vehicle, and when it comes to RV jack stands, they need to be sturdy and must offer sufficient support.
What are RV Jack Stands / RV Stabilizer Jack Stands?
RVs and other similar types of vehicles require stabilization when parked to move around in the quarter, which is why you need durable support to keep it in its place.
Imagine what it would be like walking around in a rocky house.
Many people use bricks, slates, and other support types, causing the trailer to go back and forth.
Here is where you'll find an RV jack stand saving you time, energy, and the structural integrity of your RV. Other objects might damage the axle or another part of the frame due to uneven weight distribution.
As if that's not enough,
It will also keep the tires from going flat, especially in winter, as when you park the RV, all the weight is supported by the tires that causes them to flatten out faster.
The metallic structure of an RV jack stand comprises a particular mechanism that you can either install in the frame and control with a built-in function or keep a portable one.
If you need a jack stand for more than one RV or come across situations like these, get the portable design. Otherwise, the permanently fixable design works great too.
I always recommend going for the portable design as they are sturdier; you can use them whenever you like on more than one RV.
The question is which one you should get. Consider the following before browsing the market for an RV jack stand.
Things to Consider Before Buying
Vehicle's size
The size not only refers to the weight but also the shape of your RV, as the jack not only supports the weight but also requires the right spot to be placed correctly.
According to many technical experts, jack stands are always rated as a pair, especially for RVs, trailers, and other recreational vehicles.
For example, if your RV weighs around 15000lbs. Then you need four jack stands that can hold 4000 pounds each.
Height
Ground clearance is an important thing to consider before buying jack stands as some RVs have a higher GC than others.
Using a jack stand higher than the RV axle's maximum height is the best way to decide what height you should get.
Material
There are numerous options in material, plastic, wood, silver, steel, iron, and much more. Due to the number of options available, you end up in a never-ending battle of what to pick.
The table will help you identify and decide the right choice of RV jack stand material that matches your need the best.
| | | | | | |
| --- | --- | --- | --- | --- | --- |
| Material | Durability | Economical | Weight capacity | Corrosion resistance | Portability |
| Stainless steel | High | High | Medium | Medium | Low   |
| Aluminium | High | High | High | High | High |
| Plastic | Low | High | Low | High | High |
| wood | low | Low | Low | Low | low |
Some companies manufacture jacks from affordable material like plastic or iron, which are cheap but makes them less durable and gives you far less value than a good quality one.
For an RV, look for a heavy-duty jack stand that offers corrosion resistance and high weight capacity, so it goes a long way.
Look at it this way, the material and design of your jack stand ought to support the weight and structure of your recreational vehicle.
Stability
Stability, in other words, is to what extent your jack stand ensures safety. However, the jack stand isn't the only thing that is responsible for steadiness.
The type of ground you park on is also essential; if the soil is wet and soft, then a stack jack stand works well rather than a tripod stand.
Therefore, make sure you know your need to get a jack stand that will work the best.
Ease to Use and Install
Fact: a jack stand should be easy to use and install, either it's for a car, a bike, or a recreational vehicle.
When you browse the market for one, go for the one that offers easy installation or assembling.
Imagine having to assemble a complicated structure every time you park your trailer and struggling with minor things. No one wants that.
Frequency of Use
For any equipment that requires installation or assembly, you need to consider the frequency of usage.
In simpler words, how many times are you going to deal with equipment, especially when it's complicated?
Most RV users prefer permanently installable jack stands as they live in them mostly and move around a lot. It remains way easier this way.
If you want to use your jack stand for more than one vehicle, and that too frequently, a portable RV jack stand will work the best.
Types of Jack Stand for RV
Landing Gear Jacks
Landing gear jacks offer easy and fast installation as these go directly on the RV. Nonetheless, proper installation is crucial. Otherwise, there can be safety issues, and the stand would not be as effective.
You can further find two types: manual and electric landing gear jacks. Electronic ones are more expensive but are far more convenient than manual ones.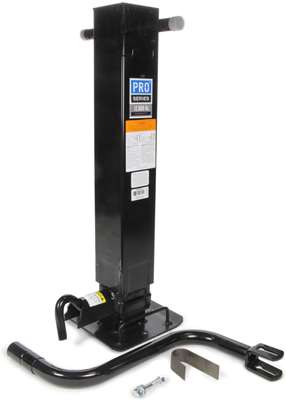 Don't get puzzled by all the brands and options in the market. When it comes to landing gear jacks, the pro series has the best ones in the market.
With a weight capacity of 12,000lbs and a tubular swivel design, this stand offers heavy-duty functionality and durable performance. See Price Here on Amazon.
Tripod Jack Stand
It gets better though, this type is super affordable, which is why they are so popular.
Despite having the drawback of skinny legs, keeping them from standing on soft grounds, tripod jacks are the most common choice.
As for some models, they come with pads to keep them from sinking in soft mud. It all comes to whether you should get one for an RV or not?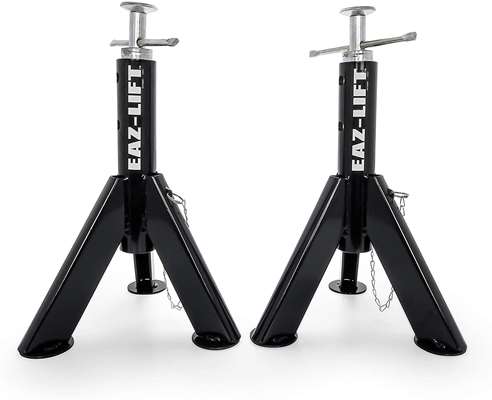 The answer lies in durability, which is why EAZ LIFT is an excellent choice as it offers heavy-duty tripod jacks with high weight capacity and powder coated corrosion-resistant jack stands to support your parked RV. See Price Here on Amazon.
Stack Jack Stand
Strength, design, and functionality, a stack jack stand performs well in all aspects and is a pretty decent piece of equipment when it comes to value for money.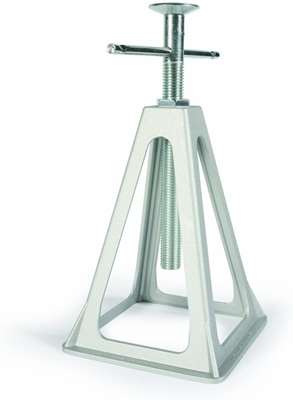 Camco is a renowned band for manufacturing heavy-duty jacks for RVs. I always recommend getting Aluminum jacks better by all means than any other type in the market.
Their jack stands are adjustable, durable, and work perfectly for leveling, securing there in its position so you can live in a stable trailer. See Price Here on Amazon.
Pipe/Tube Type Jack Stands
As the name suggests, these jack stands to look like long pipes or tubes. Some models have manual cranks, whereas you can mount the others to the vehicle.
The installation of a pipe/tube jack stand might seem like a tedious process, but the functionality is unmatchable once done correctly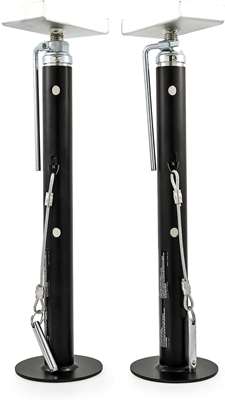 Camco EAZ LIFT jack stands are of the best in the market with robust construction and durable design. See Price Here on Amazon.
Scissors Type Jack Stands
The classic type of jack's stands is the scissor jacks. You can either weld them or bolt them in the bottom frame of our RV; either way, the installation is pretty easy and quick.
Their ease-of-use makes them a popular choice, especially for recreational vehicles. As RVs are bulky vehicles, a 7500 lb. RV scissor jacks are the ideal weight capacity.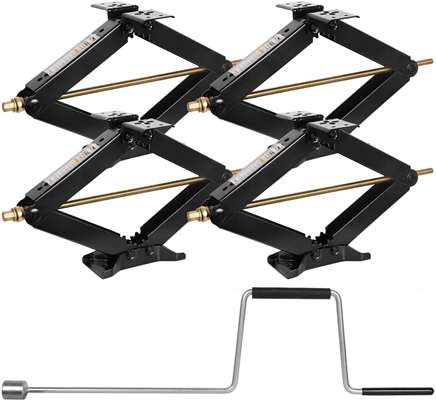 WEIZE offers one of the best RV scissor jacks in the market. See Price Here on Amazon.
RV Jack Blocks
It isn't your typical type of jack stand. This type is used for leveling the tongue of the trailer.
If you need to level up single or double wheels, an RV jack block is just what you need. For extra safety and height, interlock two jack blocks.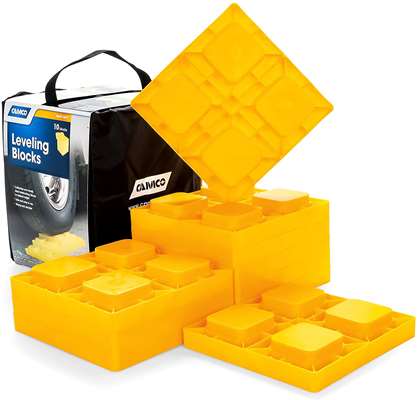 Camco manufactures robust jack blocks designed especially for RVs. These do not only add some extra inches of height but also ensures safety and stability. See Price Here on Amazon.
How to Use Jack Stand for RV?
A jack stand is not hard to operate as every jack stand comes with a user manual in the package for ease.
It also depends on the type of jack you have purchased, as each type differs in design and mechanism. But the main procedure for operation remains the same for all; crank it up and down.
Now stop right there! The main concern here is more about the placement of the jack stand. Knowing the correct jack-mounting points is essential not to damage the vehicle or, worse, injure yourself.
According to top RV, Jack stand manufacturers, the correct way is to lift the RV or a 5-wheel travel trailer by putting down the landing gear on the fifth wheel and jack up from the back of rear spring hangers.
These hangers are located on the fifth wheel frame, and jacking up this way will make it relatively easy for you to get your RV to a feasible height.
Attention! Do not ever place a jack/jack stand underneath the axle housing. It may lead to some severe and irreversible damage to your vehicle.
Can You Level RV with Slides Out?
Leveling the RV with slides close has always worked better. Always consult your owner manuals first.
After using different jack stands and consulting various user manuals, I have reached a conclusion that fits perfectly for leveling RVs without slide-out, and here's how I do it.
Here is Some Useful Advice
Keep the slide side raised to an inch above the average level; it will ensure an equal amount of weight on either side when you are sliding out.
The main advantage of doing so is when slide-outs will be slightly lowered once jacked up, causing the rainwater to pour down from the side seals and avoiding any leakage.
For extra stability and safety, make sure to use a slide stabilizer for the RV. These provide support, and you can adjust the height of the slide-outs for a perfect lift.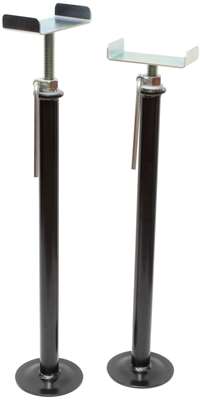 Dumble is known for its stability and robustness. If you are a traveler, it'll work the best for you since the installation of their designs is super easy. See Price Here on Amazon.
What Size Jack do I Need for my RV?
Determining the size of jack that will work the best for your vehicle is perceived as a tough job, but you can quickly figure it out with the following points.
GVWR (Gross Vehicle Weight Rating) is what will help you here. What is GVWR? It's the weight of your entire vehicle and not just the cargo or passengers.
Think about it this way for a rear axle rating of 7500lbs. Get a jack stand of 10,000lbs. Remember, the closer you get to the max weight on the jack, the harder it will be to pump it up.
It also affects the jack's ability to lift and strains the structure, leading to decreasing your jack's life.
The jack stand must be sturdy enough to bear your RV's weight, which means weight capacity is not the only point to consider.
Related Article: Best Jack Stand for Car
Related Article: Jack Stands vs Ramps