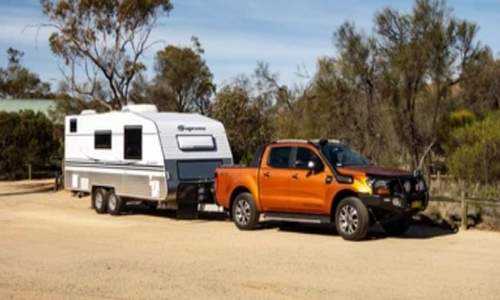 Many first-timers ask questions like what we need for towing, towing a trailer, etc. Thus, I decided to jot down a complete guide for all my people who are dealing with the towing maneuver for the first time. Without wasting a single minute, let's get started.
Why do We Need to Tow a Trailer?
Based on space, trailers are divided into two categories: large trailers and small trailers.
A small tow trailer is best designed for transporting camping luggage on a long trip that won't fit in your vehicle. In contrast, large trailers are the best way of transporting heavy equipment and cars.
Whether it is a larger trailer or a small trailer, the basic purpose for towing a trailer is that we can easily transport our equipment.
Here is an Overview of Different Types of Trailers
1. Dry Vans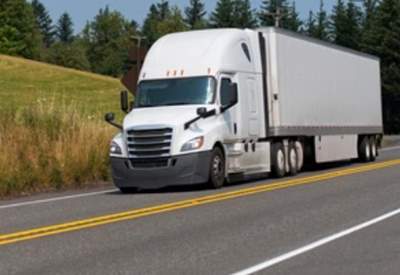 To put it simply, a dry van is a non-climate controlled rectangular trailer for carrying general cargo such as food or other products that don't require any refrigeration.
The best thing about dry vans is a watertight and durable cargo box with a prefinished aluminum exterior and premium paint on all exposed frame components to protect it from harsh weather.
2. Flatbed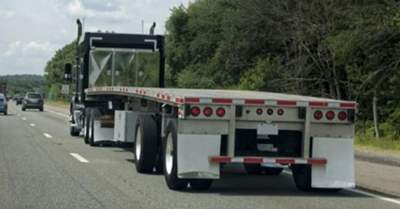 Flatbed trailers are versatile trailers with open-air design features. These trailers are made from a durable welded steel construction. Best of all, it is available in various sizes and widths, making it suitable for numerous tasks.
3. Refrigerated Trailer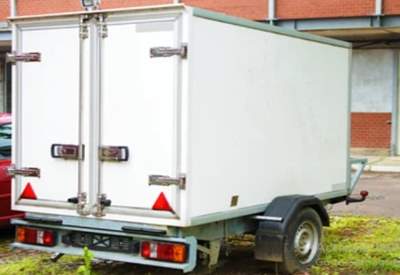 As compared to dry vans, these trailers offer more average miles. These trailers are fully enclosed and best suited for food supply. The users of these trailers have stated that these trailers are extremely noisy.
4. Tankers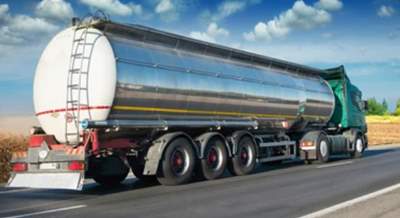 Made from stainless steel, these tankers are designed to carry almost any product, such as milk, sugar, and animal feed to shampoos, wine, etc. It has a carrying capacity of 12,000 gallons of products and, best of all, it keeps the products contaminant-free.
5. Specialized Trailers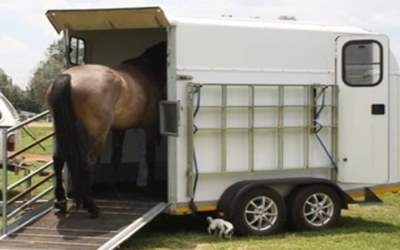 These trailers are designed for carrying cargo, hauling cars, or animals. The problem with such trailers is that it is very tricky to maintain weight distribution between tandems and drive tires.
What do I need to Tow a Trailer?
You will need some things for towing a trailer for the first time. The tools I have mentioned are not specific to a specific trailer but can be used with every trailer.
Things you need to tow a trailer are:
Trailer Breaks Controller
Tow Hitch / Receiver Hitch
Tow Mirrors
Sway bar and Some Other Necessary Stuff
Trailer Breaks Controller
Tow breaks are an important tool for towing a trailer. A good braking system is a must because with additional weight on your truck, it will take too much time to stop.
There are two types of tow breaks you can find, i.e., surge brakes and electric brakes. Well, from both types, I would say that the electric ones are an ideal option because these brakes are comparatively safer and are operated by an integrated trailer brake controller.
Recommendation for brake controller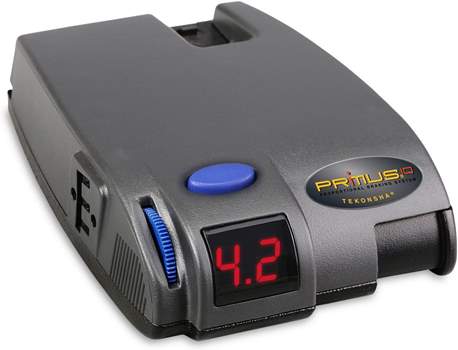 Tekonsha 90160 Primus IQ Electronic Brake Control is the best electric trailer as it is easy to use and features an easy-to-read digital display for monitoring the brake operation.
It features a reliable design that doesn't consist of internal moving parts, eliminating leveling. Best of all, you can use this electric brake controller with any trailer having 1 to 4 axles. Buy Now from Amazon.
Tow Hitch / Receiver Hitch
Another most needed thing when towing a trailer is a tow hitch, also known as a receiver hitch. A tow hitch is used to hook a trailer to your towing vehicle. 
An important thing you must know while choosing one is that you must choose the hitch that matches the capabilities of your vehicle.
Like tow brakes, tow hitch is also of two types, i.e., standard ball mount hitch and weight distribution hitch.
Compared to a standard ball mount hitch, the weight distribution hitch is far better because it features a built-in scale that distributes the weight between the back axle, towing vehicle, and trailer axle.
Recommendation for Tow Hitch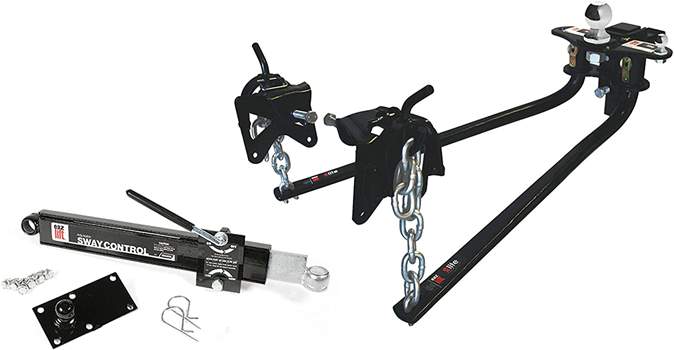 EAZ Lift: This all-in-one elite kit features a weight-distributing hitch, pre-installed hitch ball, and sway control. This kit has a maximum tongue weight capacity of 1,200 pounds and a maximum gross weight rating of 10,000 pounds.
It has interchangeable bars paired with positive latching action that provide trailers with a smoother ride than other hitches. Buy Now from Amazon.
Tow Mirrors
Tow mirrors are an important tool for towing a trailer, and it is a must to get proper tow mirrors. I recommended that an individual should use convex tow mirrors instead of regular tow mirrors because these show cars and CURBS.
Recommendations for Tow Mirror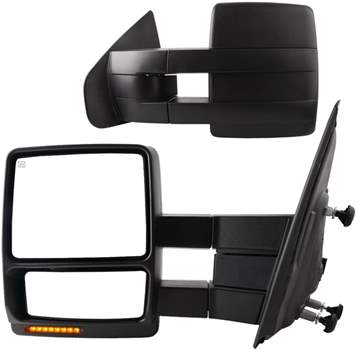 YITAMOTOR Towing Mirror: This towing mirror features a convex lens that serves as a second eye and improves visibility and reduces blind spots. It also features a manual flip-up function, so you have to pull the mirror away from your vehicle to extend your line of sight.
Best of all, it is a manual mirror which means you can manually press and hold the position you want to adjust. Buy Now from Amazon.
Sway bar and Some Other Necessary Stuff
Professionals recommend the use of a sway bar for towing a trailer. This is because the sway bar prevents the wind from turning the trailer.
Apart from a sway bar, some other necessary stuff you will be needed include a brake light and running light set up, and 1 or 2 spare tires. Moreover, it would be best if you had emergency chains and a breakaway cable.
Recommendation for Sway Bar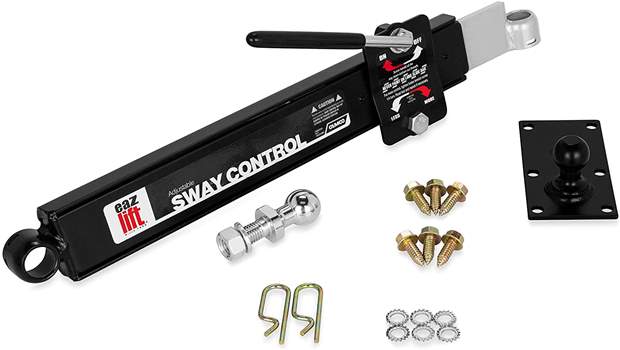 A superior to cam action sway control designed to eliminate sway caused by passing trucks and sudden wind gusts. It comprises double friction pads that offer maximum sway abatement.
As far as the installation is concerned, you must attach it with an easy socket and spring clip connectors. Buy Now from Amazon.
How to Tow a Trailer for the first time?
Towing a trailer for the first time is not rocket science. All you have to do is to follow these simple steps:
1.The first thing you will have to do before getting started is to know your numbers. This means you will have to determine the tow rating, gross vehicle weight rating, gross combined weight rating, gross axle rating, and the kerb weight of your vehicle.
2. Secondly, you will have to find a proper hitch depending on the type of vehicle you are driving and the trailer you will be towing
3. Once you have found the ideal hitch, fit it into the receiver and put the kingpin in place to hold it.
4. Back your vehicle into the trailer in such a manner that the hitch ball sits on the ball housing
5. Lower your trailer on the truck and close the hitch ball lock
6. Take the cotter pin and fit it in there to ensure that it is locked
7. After the trailer is locked, stow the jack foot and connect the safety chains in a criss-cross manner
8. Lastly, hook up your lights, and you are good to go.
Some Useful Tips While Towing a Trailer
Use some dielectric grease, which you can buy from most big-box stores or auto parts stores if you are facing any issue.
Always remember to load the weight right over the axle.
Always use turn signals so that others are aware of your intentions.
Before driving, ensure that the tires are properly inflated, the lights are in good condition, and the hitch is all right.
While driving, ensure that the steering doesn't feel lighter than usual and the trailer is not swaying over the road.
How can I Skip the Tips to Drive a Truck with a Trailer
You may think that driving a truck with a trailer is a piece of cake, but I know the feeling of how difficult it is to pull a trailer. As I have been pulling trailers for a long time, I would like to give some tips and tricks that may benefit you.
Turning with a trailer is different from turning with a car so never turn recklessly while you have a trailer on.
Never overtake a car in hurry.
Ensure that the equipment is in perfect condition.
Don't exceed from 50 mph because there can be a chance of swaying.
The Major Difference Between Caravan Trailer, U-Haul Trailer, and Horse Trailer
In this article, I will be focusing on three types of trailers which are caravan trailer, U-haul trailer, and horse trailer. So first, I will be discussing the major difference between these three, and then I will describe how you can tow them.
A caravan trailer is known for having internal living space. It comprises a TV, toilet, beds, shower, and kitchen. In other words, it really is a home on wheels.
A U-haul trailer is comparatively bulky and is mostly used to move cargo. They are the best option for moving cargo because they handle great and do not leak at all.
Lastly, a horse trailer is designed to carry and move horses/cattle. As compared to typical RVs, they are bulkier and sturdier.
Tips on Towing a Caravan for the First Time
Towing a trailer for the first time can be quite challenging, especially if you are towing a caravan. For towing a caravan trailer for the first time, there are certain things that should be in your mind:
Caravan things should be evenly distributed to one side or another
If you are towing a caravan for the first time, get the nose weight of the caravan correct
Be confident while you hitch and unhitch
Ensure you have a good clear system of communication
The caravan has its own brakes but braking will take longer and the golden rule is always brake in a straight line then accelerate around.
If you do have to reverse down a long road get the caravan lined up so it's straight and then start to reverse
If the wheels of the trailer are outside the line of the cars wheel line, it is better that you move the towing car over slightly to avoid the strip
Towing mirrors are now law, but it's fine if you don't have them installed
A stabiliser is not necessary if the van is properly loaded and the speed is not excessive.
Wait there is more for Towing a Uhaul Trailer for the First Time
Instead of a caravan trailer, a U-haul is what you are pulling for the first time, then remember to follow the given tips:
Load the heaviest stuff to the front of the U-haul trailer because, unlike other trailers, it sways a lot
Don't overload for the tongue weight
Don't panic if the trailer is swaying a little bit
When merging into the traffic, don't race with the traffic because you may be slower than the traffic
If you feel that the trailer drives the car, then let off the gas and COAST until the trailer straightens itself naturally
Also, remember to have chains in a criss-cross manner.
Bonus Tips for Towing a Horse Trailer for the First Time
Think about this for a moment: you have purchased a pair of horses, but you have to transport them to your farm all by yourself by pulling a horse trailer, and you are pulling a horse trailer for the first time. It may be difficult for you, but if you follow the given tips, you will drive comfortably.
Use a heavy truck instead of a car to pull the horse trailer because it is illegal
Ensure there is enough room trailer for feed and hay
Drive, accelerate, and stop at a slow speed
Ensure that the lights of the trailer are in a good condition
You will need an excessive amount of gas while towing, so first, ensure that the route which you will be taking has several trailer-friendly gas stations.
Conclusion
Towing a trailer for the first time can be tricky and complicated. But if you follow this guide things will become super easy for you.
Related Article: Do I Need a Trailer Brake Controller?