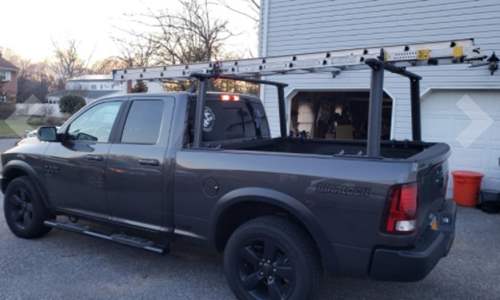 It is pretty easy to transport small items in a pickup truck. However, when the size of the cargo increases, it gets troublesome.
Carrying a ladder can create a similar problem and can be quite a pain to transfer at times. You can use a rack, but that would hinder the rearview.
Situations like these call for removable ladder racks for trucks. They make transportation of ladders easy without making you feel stuck with one all your life.
To know more about this handy piece of equipment, keep on reading. Let's first get into what it is and what primary functions does it offer.
What are Removable Ladder Racks for Trucks?
It is all in the name; these racks are designed for trucks to carry ladders and canoes and utilize the extra space to optimize the space in your vehicle. But it doesn't end here. Removable racks offer the utility of being removable, which means you can take them off once you are done using them.
Why Do You Need Removable Ladder Racks for Trucks?
Transporting bulky cargo like canoes and ladders mess up the aerodynamic of the truck, and since the weight increases, the car has to burn more gas to run smoothly.
So, if you have to transport bulky cargo now and again, these racks would work perfectly for you.
Another reason why you might need a removable rack that a lot of garages do not offer enough space for a truck with a shelf to be parked in. If the rack is removable, the hassle of storage is also eliminated.
If you often use car washes for cleaning your truck, a removable rack comes in handy as you can remove it before the wash session because car washes do not allow trucks with ladder racks through.
Best Removable Ladder Racks for Trucks
Here are two of the most reliable options in the markets that have been used by many constructors.
AA-Racks X31 Truck Ladder Rack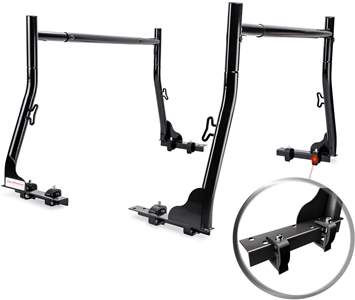 If you are looking for an adjustable ladder rack, it is the one for you, but remember, the width is flexible, not the height that works fine, as the width messes with the truck's aerodynamics.
It has an extendable design to fit properly in your truck bed. It offers a loading capacity of 800lbs. so you can easily transport heavy ladders or canoes. See Price On Amazon.
AA-Racks Model APX25 Extendable Truck Ladder Rack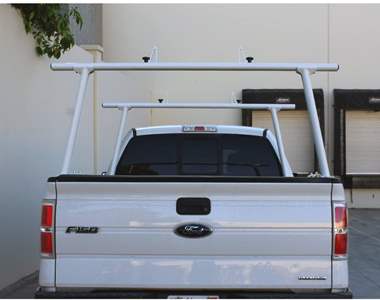 When it comes to removable truck racks, a lot of us look for a non-invasive installation. If that your primary requirement, this no-drill ladder rack would work perfectly for you.
With a loading capacity of 800lb., this heavy-duty truck rack offers durability. As for the installation hardware, it requires 8 clamps which are included in the pack. See Price on Amazon.
Are You Looking for a Ladder Rack and Tonneau Cover Combo?
Imagine what it would be like to have a tonneau cover and a ladder rack, both in one package. It sounds pretty fantastic, but unfortunately, there is no such thing. 
Removable ladder racks for trucks with tonneau cover aren't a thing. If you want both, you'll have to purchase them separately.
However, I did come across an Adarac Brand rack with a trifold hardcover in a truck. It seems like a combo of both.
Removable Over Cab Truck Rack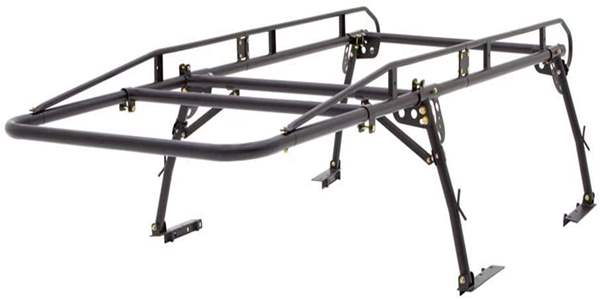 Apex UPUT-Rack-HD Universal Over-Cab Truck Rack. It is a no-drill ladder rack that offers 1500lbs. of loading capacity with the adjustability of width from 61.5″ to 75.75″. Therefore, it easily fits most of the truck bed.
The robust powder-coated steel construction is perfect for heavy cargo. Therefore, using a stake pocket ladder rack is a better option for over cab truck rack. See Price on Amazon.
How to Transport Extension Ladder in a Pickup?
I always recommend commercial truck ladder racks for transporting extension ladders in a truck bed. It is an easier way to solve your problem. 
ECOTRIC Adjustable Full Size Truck Ladder Rack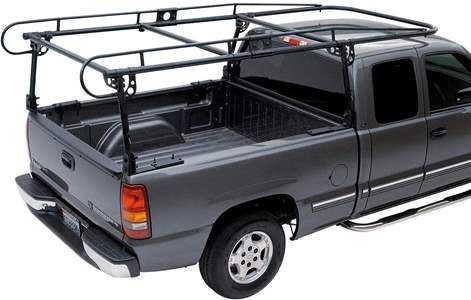 It has a universal design that fits almost all trucks, big or small. With a loading capacity of 1000lbs. you can transport heavy extension ladders.
This commercial truck ladder rack has adjustable legs and feet for wide-ranging customization so that you can adjust it according to your cargo, so the weight is distributed evenly.
Bottom line: Using these racks is just an overall better solution for an extension ladder. See Price.
How Do You Transport a Ladder?
How to Transport a 40 ft Ladder?
If you want to transport a 40 ft ladder, using a commercial ladder rack for a truck is the best solution. A 40 ft ladder would be 20 ft when it folds and the length of the ladder becomes half, i.e., 20ft.
To transport tie each side of the ladder and go over the mid-point. Use ropes for this purpose to tie the rear end to the trailer hitch and the front end to the brush guard or front tow hook, if that's more convenient.
How to Tie Down a Ladder on a Truck?
All you need to tie your ladder on a truck is a rope cut into four pieces.
Take four pieces of rope and tie two on the front of the ladder and two on the back. Secure tightly on each side of your front and rear bumpers.
In this way, you'll create a pyramid tie that will stabilize the ladder and can't shift from side to side or front to back. 
Always use a ratchet strap to keep the ladder at its place. They are more robust and work better all in all.
How Far Can a Ladder Stick Out the Back of a Truck?
It shouldn't be more than four feet beyond the bed. A red light or lamp must be visible from a distance in any event 500 feet to the sides and back.
At a limit, you need to show the backside of such cargo with a warning or fabric at the very least sixteen inches square.
If you do not use a red light or flag to indicate extended cargo, there will be a penalty.
How to Transport a Ladder Without a Roof Rack?
If you don't have a roof rack, do not worry; I have an alternative for you to easily transport your ladder. 
For this purpose, you need to keep the tailgate closed. Wrap up the ladder in foam or quilts, whichever is readily available. Remember to use some of this padding under the ladder too. Use a rope to tightly tie the ladder to the front and rear bumper.
You can use the rear door hinges for tying it off laterally. I know you are wondering. That's a lot of tying up. It is necessary to prevent the ladder from moving side to side and keep checking frequently.
Related Article: What Type of Roof Rack do I Need?