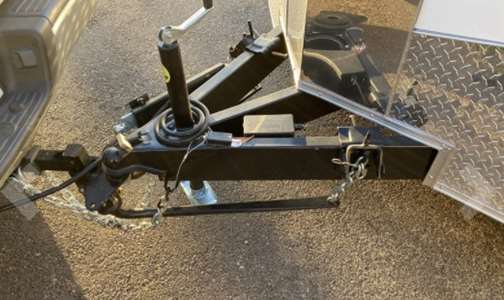 The two things that often go hand in hand are weight distribution hitches and sway bars when it comes to towing. In this guide, we will be discussing both of these in detail and highlight how these two are different.
Before we discuss both the accessories in detail, it is important to know what they are.
What is a Weight-Distribution Hitch?
A weight-distribution hitch(WDH) is a tool/accessory that ensures the stable handling of the vehicle. In other words, WDH makes the weight more evenly between each axel of the trailer,
What is a Sway Bar?
Similarly, a sway bar has two arms and some bends to fit under the engine of the vehicle. Its basic purpose is to keep the vehicle level and handling straight while you're making turns.
Weight Distribution Hitch vs Sway Bar: The Major Difference
Many people mistake WDH and a sway bar for similar types of equipment. Remember that both are different and offer distinctive utilities  Here are some main differences that will help you distinguish between the two:
A sway bar helps only with the sway, whereas a WDH helps with a sway as well as distributes the weight of a trailer
A WDH allows the trailer to be backed into place without being taken off, whereas the sway control bar must be removed before backing into a place.
What are the Benefits of WDH?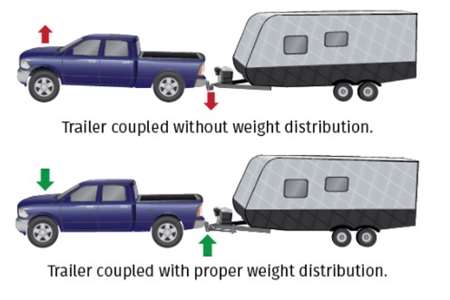 Moving a step further, let's discuss the benefits of WDH. As you know, a WDH is used for the distribution of weight which makes it essential for every towing vehicle. Now WDH comes with numerous benefits. Some of these benefits are the following:
Extremely important to maintain control at highway speeds
WDHs help to reduce sway
Provides a more leveled and smooth ride
Offers consistent steering and brake control
Enhances the towing safety
What are the Problems Associated with WDH?
No matter how high-quality a product is, it will have its benefits as well as some problems.
As we talked about its benefits, it is also important that we highlight some of the problems associated with WDH:
Not suitable for steep/uneven terrain
Can bend the trailer's frame
A low hitch paired with a WDH may have minimal ground clearance causing interference problems
Can crack the chassis if WDH action is too severe
What are the Benefits of a Sway Bar?
After a detailed discussion of the benefits and problems of a WDH, let's move on to sway bars.
Now, if a weight-distribution hitch is not your thing, then you may be interested in sway bars. Now, like WDHs, it also has some amazing benefits:
Offers better handling
Has the ability to dial out some of the understeers
Avoid vehicle body to roll in turns
Balance the car's weight by keeping more weight on the inside cornering tires
It keeps the occupants more comfortable
Effective in reducing sway 
Prevents violent movement of the mass of the car
Resists the leaning of the car
What are the Problems Associated with the Sway Bar?
Like WDHs, sway bars also have some problems associated with them:
Get noisy
Require readjustment
Transmit more bumps and vibration to the chassis
Not suitable for bumpy roads
How Does a WDH Work?
It's Important to know how each works so now we'll be having a look at each functionality. Let's talk about WDH first.
A WDH works by distributing the tongue weight across the axles of the vehicle. If there isn't a WDH system in the vehicle, then the tow vehicle's rear axle load increases because of leveraging the tongue weight.
Consequently, the front axle load decreases. These axles load changes make the tow vehicles un-level. The decreased load on the front axle leads to loss of steering control and braking difficulties.
To put it simply, a weight distribution system allows the tow vehicle to effectively handle the tongue weight of a trailer by removing some of the load from the tow vehicle's rear axle and distributing it evenly to the tow vehicle's front axle and the trailer's axle.
How does a Sway Bar Work?
If you are more of a sway bar person, you must know how that works. It is a torsional spring that keeps its shape by springing back into place.
It is fastened to arms that connect to your vehicle's body. Thus whenever the body starts to roll or sway in one direction, the bar twists and pulls the lifting side back down, providing enhanced stability and handling by keeping the vehicle flatter to the road surface.
Recommendations for Sway Bar and WDH
As we have discussed everything in detail, I would recommend to you some best sway bars and weight distribution hitch in the market.
Sway Control Bar
EAZ LIFT 0224.2014 Screw-On Sway Control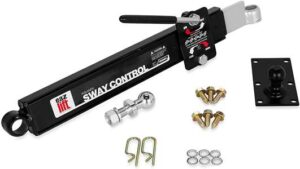 EAZ LIFT sway control is the best trailer sway control kit of its kind as it minimizes the sway caused by passing trucks or sudden wind gusts. It features double friction pads that provide maximum and continuous sway abatement.
If you feel that road conditions are unsuitable for its use, you can easily release this sway control bar. See the latest price here.
CURT 17200 Trailer Anti-Sway Bar Control Kit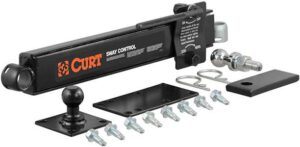 CURT trailer control kit features a brake pad type material that provides maximum control and restricts the trailer sway. Its versatility makes this kit the best in the market as it can be used with a wide variety of weight distribution hitches.
Last but not least, this kit features a hex nut toggle so that you can adjust the level of trailer sway restriction. See the latest price here.
Weight Distribution Hitch (WDH)
Husky 30849 Round Bar Weight Distribution Hitch with Sway Control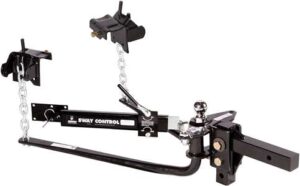 Husky is always the top priority for everyone when it comes to weight distribution hitches. This weight distribution hitch has a black finish that keeps it protected from rust and corrosion.
It comes with lift brackets that allow you to safely and easily hook up the hitch. It also features interchangeable spring bars that can fit the left or right sides of the hitch head. See the latest price here.
CURT 17062 Round Bar Weight Distribution Hitch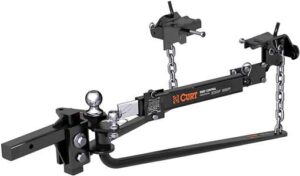 The hitch head of this WDH from CURT has two easy-to-access grease zerk fittings that provide maximum lubrication. This is a super-strong WDH made from a fabricated head paired with 31-3/16-inch long forged steel spring bars.
It can tow 8,000 – 10,000 lbs. gross trailer weight and 800 – 1,000 lbs. tongue weight. See the latest price here.
Which is Better: WDH or Sway Bar?
For the bottom line, I would say that both WDH and sway bar are the best for the purpose they are used for. However,I will say that WDH is better because of the little edge over the sway bar. The edge is that WDH distributes and also helps with the sway, which means it does the work of a sway bar.
If you are a newbie in the towing trailer then you must read this article: Towing a Trailer for the First Time