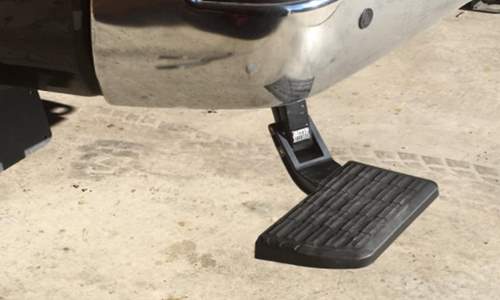 Bumper steps are one of the essentials for a truck driver. Let's get into what these are and how they would help you.
What are Bumper Steps for Trucks?
There is more than one name for bumper steps. Some might also call it bed steps.
These are a platform-like structure that gives you easy access to the truck bed, which is high and can be hard to reach. Trucks are vehicles with high ground clearance with significant suspension and tires, which can come your way in accessing the truck bed. That is where the bumper steps come in handy.
Let's talk about Why You Need One?
What makes these so unique? If you have children, ladies, and the elderly traveling in your truck now and again, it'll make it much easier for them to get on the truck bed.
Apart from that, it offers excellent protection for the side panels from hitting, keeping the exterior of the truck clean.
Looks might not be necessary for some but go side by side with performance, so another great benefit of bumper steps is that they give a very stylish and classy look to your truck.
Things to Consider Before Buying Bumper Steps for Trucks
Before investing in bumper steps for pickup trucks, take the following points under consideration. These will help you get more suitable and compatible bed steps for your truck.
The material should be anti-corrosive and weather resistant
Always get bumper steps that are weather and corrosion-resistant. It will keep you from spending again on the same piece of equipment and go a long way.
Also, they are better in quality; hence, they perform better, so if you are from a humid region, these will work great for you.
Step surface should be non-slippery
The surface of the steps you buy mustn't be slippery otherwise you will get some injuries. This problem usually occurs with low-quality bumper steps.
Choosing an ergonomic or matt surface is a brilliant idea; it will offer security and safety and make sure to hold the non-slip texture for long.
Reliable and robust material like aluminum or steel
Material is the most crucial consideration to make. The best options are aluminum or steel. They are durable, sturdy, and reliable. With sturdy performance, they offer classy looks, which is the best part.
Load carrying capacity
Commonly bed steps support around 350lbs which is enough most of the time if you are not loading something too heavy on the truck bed for the steps to handle.
Ensure you check the suitable capacity before purchase; you can find it on the sticker somewhere on the steps.
Easy to install and usage should be handsfree
You ever get a well-known piece of equipment but then feel like banging your head against a wall because you can't figure out how to put it together? It is the exact reason why you should look for easy installation.
Handsfree usage is a must feature as you can pull out/in with a mere nudge of your foot. There is no need for a hand whatsoever.
Leaving hitch-free for trailer or other accessories
Go for bumper steps that leave enough space for your truck's hitch to function correctly. You'll need this feature, mainly If you use your vehicle for towing trailers or other accessories that go at the hitch part.
Want to Buy Rear Bumper Step for Trucks?
Are you looking for a folding bumper step? Bestop Rear-Mount Trekstep will work out pretty well for you as its linkage arms, and mounting brackets are mostly heavy-duty steel and die-cast aluminum alloy, which ensures durability.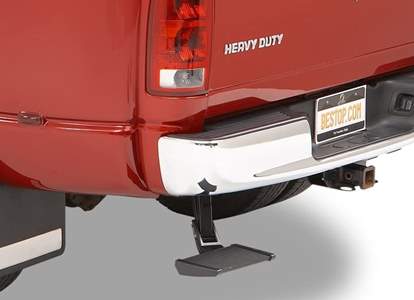 This fold-down rear bumper step provides height and handsfree drop down and keeps the installation process easy. You can do it in under 15min.
You can get easy access to the truck bed and non-slip high performance with this fold-away bumper step. See the latest price on Amazon.
Best Bed step for Truck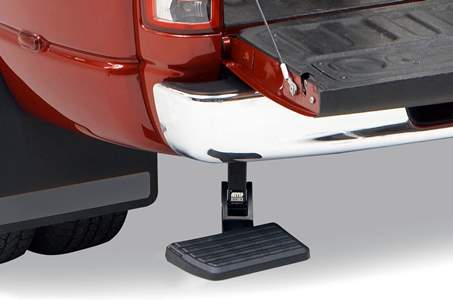 AMP Research BedStep Retractable Bumper Step. It is one of the best rear bumper steps; it offers precision in performance, corrosion resistance, and 10 minutes non-invasive installation.
This retractable bumper step provides firm, non-slip, glass-reinforced composite step pads and heavy-duty alloy linkage, ensuring safety and durability. See the latest price on Amazon.
Bully Truck Steps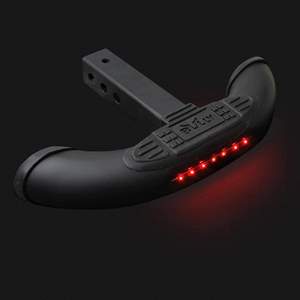 These folding hitch steps are pretty helpful for drivers as it gives access to the truck bed, roof racks, and the rear cargo area. It's sturdy and easy to install.
This hitch step with lights provides better visibility at night. It's a universal fit, so you don't have to worry about that area.  
Since it is hitch mounted step with led brake light, the drivers behind you can quickly see you, which is excellent for driving at night. See the latest price on Amazon.
Dee Zee Bumper Step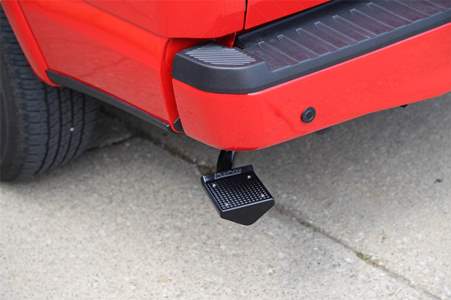 It is a robust one with a powder-coated steel frame and a non-slip cast aluminum surface that ensures safety and durability.
The Dee Zee bumper step offers 300lbs of weight capacity and comes with a custom fit. Therefore, the installation is super easy and requires no drilling. See the latest price on Amazon.
Remember: You can also find step bumpers for pickup trucks in the market. I recommend getting a heavy-duty hitch step like the Bully step if you do not haul a trailer.
Bestop Trekstep vs AMP Bedstep – Which is Better
Based on customer reviews we compared the two top manufacturers of truck steps so here is the battle begin between Trekstep vs Bedstep.
| | | |
| --- | --- | --- |
| | | |
| | | |
| | | |
| | | |
| | | |
| | Easy to use; unsuitable for heavy usage | Easy to use; unsuitable for heavy usage |
| | | |
Different Options Available to get on the Truck Bed
What is the Step on a Truck called?
There are different names for steps on pickup trucks. It depends on the type of steps that determines the character. There are different types, called:
Running Boards
Side Steps
Nerf Bars
 These are the most common steps that you can find on a truck.
What is a Step Bumper Hitch?
It's all in the name. These are bumper that has steps built into the frame. It gets better. The bumper steps do work as a towing hitch, but that is not primarily used.
The primary function of a bumper step hitch is to support you while getting onto or off the truck bed.
Its primary function isn't towing, so not every bumper step serves this purpose; nonetheless, you can find some units that offer mounting holes for the hitch ball.
Bonus Recommendation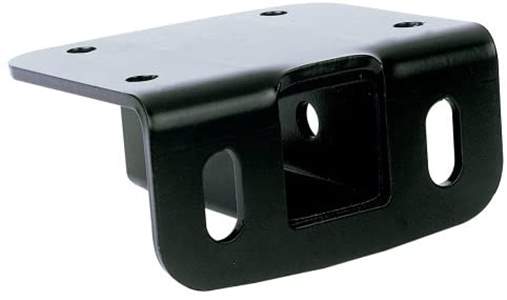 Reese Towpower Class II Step Bumper Receiver Hitch. If you want a bumper step that also serves as towing hitch, this one is for you. It works perfectly with standard 2-inch receiver bars.
It offers a tongue weight capacity of 350lbs. and a gross trailer capacity of 3500lbs. Moreover, the installation process is super easy and quick, making it a great choice. Buy it Now from Amazon.
Related Article: How to Choose Right Auxiliary Fuel Tank for Truck