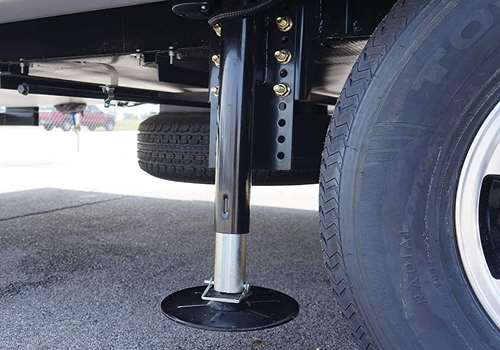 What are Motorhomes?
Recreational vehicles, commonly known as RVs have many types among which come motorhomes.
It refers to a motorized vehicle that generally comprises beds, a kitchen, washroom, and living quarters; quite useful when you are away from your home. All you need is a jack and you can adjust your 'home' anywhere.
Unlike other RVs, motorhomes are classified into three classes, A, B, and C. If you are interested in knowing about each class and its 'features and utilities, keep on reading.
Class A Motorhomes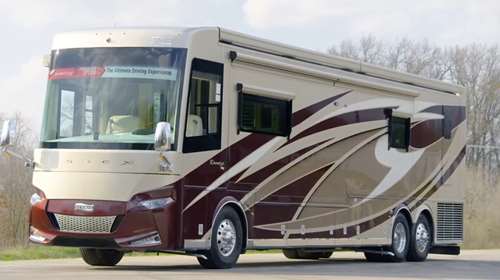 Class A has more of a box-like shape and is quite large compared to other classes which means they are quite spacious.
With so much space comes the benefit of add-ons. These come with various luxurious amenities so you can enjoy the royale stay. It just feels like a home on the wheel with a super nice vibe.
However, this class offers some drawbacks too. Furthermore, it is a bit hard to maintain it. Due to the size and shape, I always recommend electric leveling jacks for class A motorhomes.
The size can be a benefit in terms of space is also a problem while driving as the bigger the vehicle more the air resistance.
Class A is comparatively more expensive than other types.
Class B Motorhomes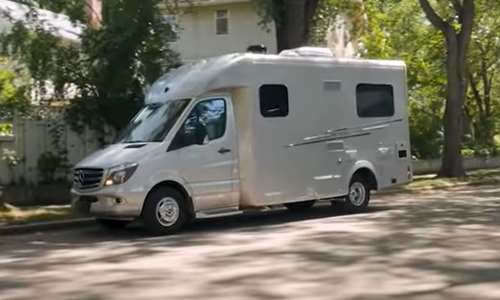 This class offers the smallest size of motorhomes. Due to the compact size, this offers high fuel efficiency and is much more affordable than any other class.
You can drive them easily because of their manageable size and park anywhere without a hassle. Nonetheless, the size being the biggest pro is the biggest con. Why do I say this?
Despite having all the essentials like a bedroom, kitchen, and washroom, it can still be a little small for full-timing. It lacks a lot of facilities which can make you feel cramped if you live in it for a long time.
Point to remember
As these motorhomes are not that big, there is no need for a jack. These small vehicles do not require additional support for leveling.
Class C Motorhomes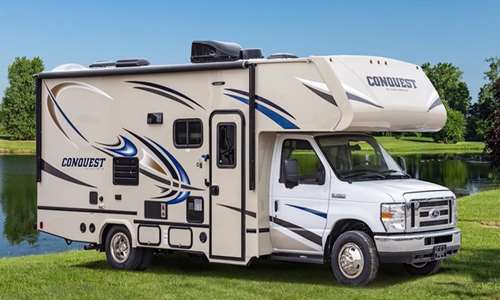 To put it simply, consider Class C a cross between A and B. These are often built on trucks or van chassis that are meant for motorhomes. These comprise overhangs for creating extra space.
Get this: A Class C has the facilities of Class A, only lower in quality to match the budget. The fuel efficiency is slightly lower than class B but way better than Class A.
Therefore, a lot of people prefer getting a C instead. If you want a motorhome for a vacation or trip, this is the one for you.
For leveling and support, however, you'll need something a little sturdy; it might not be as big as class A but it does offer sufficient space so you'll require a robust jack.
Imagine living in a rocking house, sounds horrible right? That's is the reason why you'll need a jack to keep your home from moving.
The following table will help you get a better idea of what each class of motorhomes offers.
| | | | | | |
| --- | --- | --- | --- | --- | --- |
| | | | | | |
| | | | | | |
| | | | | | |
| | | | | | Electric / Manual leveling |
Thus, electric leveling is an important consideration to make when looking for a motorhome. It will help in leveling and stabilizing your recreational vehicle with zero trouble.
Now Let's Buy the Best Electric Leveling Jacks for Class A Motorhome
But first, Consider Some Point before Buying
Weight Capacity
When purchasing a jack for your motorhome, always check the user's manual to know the exact weight of the vehicle so you can buy a jack accordingly.
Height
Height or ground clearance of your vehicle is another important thing to keep in mind. Measure the distance between the ground, where the motorhome will sit, and the lower surface of the vehicle.
Water-Resistant
As for electric equipment, the jack must be water-resistant, otherwise, it can be a problem for you. An electric jack with an IP rating of 66 works great.
Anti-corrosive Material
A robust design with a strong build will make the jack last long. The durability takes away the trouble of frequent maintenance maneuvers.
Dual Crank
Always go for a jack that is both electric and manual. In case of any problem with the electric system of the jack, you will still be able to operate it.
Repairable
It is quite expensive to buy a new jack so make sure you get a repairable one. If jacks get damaged somehow, the spare parts should be available easily.
Here are some recommendations if you are looking for a durable –leveling jack for your motorhome:
Lippert 6 Point Ground Control 3.0 Bolt-on Kit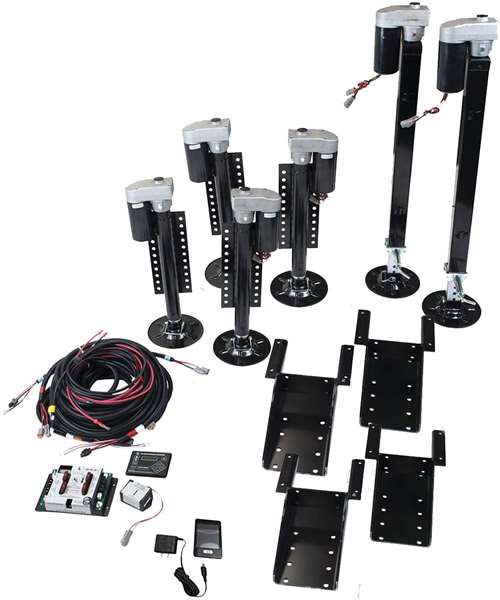 It offers speed, accuracy, and effective automatic re-hitch memory function which offers easy operation and stable leveling.
With a one-touch control panel, you also get an auto-level wireless remote which makes it super easy to use. See the latest price.
Lippert Components 672136 Ground Control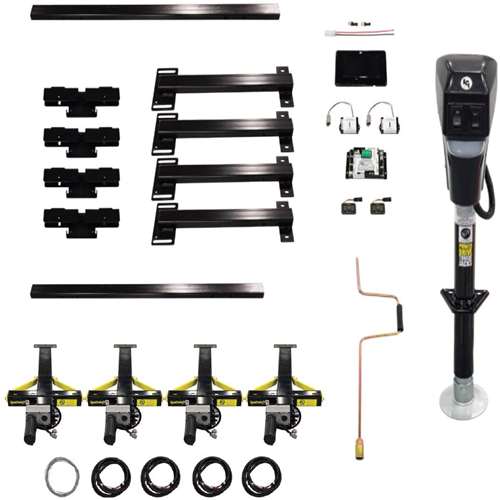 With this automatic leveling system, you'll be able to stabilize your motorhome in no time as it delivers a one-touch control panel that works smoothly.
This e-jack is compatible with One Control wireless technology to give you optimum performance. See the latest price.
Importance of Leveling Jacks
Before moving onto the important considerations you need to make while leveling a motorhome, let's first talk about why you must do it.
The reason behind leveling the motorhome is to keep the appliances especially the fridge working effectively. A gas ingestion fridge needs to remain leveled to work.
The evaporator loops in the cooling unit utilize ammonia (liquid), making it significant for the ice chest to remain level for it to operate appropriately.
Another reason is to ensure your motorhome is level is for your comfort, particularly while resting. It additionally makes it more peculiar for one to lose their equilibrium while strolling around inside.
Therefore, you must opt for good quality electric leveling equipment to stabilize your motorhome.
How to Install a Lippert Leveling System?
When it comes to leveling a recreational vehicle such as a motorhome, jack placement is the main task.
The only difference between a Lippert 6 point leveling system installation and a Lippert 4 point leveling system installation, is the jack placement point. The rest of the method is the same for both.
Installation Procedure
Examine and determine the trailer to see where the rear jack brackets, touchpads, and the controller will be mounted.
The rear jack brackets are to be mounted around 1" behind the rear axle hanger.
Now, mount the controller in the under-foot compartment, almost in the center of the trailer.
Make sure the controller isn't too close to the fuel as the connections aren't shock-proof.
Mount the touchpad at the side of the trailer so the driver can reach the hitch pin via the touch pen. Avoid the touchpad from all other elements.
Here we have a User Manual of Lippert Components with all connections diagram, installation process, and troubleshooting. Click Here to Download the User Manual.
Best Electric Leveling Jacks for Class C Motorhomes
Here are some recommendations if you are choosing to get a class C motorhome jack:
Reese RV Landing Gear System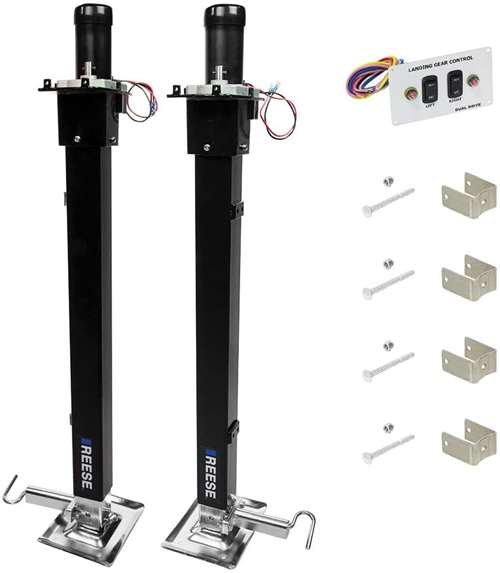 This Bulldog-powered A-Frame jack has a durable and robust design that offers great stability. The versatile design also offers independent control for each gear leg to help in leveling.
The upgraded screw shaft and 6×8" self-leveling footplates ensure a smooth leveling maneuver. See the latest price.
Husky Electric Jack with Wireless Remote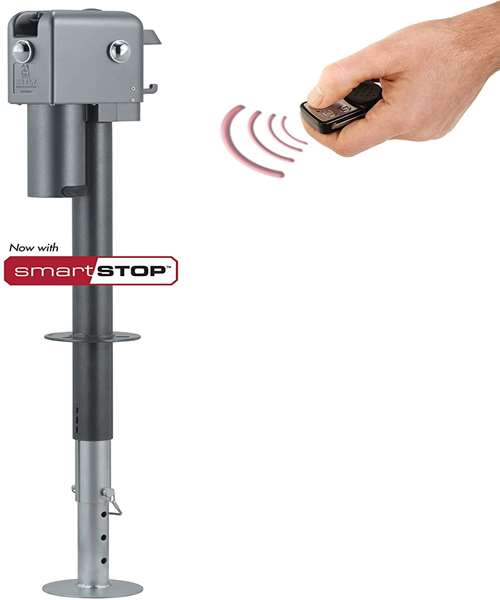 Integrated with a planetary gear timing system, this jack delivers continuous lifting of 4,500lbs. The build is sturdy and versatile so a quick and convenient lifting procedure is ensured.
It has a unique design that has ball bearings rolling smoothly through threads where most of the resistance is due to the screws. Thus, it is less likely to wear out soon. See the latest price.
Ultra-Fab Products Electric Landing Gear
This jack comprises two 12v powerful motors, broad footpads to prevent sinking and fitted clutch ratchets to keep it from damage. Sounds like a pretty great deal?
With a weight capacity of up to 12,000lbs and an independent position of each footpad, it also offers a 3-year manufacture warranty. See the latest price.
Bonus Tip
Electric jacks for class A motorhomes are quite expensive which can be a big strain on the budget. So the use of class C electric jacks for Class A motorhomes is not a bad idea.
Keep in mind the weight of your motorhome and buy the number of jacks accordingly. Just place a bubble leveler on the flat ground and turn on the electric jacks one by one until the entire vehicle comes to the jack stands.
Nonetheless, everything comes with some drawbacks. In this case, it's time and labor. You'll need at least two people to manually balance each jack which can be a lot time-consuming.
Related Article: The Ultimate Guide about RV Jack Stands