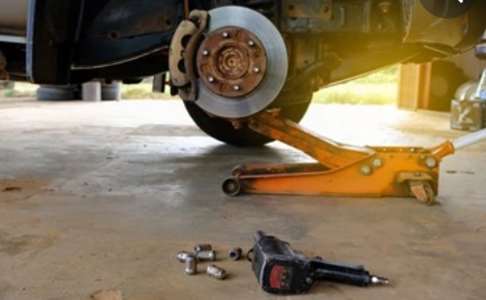 Maintenance of a truck or SUV is quite difficult as compared to a car because everything is bigger and heavy-duty. Therefore a standard car jack won't come in handy. To lift these heavy vehicles, you will need a heavy floor jack. In this guide, we have discussed everything you need to know about jacks for trucks.
What Kind of Jack do I Need for a Truck?
Before we begin the discussion on jacks in detail, let me tell you about the types of jacks available in the market. Some kind of jacks that you may find include floor jacks, scissor jacks, bottle jacks, and more. Each of these jacks functions differently depending upon the location and need.
Types of Jacks
Jacks are great equipment for lifting your vehicle and checking if there is something wrong underneath. There are various types of jacks available in the market. The most used ones are Hi-lift, ARB, trolley, bottle, and scissor jack.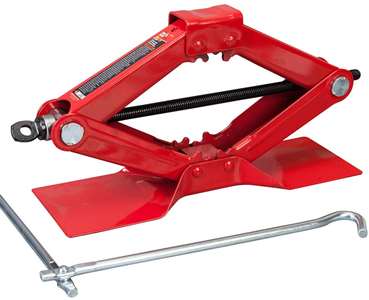 The Scissor jack is similar to the one present in the back of your car. As compared to other types of jacks, it is compact and economical. It features a handle that slots in at the end. You have to position the jack under the jacking point and turn the handle clockwise until the car is lifted.
One of the best scissor jacks you may find in the market is the BIG RED T10152 Torin Steel Scissor Lift Jack. This jack is forged using high-quality alloyed steel, making it highly durable. This jack's compact design makes you use it as a rugged replacement jack or an extra utility jack. See the latest price here.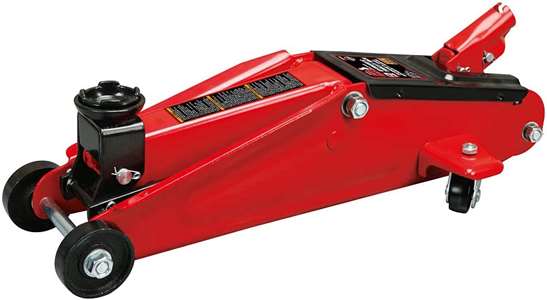 If you want a quick and safe solution, go for a trolley jack. Many professionals recommend this jack. It features wheels so that you can move it into position with ease.
Ensure that the lever is turned to the right before you start lifting. To turn the lever to the right, you will have to use the end of the handle. Insert the handle and pump it until the cradle reaches the jacking point.
The trolley jack I would like to recommend to you is BIG RED T825013S1 Torin Hydraulic Trolley. It features a steel frame that enhances its strength and makes it highly durable while lifting heavy loads.
Secondly, it consists of a 360° rotating saddle, positive locking safety release handle, and rear swivel casters to make maneuvering and positioning easy. See the latest price here.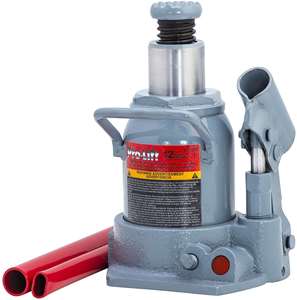 Bottle jacks come in handy when it comes to lowering your car at a slow pace. The working of the bottle jack is similar to the trolley jack as it uses hydraulic force for lifting the car. But as compared to a trolley jack, it is far more compact and easy to store.
But before you get one, let me tell you that this is not stable. You will have to ensure that the lever is set to the right to lift your car using this. After that, unscrew the top of the jack, position it under the jacking point, and pump until the car is raised.
Among the different bottle jacks available in the market, Pro-LifT B-S12D Grey Hydraulic Bottle Jack is considered the best. It comprises a steel lifting saddle that is designed to hold the load securely. See the latest price here.
A hi-lift jack has two highlighted utilities. It can be used as a jack, and can also act as a winch. To use it, you will have to adjust the jack mode.
For this jack, ensure that you support the jack on the strongest and metal part of the vehicle. Using this jack requires too much effort. See the latest price here.

ARB jack is also known as a hydraulic jack. It is very expensive but sturdiest. Comparatively, it is safe and user-friendly. It features an adjustable collar that allows you to adjust it according to the place that needs lifting. To put the vehicle back on the floor, all you have to do is press the valve.
One of the best ARB jack you must go for is ARB Jack 48″ Powerful Hydraulic Lift, Jack. The best feature is its 360° adjustability that allows you to rotate the jack 360° to align the pivoting to match the terrain.
The jack's body features nine locating points providing an adjustable hook and a wide range of lifting heights. See the latest price here.
Tips for Choosing the Jacks
Now, the major question that arises is how you can select the perfect jack for your truck. Following are some of the things you must consider while purchasing a jack:
Lifting height
Weight of your vehicle
For what purpose you will be using the jack
What type of car do you have
Another area of interest is the jacking handle. You want one that will move the jack with minimal input, which is important when using underneath a vehicle. And always a good quality unit with a strong warranty
What Size Floor Jack do I Need for a Truck?
When you go to purchase a jack, you must see its lifting height, capacity, and lifting mechanism. In other words, you must know the weight of your truck.
A good rule of thumb is that you must purchase a floor jack that is ¾ of your truck weight. For example, your vehicle's weight is 4000 pounds, divide 4000 pounds by ¾, and you will get 3000 pounds which means 1.5 tons. So if the total weight is 4000 pounds, you will need a 1.5-ton jack.
How Big of a Jack do I Need for a Truck?
Another frequently asked question is how big a jack must be. A simple answer to this question is to always get the biggest one that can still fit under your vehicle. For example, a 3-ton jack is a minimum you must need for a truck that is 5200 pounds.
What Kind of Jack do I Need for a Lifted Truck?
Memorize this golden rule which is to purchase the floor jack based on the weight rating. You can use different options for your lifted truck, i.e., stock jack, airbag jack, regular jack, or hi-lift jack.
But if you ask me, I would say that the hi-lift jack is the best option for a lifted truck. Because the hi-lift was designed for this purpose. Hi-lift can be used to lift in uneven terrain. A hi-lift also lifts much higher than a floor jack.
What Size Jack do I Need for a Lifted Truck?
As far as the jack size for a lifted truck is concerned, a 60-inch hi-lift jack will be the best option for your lifted truck. But one thing you must make sure of is to use it with proper guidelines; otherwise, it can be very dangerous.
What Size Floor Jack do I Need for a Full Size Truck?
If you have a full size truck instead of a lifted truck, then one rule of thumb that has worked so far is to get a jack that will sustain the entire truck. To put it simply, if your full-size truck weighs 8000lbs, then a 4-ton floor jack will be the best option.
What Size Jack do I Need for a ¾ ton Truck?
Similarly, if you are thinking about the size of the jack you must have for a ¾ ton truck, then a 1.5-ton aluminum jack will be good enough. But while you lift your truck using a 1.5-ton aluminum jack, you must use U-bolts or a shock bracket.
From Which Place to lift the Truck?
One of the most important things that you must pay special attention to is from which point of truck you should lift it. If you place the jack incorrectly, you may end up damaging the truck. Therefore to lift the truck, you must place the jack under the following points of your car:
Place the jack under the rear pumpkin
Use jack stands on axle tubes but place them close to leaf springs
Jack stands can be placed on the frame
You can jack on the lower control arms
For the front of the truck, place the jack as far forward on the frame with enough space for jack stands
Use owner manuals to know the jacking points of your truck
Read More About: Understand Safe Positions – Where to Place a Floor Jack
Safety Precautions
So before we formally conclude our discussion, let me list down some safety precautions for you that you must follow while jacking your truck/car.
Never rely on a jack alone; instead, use axle stands to support the weight of the vehicle
Never work under your car without using a set of jack stands
Purchase the right jack stand depending on your vehicle
Ensure you have a wheel chock or applied hand brakes
Before moving on, here are some recommendations to make your market browsing easy.
Omega 32225B Black Heavy Duty Jack Stand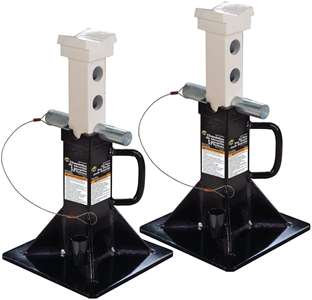 This jack stand features a sturdy, welded steel construction that provides maximum safety and strength. It comprises a heavy-gauge steel frame that prevents twisting and distortion. It is equipped with a large saddle that securely supports the vehicle's load. See the latest price here.
Hi-Lift Jack ORK Off-Road Kit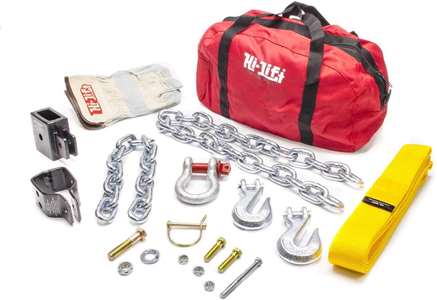 This off-road kit is the best choice for you as it comprises all the accessories required for winching with a hi-lift jack. An interesting thing about this kit is that you can use it with all versions of the hi-lift jack. This kit allows you to turn your hi-lift jack into a versatile tool. See the latest price here.
Read More About: Where to Put Jack Stands Under the Car
Conclusion
I believe that you have now become an expert when it comes to jacking a truck, and have substantial knowledge to browse the market and get yourself one of these. Remember, to not solely rely on jacks and always use them with a pair of jack stands.