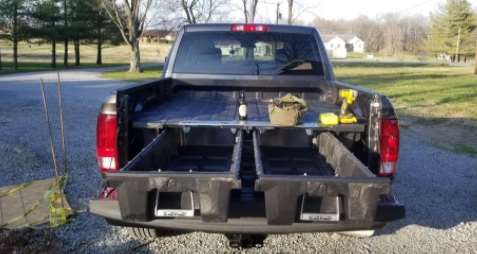 Truck bed storage system. Let's talk about that. I feel like there isn't enough information on the internet for that, or should I say not enough legit information?
What is a Truck Bed Storage System?
Before getting into a thorough discussion, let's talk about its primary purpose. A truck bed storage system is a partition gadget, drawer, or box that helps you organize everything in your truck bed.
If you drive a pickup truck, you'd know how messy and disorganized it gets back in there, and let's be honest, who has the time to rearrange and organize it again and again.
Why do You Need Pickup Truck Bed Storage Systems?
Truck bed storage systems get the best use out of your rig. Not only can you keep the stuff in your bed but also keep them weathertight. The best part, your things remain secure.
So, if you are tired of fluffy things flying out of the truck when driving fast or just all in all done with losing things every time you take a ride on the highway, a truck bed storage system is what you need.
Furthermore, a lot of pickup truck drivers carry gear and tools.  These often keep rolling around the truck bed, scratching and damaging the finish of the vehicle. 
Scratches caused by tools are pretty prominent and do not only distort the look of your truck but can also cause long-term problems.
Others have a few compartments and pockets with weatherproofing capacities, so your things stay dry in unfavorable weather conditions.
Things to Keep in Mind Before Buying a Truck Bed Storage System
You have to keep in mind a couple of things before getting a storage system for your truck bed. Going in without research can be problematic because there are so many options in the market.
They'll overwhelm you because people often end up buying more than needed or something entirely different from what they need. So here is what you must consider:
Size of Your Truck Bed
The size and shape of the truck is the crucial point. Make sure you have correctly measured the dimensions of the truck bed before you go to make your purchase.
To measure the truck bed size, use a measuring tape and start from the bulkhead and go all the way to the inner side of the tailgate. Then measure the bed rails and find the area of the bed by using the following formula:
Length(left and right sides) x width (tailgate and bulkhead sides)
Portable or Mounted
The next most important thing is the way you will be installing it. If you want a temporary solution or don't want your truck to have a storage system all the time, then go with a portable one. You can easily remove it, and the installation is non-invasive, making it a perfect solution.
However, if you want to increase your truck bed's utility permanently, getting a mountable one would work the best for you. 
Weatherproof Heavy-Duty Material
Rain is something we love, but it's probably not your favorite thing as a truck driver who carries cargo. How can you beat that?
A waterproof storage system for your truck bed will provide protection for your cargo in the back and keeping the truck bed from coming in contact with moisture as well. 
The dual-core benefit of waterproof heavy-duty material is what I like the most about these storage systems.
Design
These days, manufacturers have introduced numerous truck bed storage systems like drawers, pockets, segments, etc., to match various needs.
What kind would suit you the best? That's the real question. It all depends on what you carry. If your items are small, the pocket is a good choice.
For items like tools and gear, choose drawers or pockets. Both work great. For bigger things, a segmented storage system works the best.
Let's see the Best Truck Bed Storage System
It is hard to pick the best when you have so many choices. Don't worry; the hard work for you has been done. DECKED is the best truck bed storage system that provides durability and performance simultaneously. 
Best Truck Bed Drawer System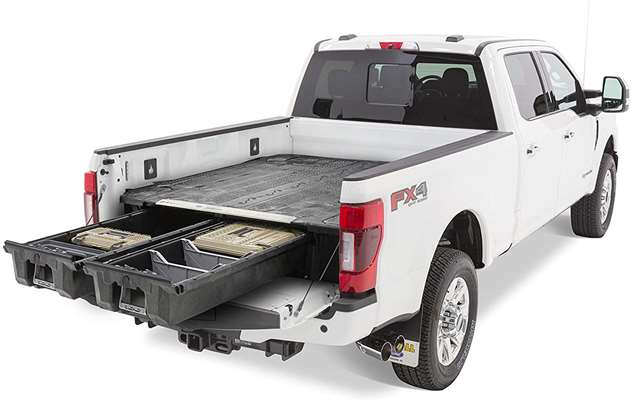 DECKED Ford Truck Bed Storage System: If you are looking for a mountable, waterproof storage system, it's the best choice for you. It offers a capacity of 2000lbs with a decked design comprising a flat, usable surface above the wheel wells.
This USA-made storage system is easy to install and goes a long way, so think of it as a one-time investment. Buy now in Easy Installments on Amazon.
RAM Truck Bed Storage System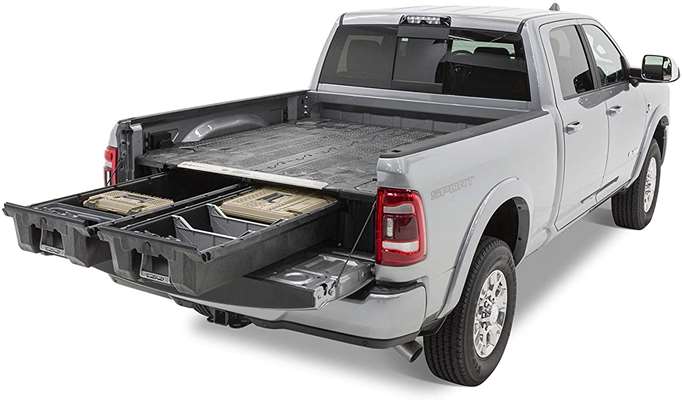 DECKED RAM Pickup Truck Storage System: This one is a whole package. It offers easy installation with all the hardware included in the pack. Since it's waterproof, your tools and truck bed would be safe from rusting and corrosion.
The segmented drawer design offers a high storage capacity of up to 2000lbs, so either its tools or some bulky cargo, you're good to go. Buy now in Easy Installments on Amazon.
If you are looking for some Best Truck Bed Storage Solutions, I've got some things for you.
Tuff Truck Waterproof Heavy-Duty Bag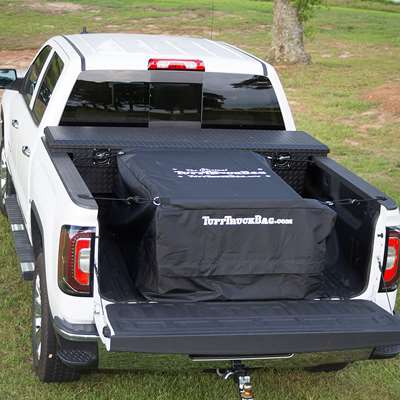 A high-quality waterproof truck bed storage bag with seam fusion to keep maximum moisture out. It offers about 26 ft3 of interior space, which is great for a storage bag.
Tuff also offers easy storage as you can roll it up with its adjustable cord and storage tote bag, which I think is the best part because these things can be quite a pain when it comes to storage. Buy now in Easy Installments on Amazon.
Truck Bed Storage Box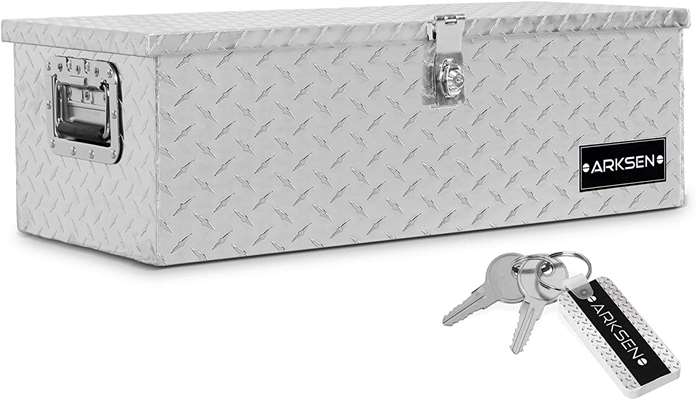 ARKSEN 30″ Aluminium Diamond Plate Tool Box: It's a recommended product for securing and keeping the cargo organized when it comes to the best truck bed storage box.
For the ones who are looking for high-end equipment to solve their truck's storage problems, it will do wonders. It's perfect for storing tools and heavy items.
The body is aluminum-made which makes it corrosion-resistant and lightweight. The diamond plate design provides the storage chest with maximum sturdiness as well as style. See Price on Amazon.
Truck Bed Storage Containers
Rubbermaid ActionPacker️ 48 Gal: This storage bin offers extreme resistance to temperature (0-100℉) and harsh weather conditions. It comes with an attached double-walled lid that tightly fits and protects items inside.
And now, for the best part, you can lock the lid, which makes it perfect for hunting trips and transporting expensive items. See Price on Amazon.
Here we have DIY Truck Bed Organizer
DIYing is the best way if you can't find a product suitable enough for you or if it's too out of budget.
Here is a quick and straightforward way of  DIYing yourself a truck bed cargo storage. You can easily make a decked storage system for your truck bed at home.
Things you'll be needing:
Wooden planks of dimensions according to your truck bed. about 3-4; it mostly depends on the size of your truck.
8 & 1/2″ high planks would work great for the top of wheel wells but again, check your truck's dimensions for an exact size.
Skateboard bearings for the drawer slides. These things can take a lot of weight.
1×1 tubing for the drawers to slide onto.
Industrial glue 
The whole thing is pretty simple. Put the planks together using industrial glue into a drawer-like structure. Decide the size of each segment according to the items you want to put in them. 
To mount the drawers onto the truck bed, use the skateboard bearings. These things are sturdy and free of cost. Make sure to place the 1×1 tubing correctly so the drawers can slide smoothly onto them.
If you like going the extra mile and waterproofing it, use some hatches in front of the wheel wells to access that space. Using boat deck-style hatches works the best.
DIY Waterproof Truck Bed Storages
To make a DIY waterproof truck bed storage. Use this step-by-step guide to do it quickly, in no time, and that too at your home.
Begin by stacking two large tarps onto each other and lay them flat on the truck bed. If you want an alternative for tarps, plastic sheets or waterproof fiber are good choices too.
Next up, place the luggage right in the middle of the tarp sheets and wrap the top sheet around the payload.
To secure the tarp, use a bungee cord. If you don't have it, a simple, durable rope will work too.
Then take all that pile and repeat this process with the second tarp sheet. Your cargo is safe from rain and other kinds of moisture.
Related Article: What is the Best Truck Bed Cover
Related Article: How to Keep Luggage Dry in Truck Bed